U.S. envoy: Trump tied Ukraine aid to Biden, DNC investigations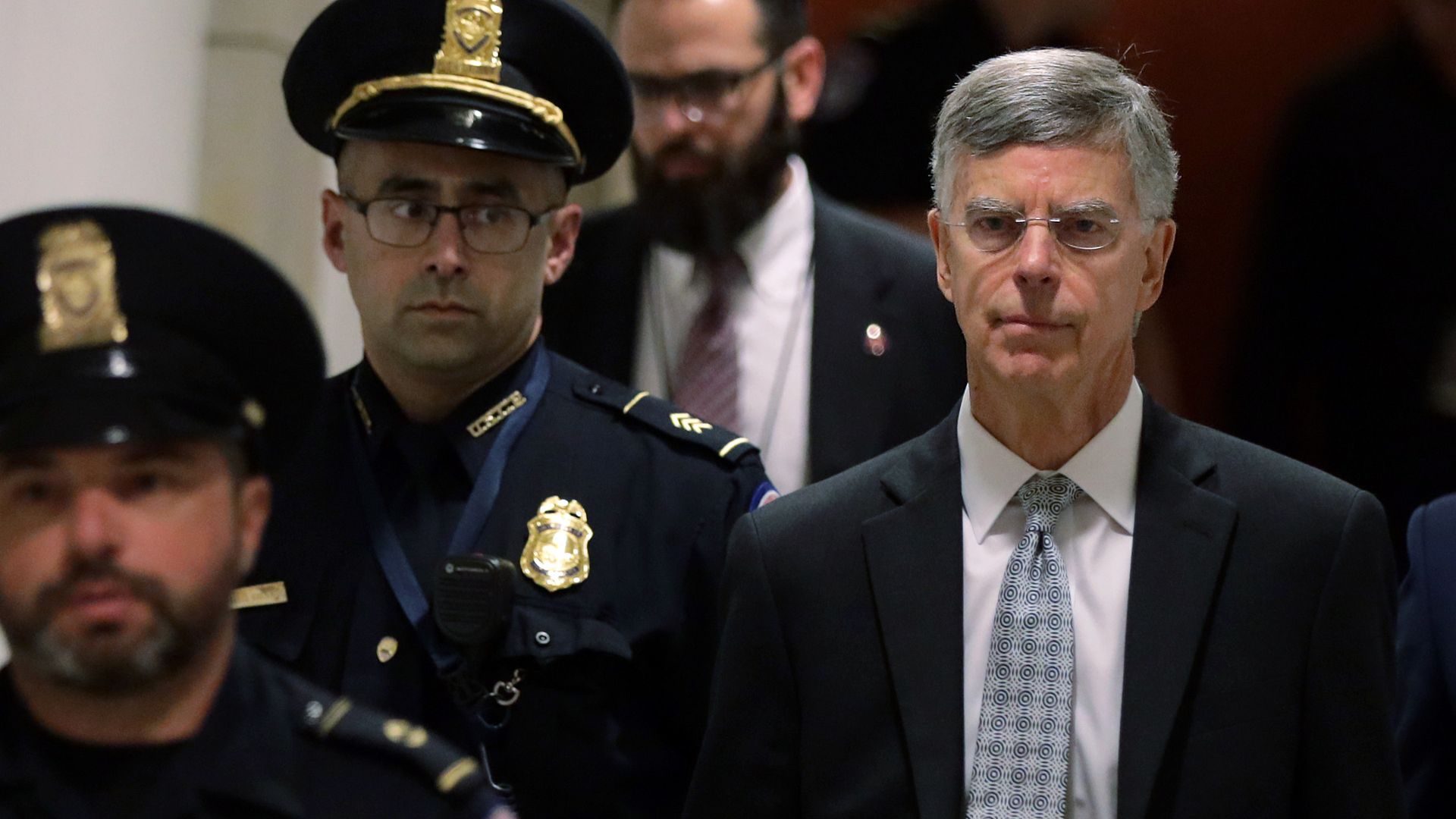 Bill Taylor, the top U.S. diplomat in Ukraine, told House investigators on Tuesday that President Trump conditioned the release of military aid on the Ukrainian president's willingness to promise to investigate natural gas company Burisma and alleged interference in the 2016 election, according to a copy of Taylor's opening statement obtained by Axios.
Why it matters: Taylor's explosive testimony, which relies largely on his conversations with U.S. Ambassador to the EU Gordon Sondland, draws a direct line from congressionally approved military aid to Ukrainian interference in domestic U.S. politics — the quid pro quo that Trump and his allies have long denied.
The big picture: Taylor, a career diplomat who has served in multiple administrations, expressed concerns that there were two channels of U.S. policymaking toward Ukraine — one official channel and one "irregular, informal" channel operated by Rudy Giuliani, special envoy to Ukraine Kurt Volker, Energy Secretary Rick Perry and Sondland.
Taylor told lawmakers in a lengthy statement that by early September, he was informed by Sondland that both security assistance and a White House visit for Zelensky were conditioned on a public statement by the Ukrainian president ordering the investigations into Burisma — on whose board Joe Biden's son served — and allegations of interference in the 2016 election.
Key excerpts:
"I sensed something odd when Ambassador Sondland told me on June 28 that he did not wish to include most of the regular interagency participants in a call planned with President Zelenskyy later that day. … Ambassador Sondland said that he wanted to make sure no one was transcribing or monitoring as they added President Zelenskyy to the call."
"In a regular NSC secure video-conference call on July 18, I heard a staff person from the Office of Management and Budget (OMB) say that there was a hold on security assistance to Ukraine but could not say why. "
"Toward the end of an otherwise normal meeting, a voice on the call — the person was off-screen — said that she was from OMB and that her boss had instructed her not to approve any additional spending of security assistance for Ukraine until further notice. I and others sat in astonishment. ... All that the OMB staff person said was that the directive had come from the President to the Chief of Staff to OMB."
"There followed a series of NSC-led interagency meetings, starting at the staff level and quickly reaching the level of Cabinet secretaries. At every meeting, the unanimous conclusion was that the security assistance should be resumed, the hold lifted."
"[On Sept. 1], Ambassador Sondland also told me that he now recognized that he had made a mistake by earlier telling the Ukrainian officials to whom he spoke that a White House meeting with President Zelenskyy was dependent on a public announcement of investigations—in fact, Ambassador Sondland said, 'everything' was dependent on such an announcement, including security assistance. He said that President Trump wanted President Zelenskyy 'in a public box' by making a public statement about ordering such investigations."
"[O]n September 8, Ambassador Sondland ... said he had talked to President Trump as I had suggested a week earlier, but that President Trump was adamant that President Zelenskyy, himself, had to 'clear things up and do it in public.' President Trump said it was not a 'quid pro quo.'"
"Ambassador Sondland said that he had talked to President Zelenskyy and Mr. Yermak and told them that, although this was not a quid pro quo, if President Zelenskyy did not 'clear things up' in public, we would be at a 'stalemate.' I understood a 'stalemate' to mean that Ukraine would not receive the much-needed military assistance."
Read the full statement:
Go deeper