North Korea's Kim sends "defiant" sanctions message at sacred mountain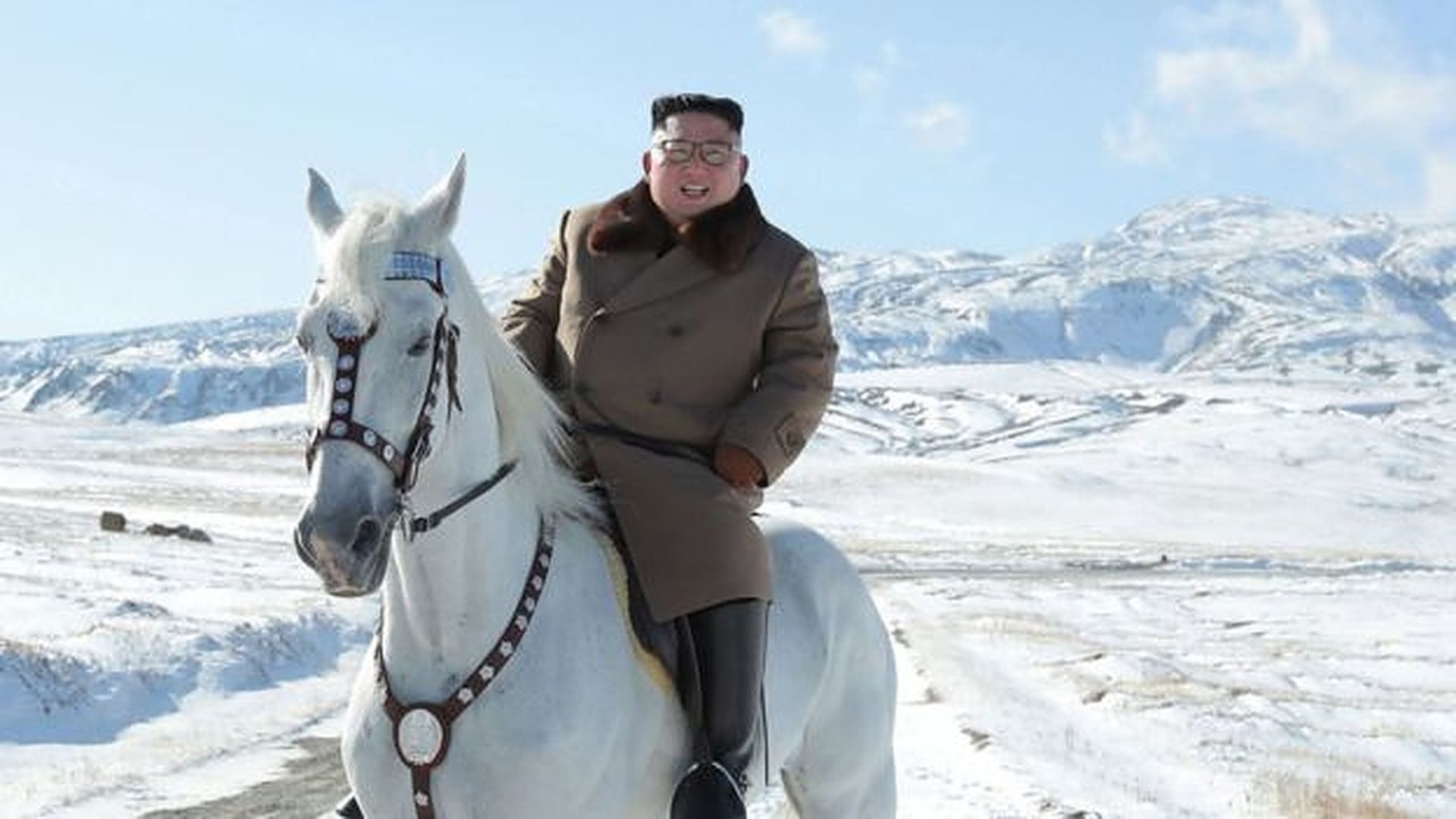 North Korean leader Kim Jong-un rode a white horse to Mt. Paektu and lashed out at sanctions imposed on the country, the state-run KCNA news agency reported Wednesday — hailing the action as "a great event of weighty importance."
The big picture: The images at the sacred, active volcano and accompanying proclamation that "there will be a great operation to strike the world with wonder again and make a step forward in the Korean revolution" comes days after denuclearization talks between North Korea and the U.S. broke down.
No matter what persistent efforts the enemy makes, we can live well with our own efforts and pave the avenue to development and prosperity in our own way."
— Kim's statement, per KCNA
What they're saying: Per KCNA, Kim said the "situation of the country is difficult owing to the ceaseless sanctions and pressure by the hostile forces" but "our people grew stronger through the trials." He said the "pain the U.S.-led ... hostile forces inflicted upon the Korean people" had "turned into their anger."
Between the lines: About Kim going to Mt. Paektu, the BBC reports analysts saying "such gestures have been known to precede major announcements."
Joshua Pollack, a North Korea expert at the Middlebury Institute of International Studies in California, told Reuters Kim was making a statement that's "symbolic of defiance."
"The pursuit of sanctions relief is over," Pollack told the news agency. "[I]t starts to set new expectations about the coming course of policy for 2020."
Go deeper: North Korea says U.S. "hell-bent on hostile acts" despite Trump-Kim talks
Go deeper