Scoop: Kurt Volker testimony revealed depth of concerns about Giuliani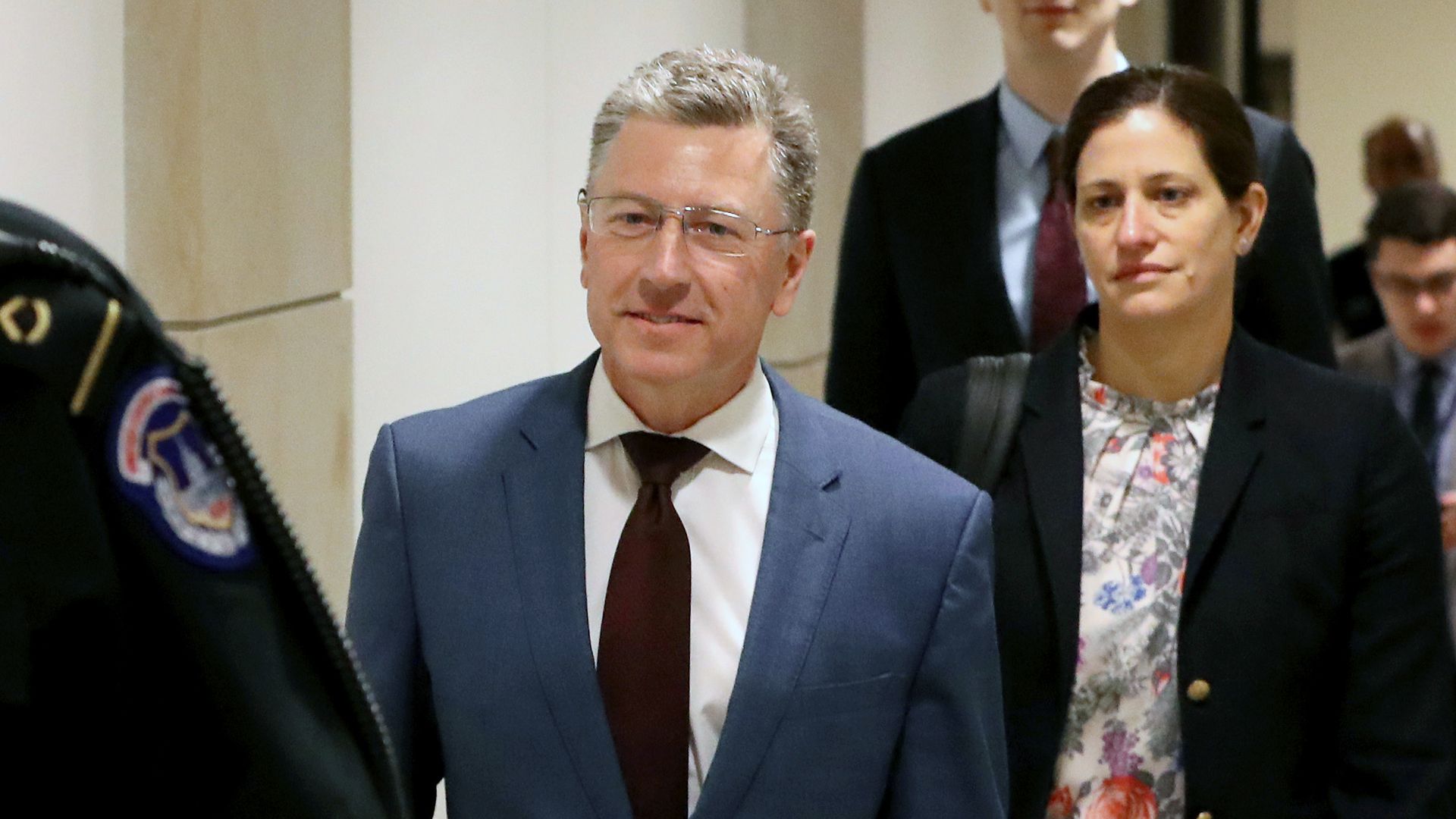 New details from Kurt Volker's closed-door interview indicate Bill Taylor, the acting ambassador to Ukraine, was deeply conflicted about whether to take the job because of concerns about Rudy Giuliani's shadow involvement.
Why it matters: The testimony by Volker, the former special envoy to Ukraine, earlier this month may help the president in the sense that it paints Giuliani, not President Trump, as the mastermind behind a campaign to get foreign leaders to investigate the Biden family and Burisma, according to sources with direct knowledge of his testimony.
But it also amplifies concerns that Trump was more interested in what his personal lawyer had to say than the professionals in government.
Taylor was also worried that Trump might be willing to trade away Ukraine's interests as part of a grand bargain with Russia, Volker told lawmakers.
Taylor is expected to appear before members of Congress next week.
Details: Volker told members of the House Intelligence, Foreign Affairs, and Oversight committees earlier this month that he recommended Taylor for the job after the former ambassador to Ukraine, Marie Yovanovitch, was removed from her position.
Volker said Taylor was initially "reluctant" to accept the role because "he was not sure if we would maintain as robust a support for Ukraine as we had had for the past 2 years."
Taylor also told Volker that he was worried about Giuliani's efforts to investigate the Bidens. "He was just worried [Ukraine] was going to get undermined at some point," Volker added.
"Hanging over everyone's head in the expert community is, is there some grand bargain with Russia where we throw Ukraine under the bus?"
Volker said he tried to assure Taylor that the U.S. actually has strengthened its support for Ukraine by increasing sanctions and lifting arms embargo.
Volker told Taylor, "Look Giuliani does not represent the U.S. government. Don't worry about that."
Taylor decided to take the job but only after speaking with Secretary of State Mike Pompeo for reassurance that Pompeo remained solidly in support of Ukraine.
Concerns about Giuliani's role in facilitating a relationship with the new Ukrainian President, Volodymyr Zelensky, started to raise alarms.
Volker told committee members that he, Taylor, and acting assistant secretary of state Phil Reeker discussed their concerns about Giuliani, stating that they "were just very uncomfortable with him being active."
They thought Rudy was creating "a problem," and the problem "was that he was amplifying a negative narrative about Ukraine that was impeding our ability to advance the bilateral relationship the way we wanted."
Volker said he relayed these concerns to Pompeo, and told him he was trying to "correct that impression" the president had. Pompeo said, "I'm glad you're doing it."
Volker said Burisma was known for years to be a corrupt company, but that didn't transfer to the Bidens. "Saying investigating Vice President Biden or his son, that is not fine. And that was never part of the conversation."
Taylor specifically warned the Ukrainians not to do anything that would be seen as interfering in U.S. elections.
Volker, Taylor and the committees did not respond to a request for comment.
Go deeper