NYT: Fake video of Trump shooting media and rivals shown at his resort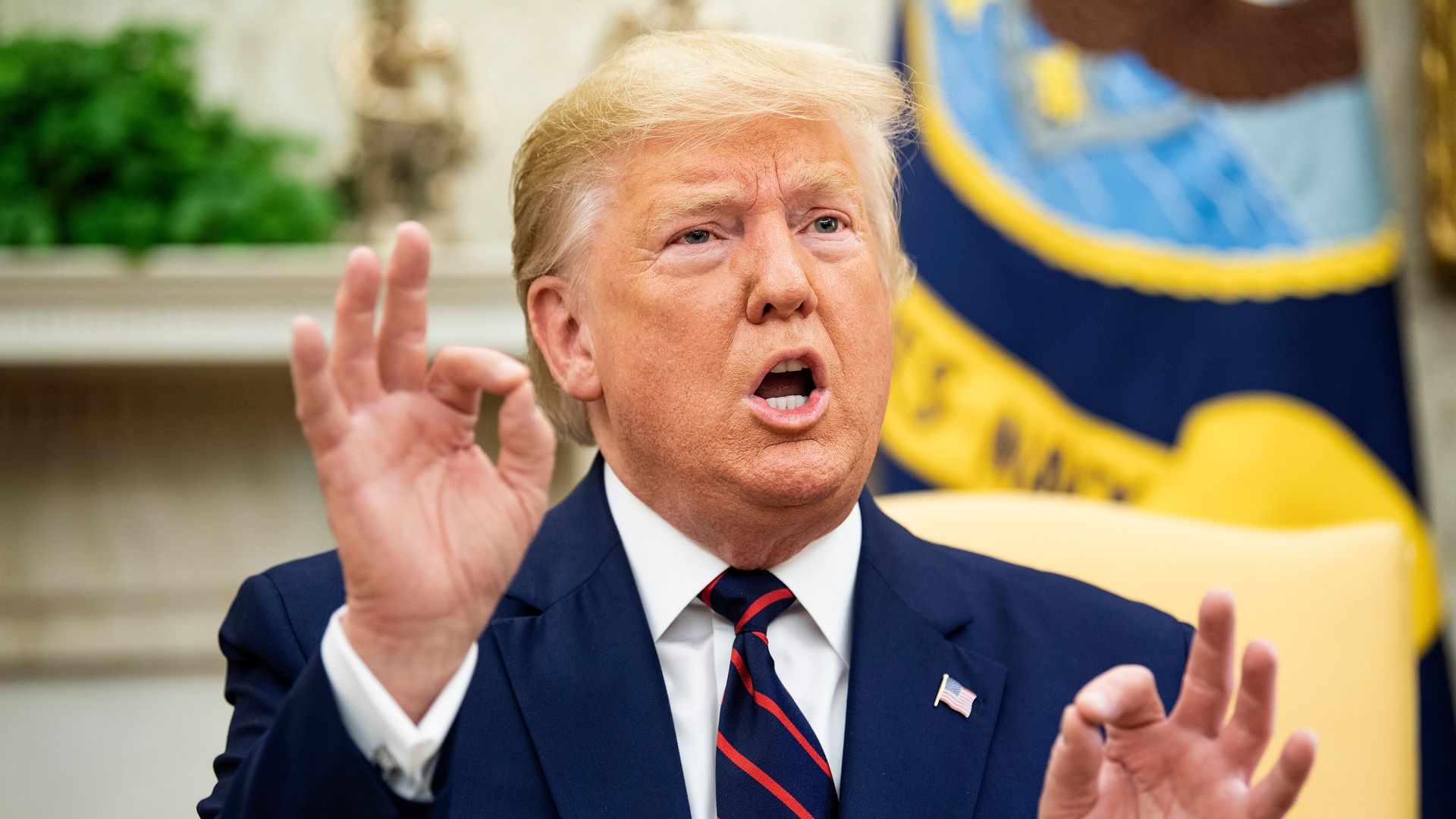 A video depicting President Donald Trump stabbing and shooting journalists, political opponents and Black Lives Matter movement figures was played at an event for his supporters at his Miami resort last week, the New York Times reported Sunday. Trump was not present, it said.
Why it matters: Event organizers American Priority confirmed to the Times that the video was shown at the conference at the Trump National Doral, which demonstrates how "Trump's anti-media language has influenced his supporters and bled into their own propaganda."
Trump has been accused previously of inciting violence against the media by labeling them the "enemy of the people" and using other divisive rhetoric.
CNN, one of the news outlets reportedly targeted in the video, noted in a tweet that this was not the first time Trump supporters had "promoted violence against the media."
The big picture: The White House Correspondents Association also called on the president to denounce the video — which reportedly shows Trump's head superimposed on a man who goes for his critics or the logos of news organizations displayed on bodies inside the "Church of Fake News," in an apparent parody of the 2014 movie "Kingsman: The Secret Service."
The footage includes the logo for Trump's 2020 re-election campaign, per the Times.
Axios viewed a YouTube video matching the description from the NYT report, titled "Trump Kills Fake News (Church of Fake News)," uncovered by Bloomberg technology journalist William Turton.
The video has been shared by people including journalist Yashar Ali on Twitter. Axios decided not to publish the video, but it can be viewed in the links to the threads by Turton and Ali. (WARNING: It contains graphic content.)
What they're saying: A person close to Donald Trump Jr. and former White House press secretary Sarah Huckabee Sanders, who were scheduled to appear at the 3-day event, said "they did not see the video at the conference," the NYT said.
Trump campaign spokesperson told the Times he didn't know about the video, but he added: "That video was not produced by the campaign, and we do not condone violence."
American Priority told the NYT the video was shown in a "meme exhibit" at the event and that the group was investigating how it came to be shown.
"Content was submitted by third parties and was not associated with or endorsed by the conference in any official capacity. American Priority rejects all political violence and aims to promote a healthy dialogue about the preservation of free speech. This matter is under review."
— American Priority event organizer Alex Phillips in statement to the NYT
Go deeper:
Go deeper