What we're reading: George Conway declares Trump mentally "unfit" for office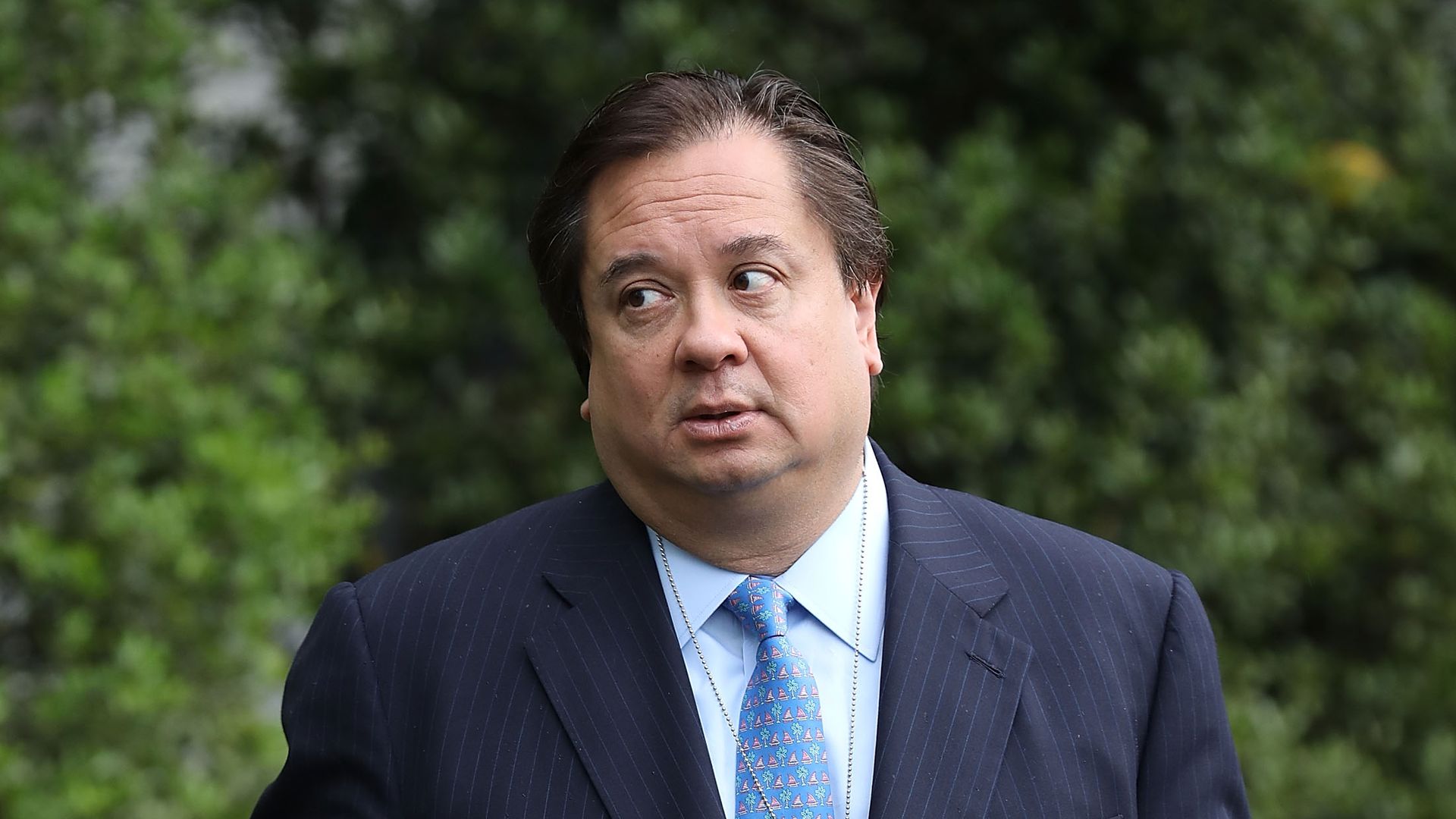 In a new editorial for The Atlantic, lawyer George Conway chronicles how President Trump's "erratic behavior," "pathological narcissism," habit of lying and "sociopathic characteristics," render him "unfit" to serve as the president of the United States.
The big picture: Conway has publicly criticized Trump on numerous occasions, and he previously questioned the president's stability — despite his marriage to Trump senior adviser Kellyanne Conway.
The op-ed comes as Speaker Nancy Pelosi announced in late September that the House will open a formal impeachment inquiry into Trump, in the aftermath of reports that he pressured Ukraine's president to investigate political rival Joe Biden.
Conway quotes a senior administration official who wrote anonymously in the New York Times last year: "Given the instability many witnessed, there were early whispers within the cabinet of invoking the 25th Amendment. ... But no one wanted to precipitate a constitutional crisis."
"But if Congress does its job and presents the evidence, those who are in denial won't be able to ignore the problem any longer. Not only because of the evidence itself, but because Donald Trump will respond in pathological ways—and in doing so, he'll prove the points against him in ways almost no one will be able to ignore."
What he's saying
On the impeachment inquiry: "Trump's incapacity affects all manner of subjects addressed by the presidency, but can be seen most acutely in foreign affairs and national security."
Conway calls impeachment "a more practical mechanism," adding the process would put Trump's "behavioral and psychological characteristics" on display for the country to see.
On Trump's mental health: Conway points to the "Diagnostic and Statistical Manual of Mental Disorders" (DSM-5) to provide criteria for diagnosing Trump's behavior.
"Simply put, Trump's ingrained and extreme behavioral characteristics make it impossible for him to carry out the duties of the presidency in the way the Constitution requires."
"Yet pathological narcissism is not the only personality disorder that Trump's behavior clearly indicates. A second disorder also frequently ascribed to Trump by professionals is sociopathy—what the DSM-5 calls antisocial personality disorder."
On the Mueller investigation: Trump "couldn't sensibly be allowed to speak with Special Counsel Robert Mueller, because Trump would 'lie his ass off.'"
Go deeper:
Go deeper