Updated Oct 1, 2019 -

World
On China anniversary, violence erupts between Hong Kong police and protesters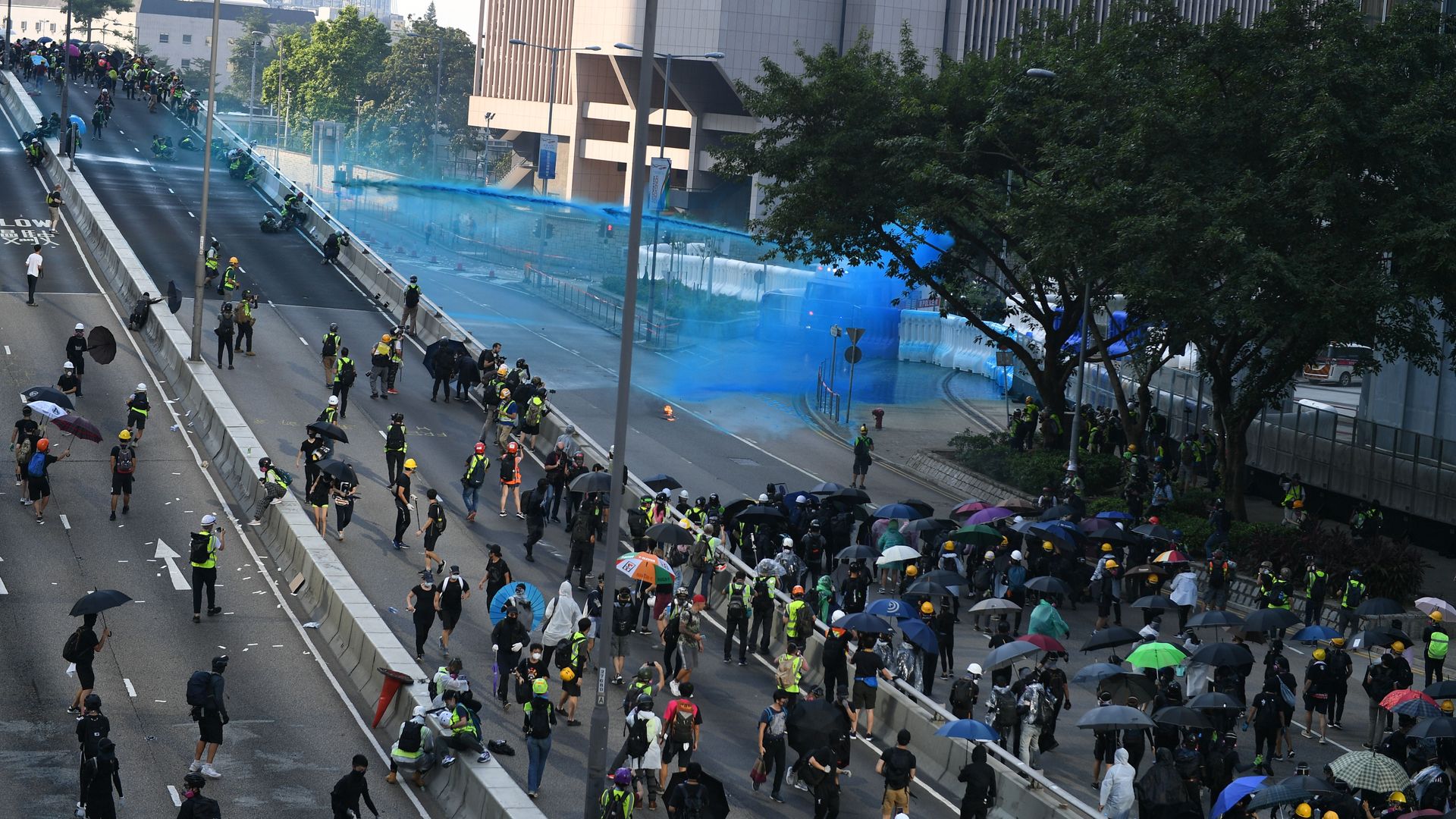 Violent clashes erupted across Hong Kong between police and protesters as tens of thousands defied a marching ban on Tuesday, China's 70th anniversary of Communist Party rule, the New York Times reports.
What's happening: A police officer shot a pro-democracy protester in the first incident of its nature since the protests started months ago, reports AP, which called the event an "escalation of the monthslong unrest that has rocked the city."
Riot police fired tear gas on protesters who hurled firebombs, per Bloomberg.
Outside Hong Kong's Legislative Council, police used water cannons and blue dye on demonstrators in an attempt to prevent them from getting near the building, according to CNN.
Protesters were being arrested across the Asian financial hub, CNN reports.
Hong Kong police claimed in a tweet, "Rioters have used corrosive fluid in Tuen Mun area, injuring multiple Police officers and reporters."
Before the protest, numerous train stations closed in Hong Kong and the city went into unprecedented lockdown as authorities attempted to prevent China's anniversary events from being overshadowed by the riots, according to Reuters.
The big picture: Hong Kongers have enjoyed a high degree of autonomy since the former British colony was returned to China in 1997, and protesters are concerned there may be a crackdown by Chinese authorities.
Go deeper: China's split-screen: Hong Kong protests vs. Communist celebration
Editor's note: This is a developing news story. Please check back for updates.
Go deeper