Most-shared links during debate were pro-Trump tweets pushed by bots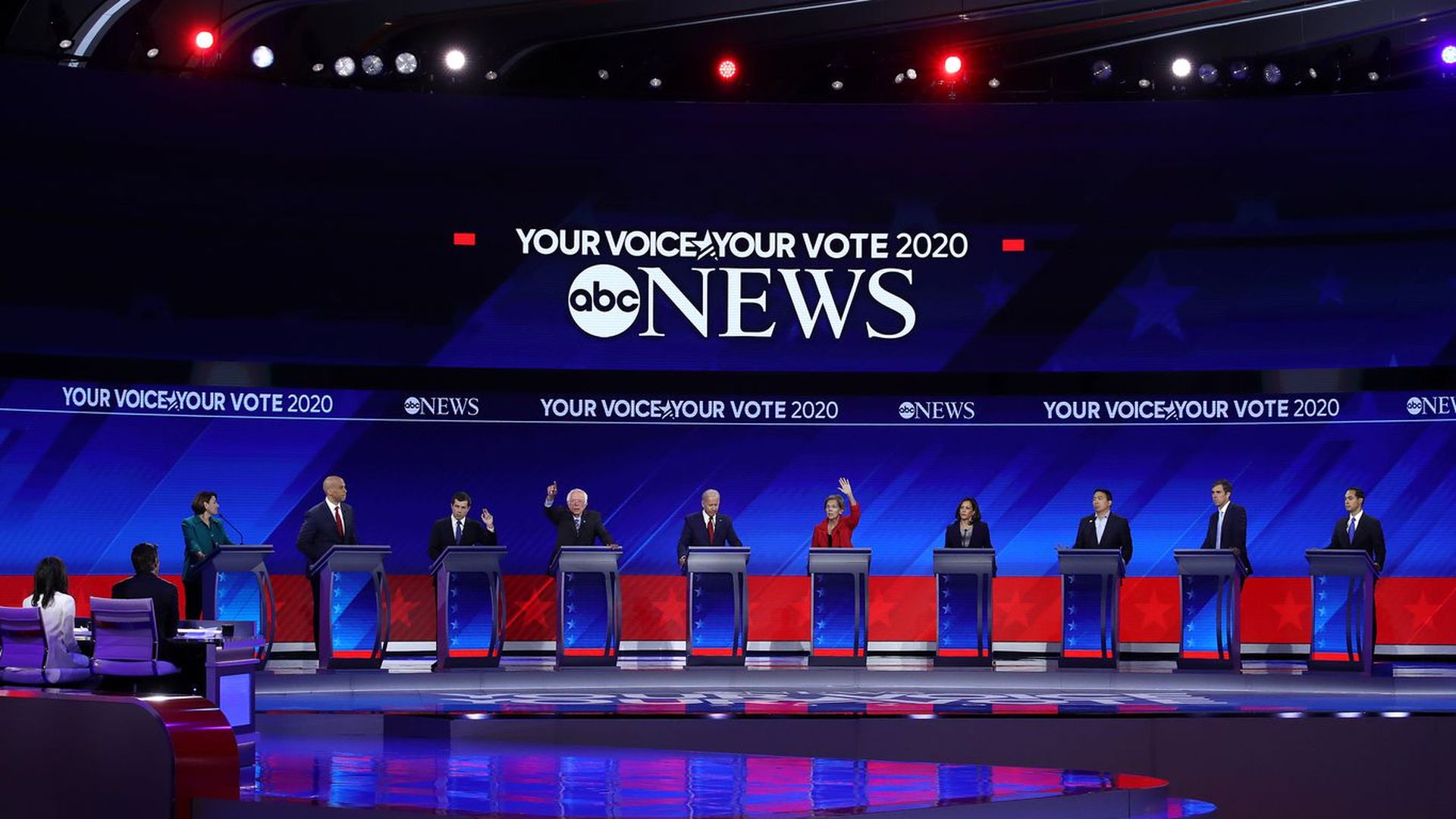 More than 1,000 accounts across several different social media platforms with suspicious, bot-like characteristics helped push quote tweets, a tweet that is retweeted but additional text is added, from Donald Trump campaign accounts during the third primary debate, according to an analysis provided to Axios by social media intelligence company Storyful. Those tweets accounted for the top 3 most-shared links across several social media platforms, including Facebook, Reddit, etc., during the debate.
Why it matters: Despite attempts by social media companies to weed out malicious behavior online, automated accounts are still driving a large part of the social conversation around political events.
Details: Storyful analyzed a total of 1.4 million posts made to public mainstream social platforms over 7 hours before, during and after the debate. The top 3 tweets, which came from legitimate accounts, together received over 15,500 retweets, thanks in large part to activity from accounts that demonstrated bot-like or automated behaviors.
The most-shared tweet came from @TeamTrump, the official Twitter account for the Trump Campaign, and contained a video of a pro-Trump banner flown over the debate location. The third-most shared tweet, which came from @TrumpWarRoom, also contained the same video.
The second most-shared tweet, also from @TrumpWarRoom, used a video to push back Sen. Cory Booker's claim during the debate that Trump had not condemned white supremacists.
Other takeaways:
AOC ad sparks anger: Storyful also found that there was a lot of social media criticism from people complaining about an ad that ran during the debate attacking Rep. Alexandria Ocasio-Cortez. While the ad ran on Sinclair Broadcast Group affiliate stations, Storyful found that a lot of the angst was geared toward ABC and Disney.
Yang soars on social: Andrew Yang generated tons of online buzz coming in second behind Joe Biden in terms of overall candidate mentions on social media. Hashtags such as #yanggang, #isupportyang, #letyangspeak and #yang2020 received over 35,000 mentions during the debate. The report notes that The "YangGang" Discord channel and the "r/YangForPresident," Reddit group, pushed hashtags in support of Yang, bolstering his mentions online. Yang's campaign encouraged the use of those hashtags during the debate via Twitter.
Candidates, ranked: In terms of candidates mentioned online during the debate:

1. Joe Biden
2. Andrew Yang
3. Kamala Harris
4. Elizabeth Warren
5. Bernie Sanders
6. Beto O'Rourke
7. Pete Buttigieg
8. Julián Castro
9. Cory Booker
10. Amy Klobuchar

Conversation spikes: Conversation online spiked most during Yang's opening statement when he promised to give $10,000 to 10 families, followed by Julián Castro's comments toward Joe Biden about forgetting his comments from 2 minutes prior.
Methodology: Storyful's analysis uses a proprietary methodology that assigns weightings to 9 distinct criteria commonly associated with dubious or bot-like activity.
Go deeper