Former FBI agent Peter Strzok sues Justice Department for wrongful firing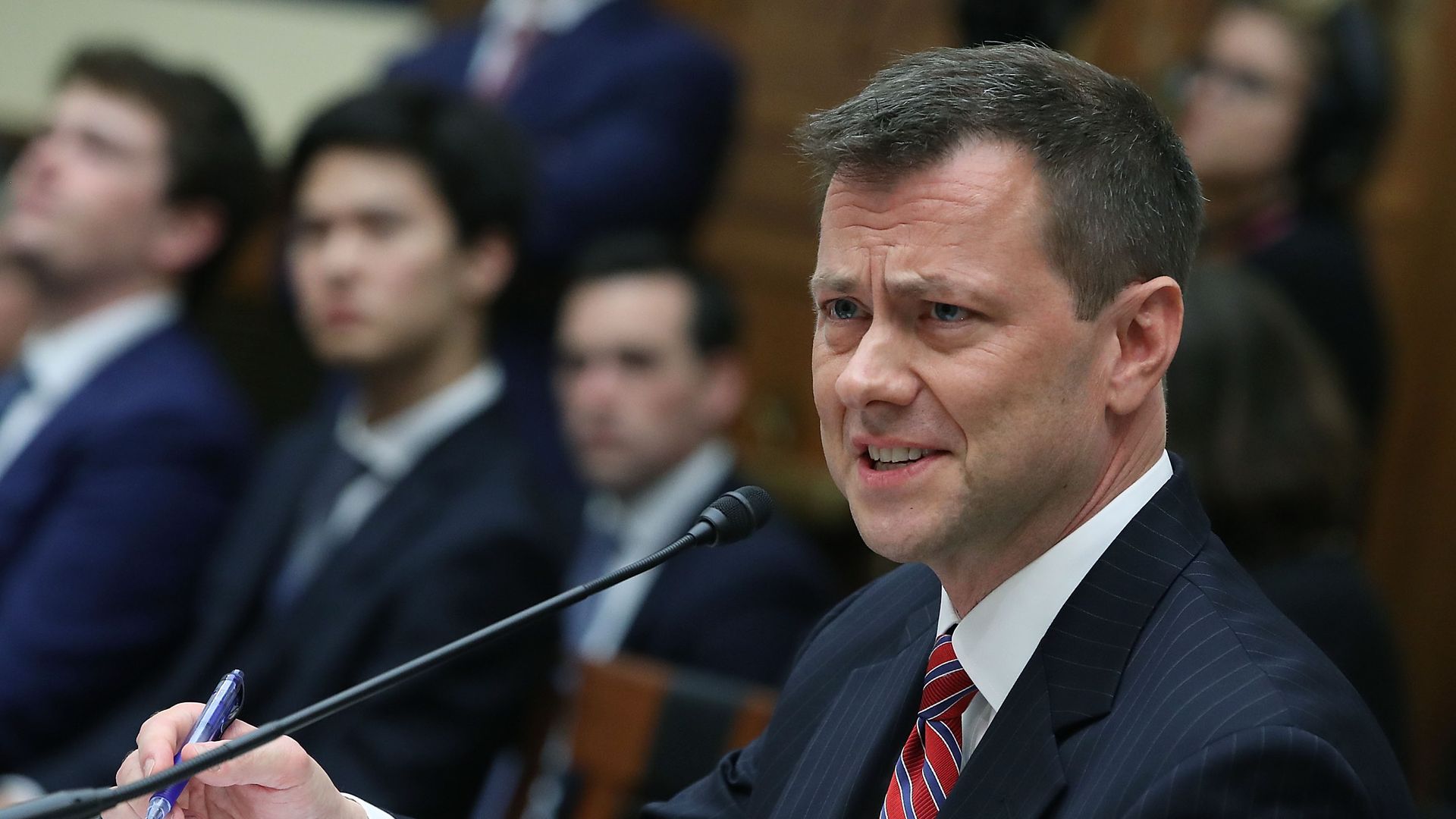 Former FBI Deputy Assistant Director Peter Strzok on Tuesday filed a lawsuit against the Justice Department and the FBI for violating his First Amendment rights by firing him after discovering 2016 texts in which he "expressed his political opinions" about then-candidate Donald Trump.
Why it matters: Strzok led the FBI's investigation into Russian interference in the 2016 election and later worked for special counsel Robert Mueller, before being transferred and later terminated after the discovery of thousands of personal text messages exchanged with FBI lawyer Lisa Page. Strzok has been the target of attacks from conservatives and Trump allies who believe the Russia probe was politically motivated and part of a conspiracy to undermine the Trump presidency.
Strzok's attorney said in a statement: "The lawsuit shows that, in bowing to the president's desires, FBI leaders trampled Pete's free speech and due process rights in ways that should be deeply troubling to all in government, and indeed, to all Americans. Today, Pete Strzok is fighting back, and sending a message that the Administration's purposeful disregard for constitutional rights must not be tolerated."
Details: The lawsuit claims that there has been no assertion that Strzok's speech violated the Hatch Act, and that even if it had, the government "cannot practice viewpoint discrimination in deciding what political speech by government employees to allow and what political speech to punish."
It goes on to claim that the Trump administration "has consistently tolerated and even encouraged partisan political speech by federal employees, as long as this speech praises President Trump and attacks his political adversaries" — specifically pointing to White House counselor Kellyanne Conway's Hatch Act violations as an example.
In addition to violating Strzok's First Amendment, the lawsuit alleges that the firing violated his right to due process. It claims the FBI's decision to fire Strzok was the result of "unrelenting pressure from President Trump and his political allies," and that it did not "abide by the final decision of Assistant Director [Candice] Will to suspend and demote, rather than fire" him.
Strzok also alleges that he was denied the right to appeal his firing. The lawsuit requests that he be compensated with back pay and reinstatement to his old job.
Read the lawsuit:
Go deeper