Trump unleashes attack on Baltimore while criticizing Elijah Cummings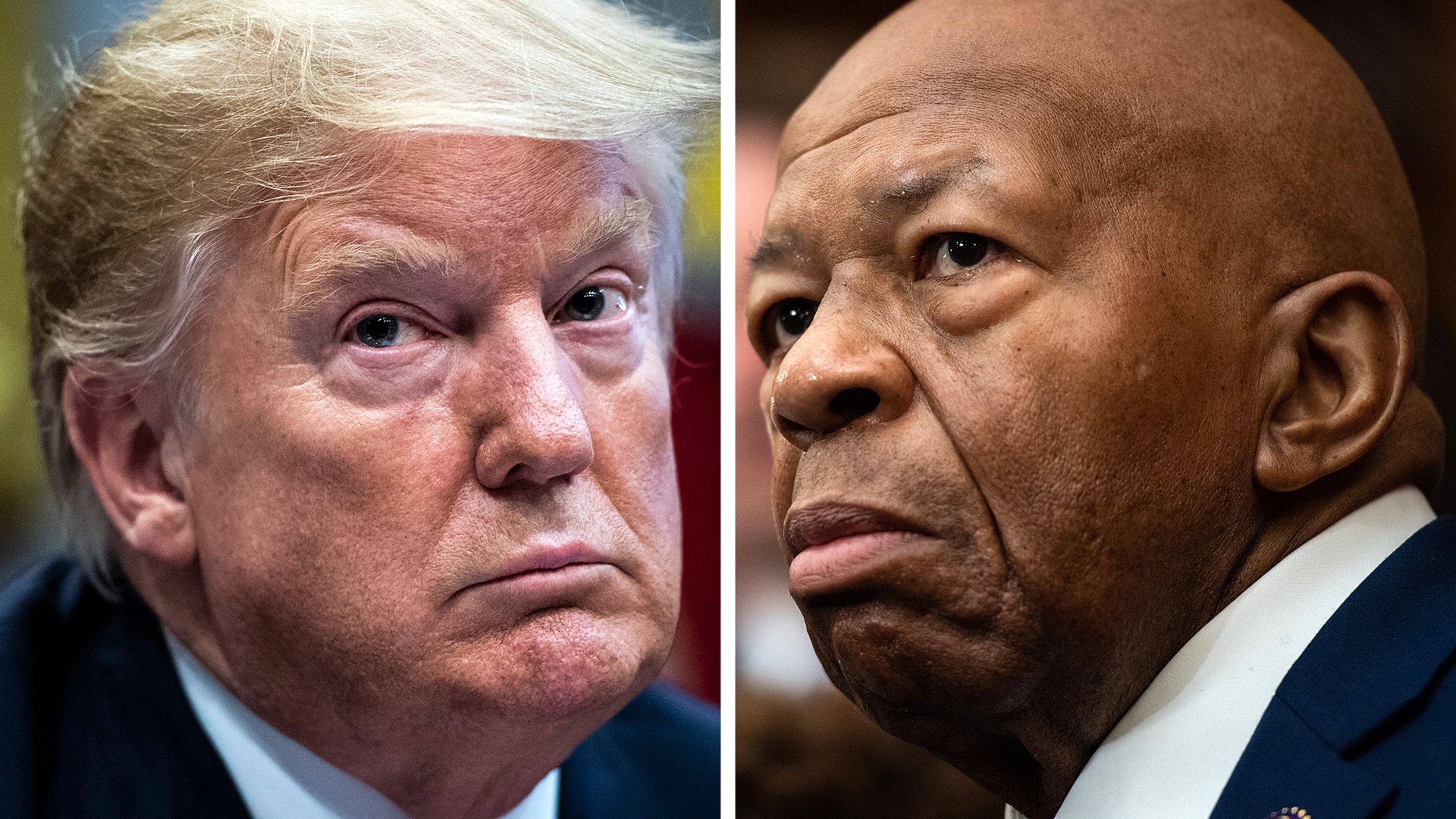 President Trump attacked Rep. Elijah Cummings (D-Md.) on Twitter Saturday morning, calling his congressional district "the worst run and most dangerous anywhere in the United States."
The big picture: This is the second time this month that Trump has attacked a black member of Congress. He earlier told Rep. Ilhan Omar and 3 other congresswomen of color to "go back" to their countries. Trump is also attacking a majority black district when he calls Cummings' district one of the most dangerous places in the U.S.
"Rep. Elijah Cummings has been a brutal bully, shouting and screaming at the great men & women of Border Patrol about conditions at the Southern Border, when actually his Baltimore district is FAR WORSE and more dangerous.
HIs district is considered the Worst in the USA as proven last week during a Congressional tour, the Border is clean, efficient & well run, just very crowded. Cumming [sic] District is a disgusting, rat and rodent infested mess. If he spent more time in Baltimore, maybe he could clean up this very dangerous & filthy mess.
Why is so much money sent to the Elijah Cummings district when it is considered the worst run and most dangerous anywhere in the United States. No human being would want to live there. Where is all this money going? How much is stolen? Investigate this corrupt mess immediately!"
— President Trump on
Twitter
Why it matters: Cummings is one of the leading congressional critics of the president, as shown by:
Issuing multiple subpoenas against top Trump administration officials, including for Trump's daughter Ivanka and son-in-law Jared Kushner.
Urging Americans to pay attention to what special counsel Robert Mueller has to say about Russian interference in the 2016 election.
Speaking out about the status of the Border Patrol facilities, and blasting Department of Homeland Security Secretary Kevin McAleenan over it in a public hearing.
Between the lines: Trump's attacks are "a straight recitation of a Fox segment" from earlier Saturday morning, also claiming living conditions at border facilities are better than in most districts, says MMFA reporter Matthew Gertz.
Reality check: Nearly 36% of Baltimore's residents are college educated, compared to the national average of 28%. However, in 2018, Baltimore had the worst homicide rates among the nation's 50 largest cities, reports the Baltimore Sun.
What he's saying: Cummings tweeted in response it is his "constitutional duty to conduct oversight of the Executive Branch" and that it's his "moral duty to fight for my constituents."
He also raised the issue of how high drug prices was affecting his constituency, imploring Trump to work with him to address the problem.
This article has been updated to include Cummings' comments.
Go deeper