Senate votes to extend 9/11 Victim Compensation Fund through 2092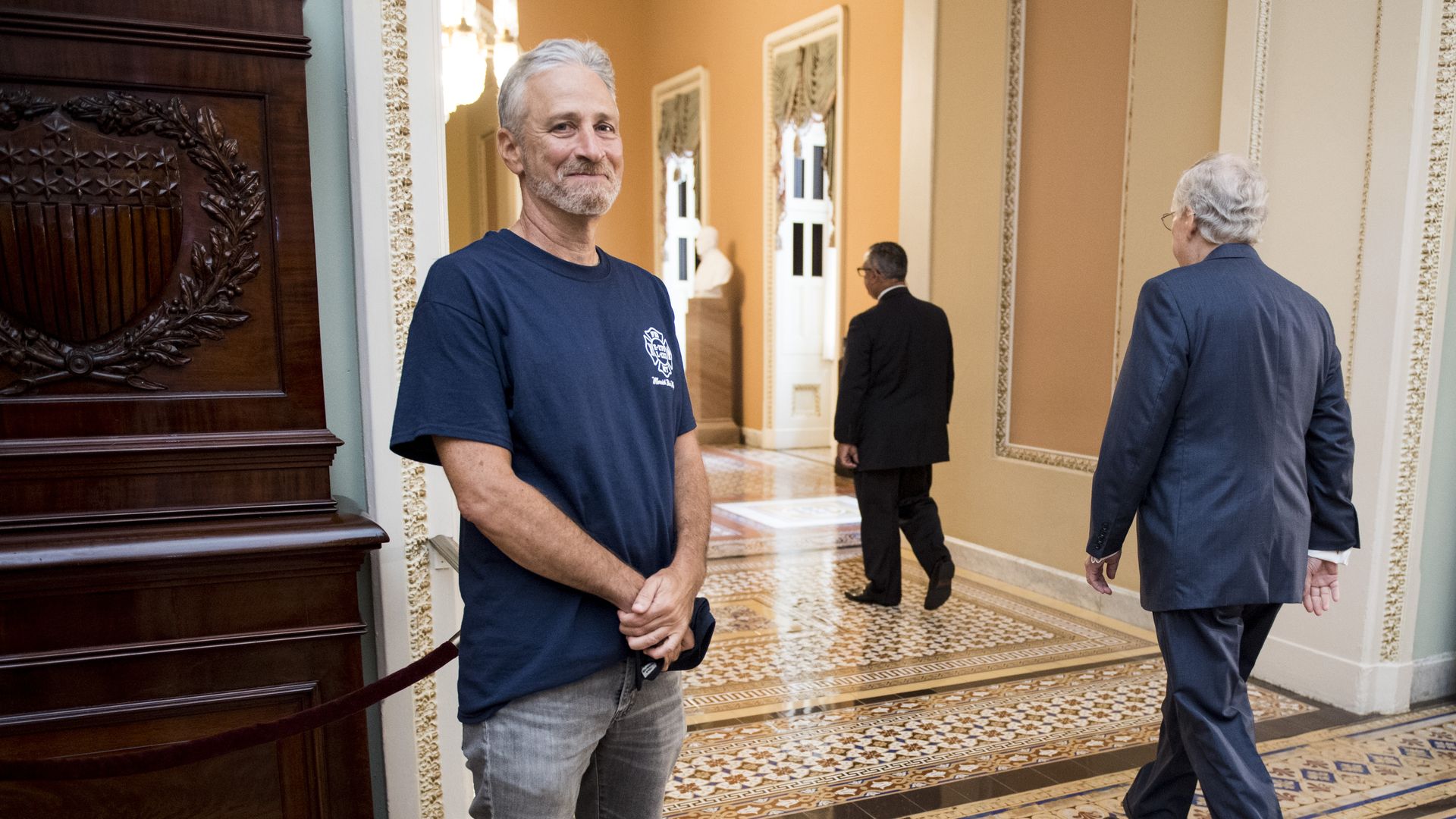 The Senate voted 97-2 on Tuesday to reauthorize the 9/11 Victim Compensation Fund, securing funding for first responders and victims impacted by the toxins at Ground Zero through 2092. Sens. Rand Paul (R-Ky.) and Mike Lee (R-Utah) were the only senators to vote no.
Why it matters: The fund is set to run out by 2020, affecting approximately 93,000 first responders and survivors still being treated or monitored 19 years after the 9/11 terrorist attacks. The tally of victims after 9/11 will eventually exceed the 2,977 killed on the day of the attacks, according to the New York Daily News.
The backdrop: Comedian Jon Stewart's championing of the issue, which included an impassioned speech at a House hearing in June in which he blasted members of Congress for their low attendance, has helped bring the bill to national prominence.
Stewart told Fox News in June that first responders were "at the end of their rope" with Congress and that the issue has "never been dealt with compassionately" by Senate Majority Leader Mitch McConnell (R-Ky.).
Stewart also called it "outrageous" that Sen. Rand Paul (R-Ky.) blocked the bill from being passed by unanimous consent last week. Paul responded by saying that he was "simply offering an amendment, which other senators support, to pay for this legislation."
Paul's amendment was ultimately defeated 22-77.
What they're saying:
Sen. Mitch McConnell said in a statement before the vote: "In just a few hours, the Senate will attend to an important subject that we have never failed to address: The September 11th Victims Compensation Fund… Congress can never repay these men, women, and families for their sacrifices. But we can do our small part to try and make our heroes whole. That's why the Senate has never failed to attend to the Fund before. We weren't about to do so now."
Sen. Rand Paul, who voted against the bill, wrote on Twitter: "While I support our heroic first responders, I can't in good conscience vote for legislation which to my dismay remains unfunded. We have a nearly trillion dollar deficit and $22 trillion in debt. Spending is out of control."
Jon Stewart said at a press conference after the vote: "We can never repay all that 9/11 community has done for our country. But we can stop penalizing them. And today is that day that they can exhale."
What's next: The bill, which was passed by the House 402-12 earlier this month, will now go to the desk of President Trump for a signature.
Go deeper