Israel to allow Reps. Omar and Tlaib to enter the country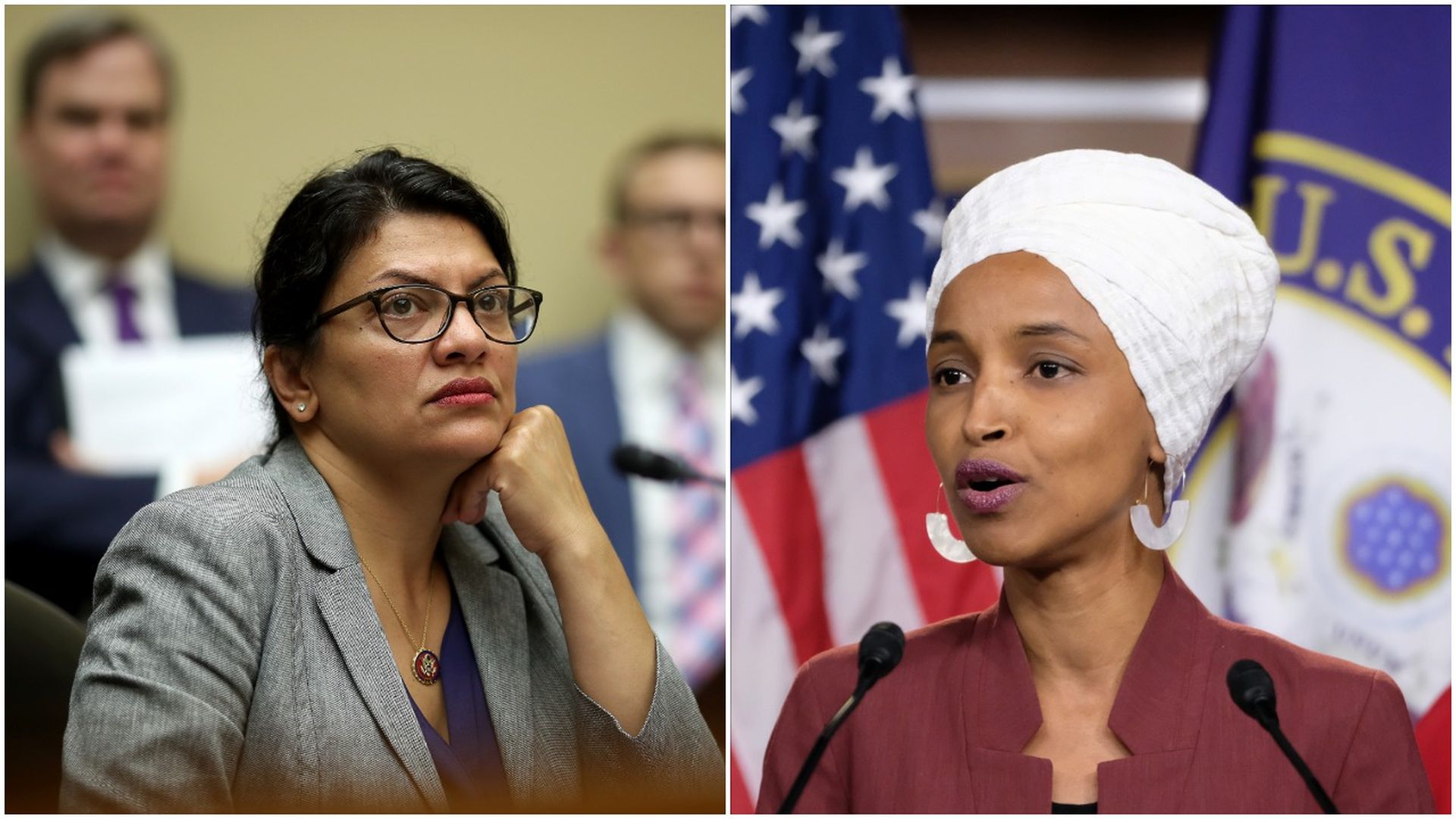 Israel will allow Reps. Ilhan Omar (D-Minn.) and Rashida Tlaib (D-Mich.) to enter the country on an upcoming trip, regardless of their support for the BDS movement, Israeli Ambassador to the U.S. Ron Dermer said in a statement.
Why it matters: Omar and Tlaib were two of the targets of recent racist public attacks from President Trump. Last weekend, he called for them to "go back" to the countries they came from — despite the fact that Omar is a naturalized U.S. citizen and Tlaib was born in the U.S. Trump included in his attacks against the congresswomen accusations that they were anti-Semitic and anti-Israel.
Catch up quick: Omar and Tlaib are advocates for the Boycott, Divestment and Sanctions movement, a Palestinian-led boycott which says that it is working to apply economic, moral and political pressure on Israel until it ends its occupation of Palestinian territories, recognizes Palestinian citizens of Israel as equal and allows Palestinian refugees to return.
Driving the news: In the days since the congresswomen announced their planned visit to Israel and to the Palestinian Authority, the Israeli government had to decide whether to let them into the country.
It's due to a relatively new Israeli law that bars entry to Israel for foreign nationals who publicly support the BDS movement.
Omar and Tlaib have both stated they they support BDS.
Preventing a member of Congress from entry would have been unprecedented in the U.S.-Israel relationship.
Dermer's statement was authorized by Israeli Prime Minister Benjamin Netanyahu.
"Out of respect for the U.S. Congress and the great alliance between Israel and America, we would not deny entry to any member of Congress into Israel."
— Ron Dermer
Go deeper