Lindsey Graham to urge Trump to base peace plan on two-state solution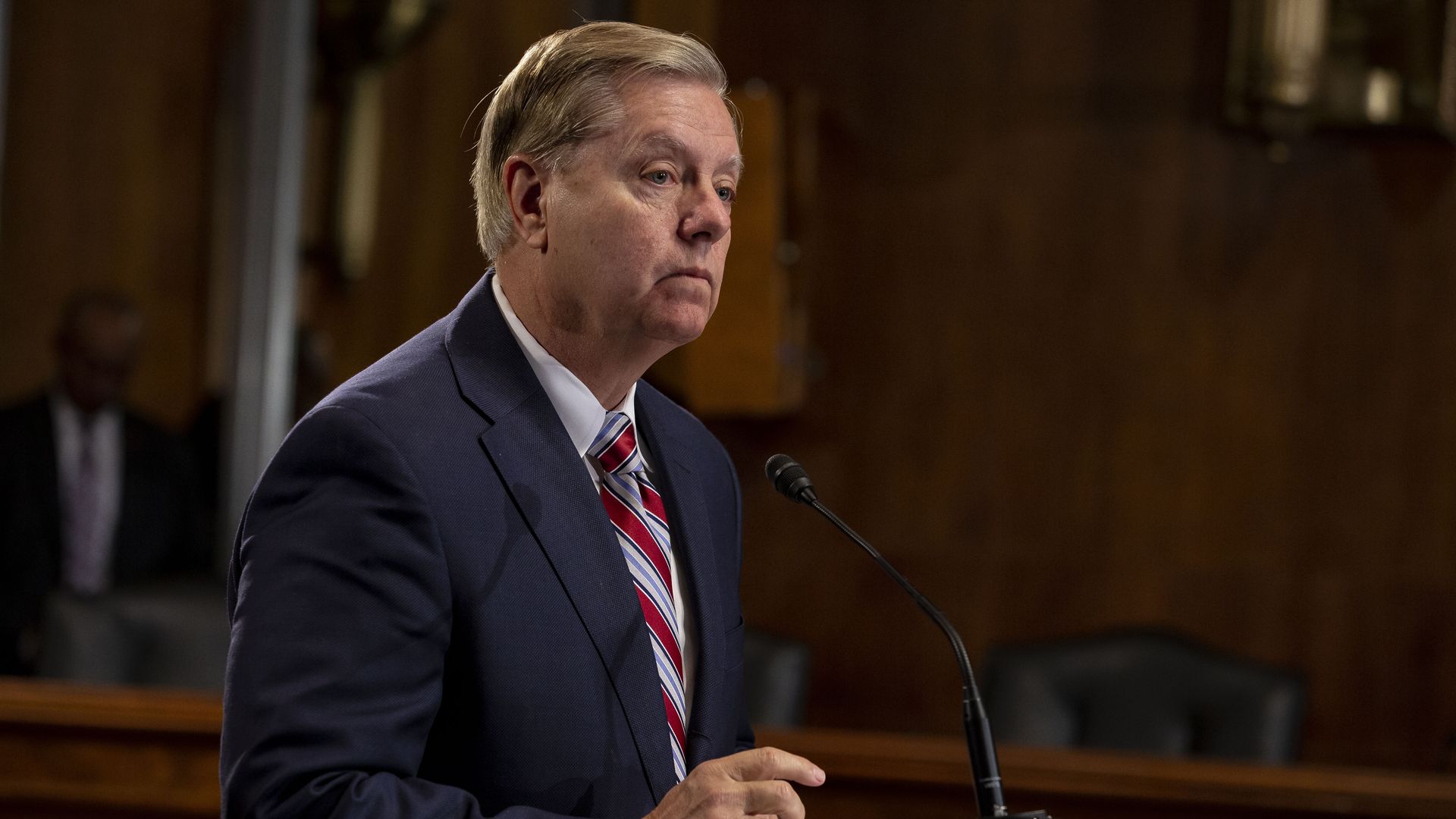 Sen. Lindsey Graham (R-S.C.), a close ally of President Trump, said on Tuesday in a joint press conference in Jerusalem with Sen. Chris Van Hollen (D-Md.) that he plans to talk to Trump and urge him to base the White House's Israeli-Palestinian peace plan on a two-state solution.
Why it matters: Although Trump said publicly last September that he supports a two-state solution, it is unclear if the U.S. peace plan will include this principle. The administration's support of settlements in the West Bank is likely to make a two-state solution far more difficult.
The big picture: Graham and Van Hollen arrived in Israel as part of their work on a draft Senate resolution that will support a two-state solution. The Israeli Embassy in Washington, D.C., has been lobbying both senators to drop the term "two-state solution" from the text, but they have refused.
Graham and Van Hollen met on Monday with Israeli Prime Minister Benjamin Netanyahu and on Tuesday with Palestinian Liberation Organization official Saeb Erekat.
At the joint press conference, both senators said they do not see a peace agreement between Israel and the Palestinians coming to fruition in the near future due to domestic political problems on both sides. But they stressed that they want the U.S. to embrace a policy that preserves the ability to implement a two-state solution in the future.
Graham and Van Hollen emphasized that eliminating hope for a two-state solution will weaken the Palestinian Authority and strengthen Hamas.
What they're saying:
"I want everybody to understand there is no one-state solution. I will not invest a dime in a situation that results in one state. It is a bad deal for America. If you believe in a democratic Jewish state, it is lost over time from the demographics of merging the two peoples. ... If you absorb all the Palestinians and they can vote, the Jewish states gets eroded and if you absorb all the Palestinians and they can't vote, that's South Africa and it's not going to happen."
— Graham said at Tuesday's press conference
Van Hollen added: "We think it is important to send a signal to the Palestinians who want to live in peace with Israel that there is a road to getting there. We want to keep alive the possibility for the two-state solution."
Go deeper: Scoop: Israel works to stop Senate resolution on two-state solution
Go deeper