Kamala Harris' night: Schools Biden on busing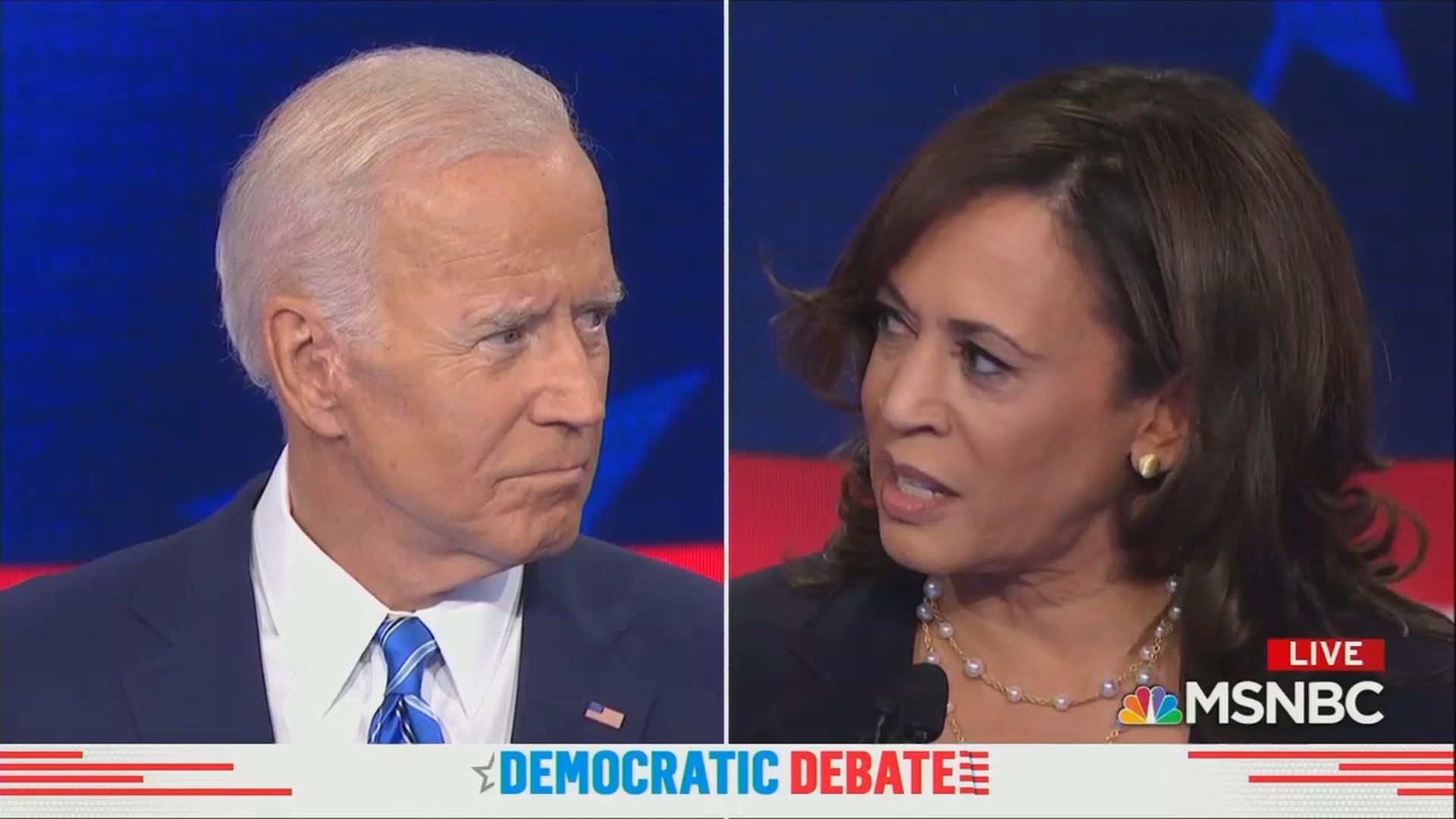 Sen. Kamala Harris confronted former Vice President Joe Biden about his comments about working with segregationist senators and opposing federally-mandated busing in the 1970s — drawing from her own personal experience as being "part of the second class to integrate her public schools."
Why it matters: Harris took control of the night by not waiting for the NBC moderators to bring up segregation. She addressed Biden directly, repeatedly going over her time. She positioned herself as a product of history, but future-oriented and raring to change things in a way that Biden isn't.
A big question is who voters can picture onstage with President Trump. Harris was tough but also showed emotion, per Axios' Alayna Treene.
The video of the exchange:
"I do not believe you are a racist and I agree with you when you commit yourself to the importance of finding common ground. But I also believe — and it's personal and it was hurtful to hear you talk about the reputations of two United States senators who built their reputations and career on the segregation of race in this country. It was not only that, but you also worked with them to oppose busing. There was a little girl in California who was part of the second class to integrate her public schools, and she was bused to school every day. That little girl was me. So I will tell you that on this subject, it cannot be an intellectual debate among Democrats. We have to take it seriously. We have to act swiftly."
Biden fumbled his response, not pausing to acknowledge her life experience, and tapping out before he was cut off:
It's a mischaracterization of my position across the board. I did not praise racists. The fact is that, in terms of busing, the busing, I never — you would have been able to go to school the same exact way because it was a local decision made by your city council. ...
I supported the ERA from the very beginning. I'm the guy that extended the Voting Rights Act for 25 years. ... I've also argued very strongly that we, in fact, deal with the notion of denying people access to the ballot box. I agree that everybody, once they, in fact — anyway, my time is up. I'm sorry.
How it's playing ... Stephen Colbert on a special live edition of CBS' "The Late Show": "I believe in global warming, because Kamala Harris was on fire."
Joy Reid on MSNBC's postgame: "She destabilized him on the race question."
Drudge Report: "BIDEN STAMMERS AS KAMALA EATS HIM ALIVE!"
Go deeper: Biden's race backlash
Go deeper