Israel's Netanyahu inaugurates non-existent 'Trump Heights' town in the Golan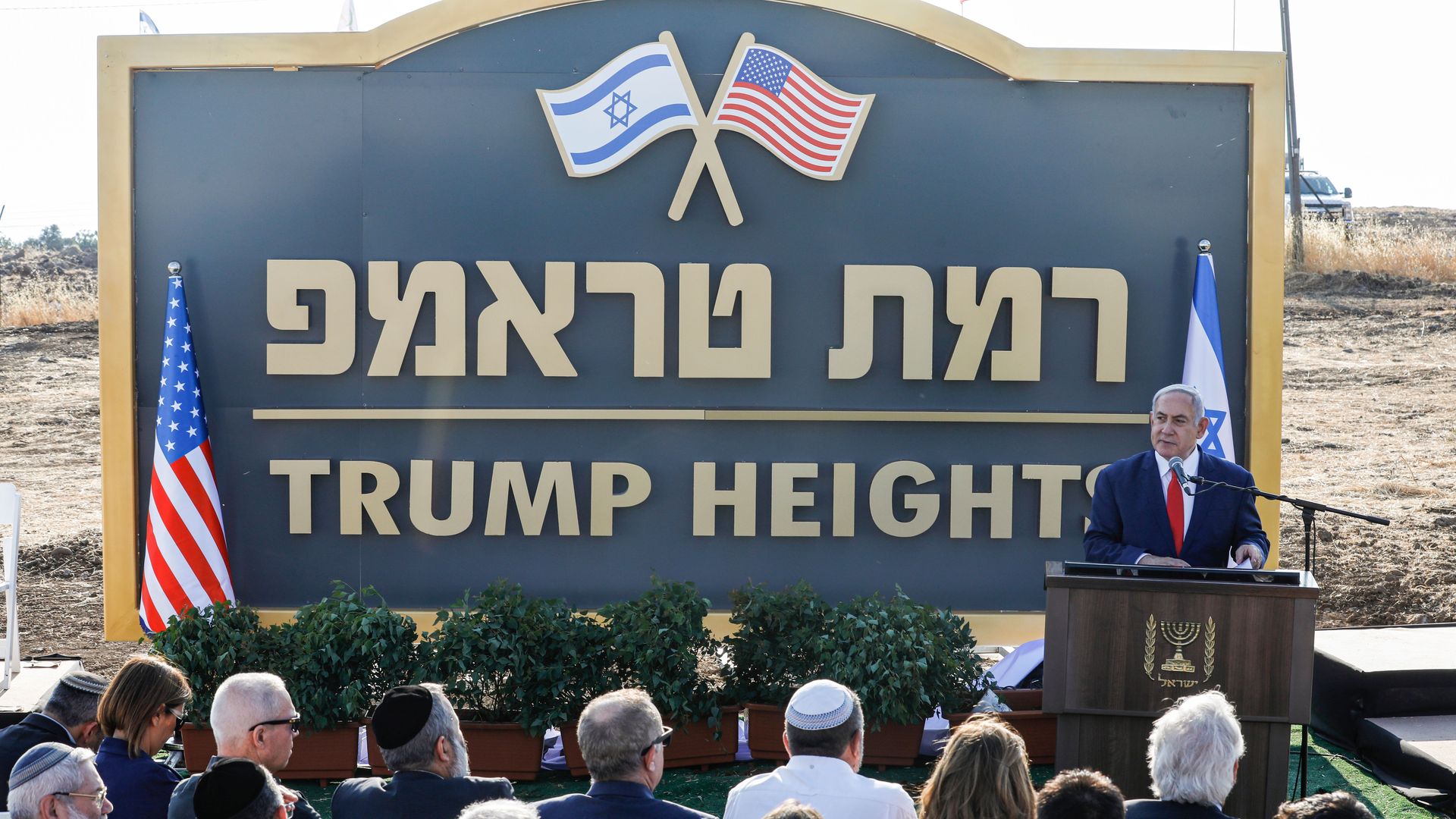 Israel's Prime Minister Benjamin Netanyahu and the U.S. Ambassador to Israel David Friedman hosted a special ceremony Sunday to dedicate a new town in the Golan Heights called "Ramat Trump," or "Trump Heights" in English. The only problem is that for now, this is only a "paper town," meaning it does not yet exist and is not even in planning stages.
Why it matters: This is a public relations stunt meant for a domestic audience on the eve of the upcoming elections. It's also significant for foreign policy reasons, intended for a target audience of one — President Trump. Trump's recognition of the Golan Heights in March gave a dramatic boost to Netanyahu's election campaign. Netanyahu will need Trump's help again soon with the new September 17 elections looming.
Details: Netanyahu took the whole Israeli cabinet to the Golan Heights today and stated the cabinet will pass a resolution to establish the new town. But the cabinet resolution that passed actually said the government couldn't make a decision like that during an election period.
So what was actually decided is that the Ministry of Housing will start preliminary planning work. For now, there is not even a fund allocated to build the new town.
But what Netanyahu and his people did do was place a huge sign with the name of the new town in the spot the town might be located sometime in the future. Netanyahu and Ambassador Friedman unveiled the sign in front of the cameras and praised Trump.
It did the trick. Several hours later, Trump tweeted: "Thank you Prime Minister Netanyahu and the state of Israel for this great honor."
Go deeper: Countries around the world criticize Trump's Golan announcement
Go deeper