U.S. doubles down as more nations point fingers at Iran for oil tanker attacks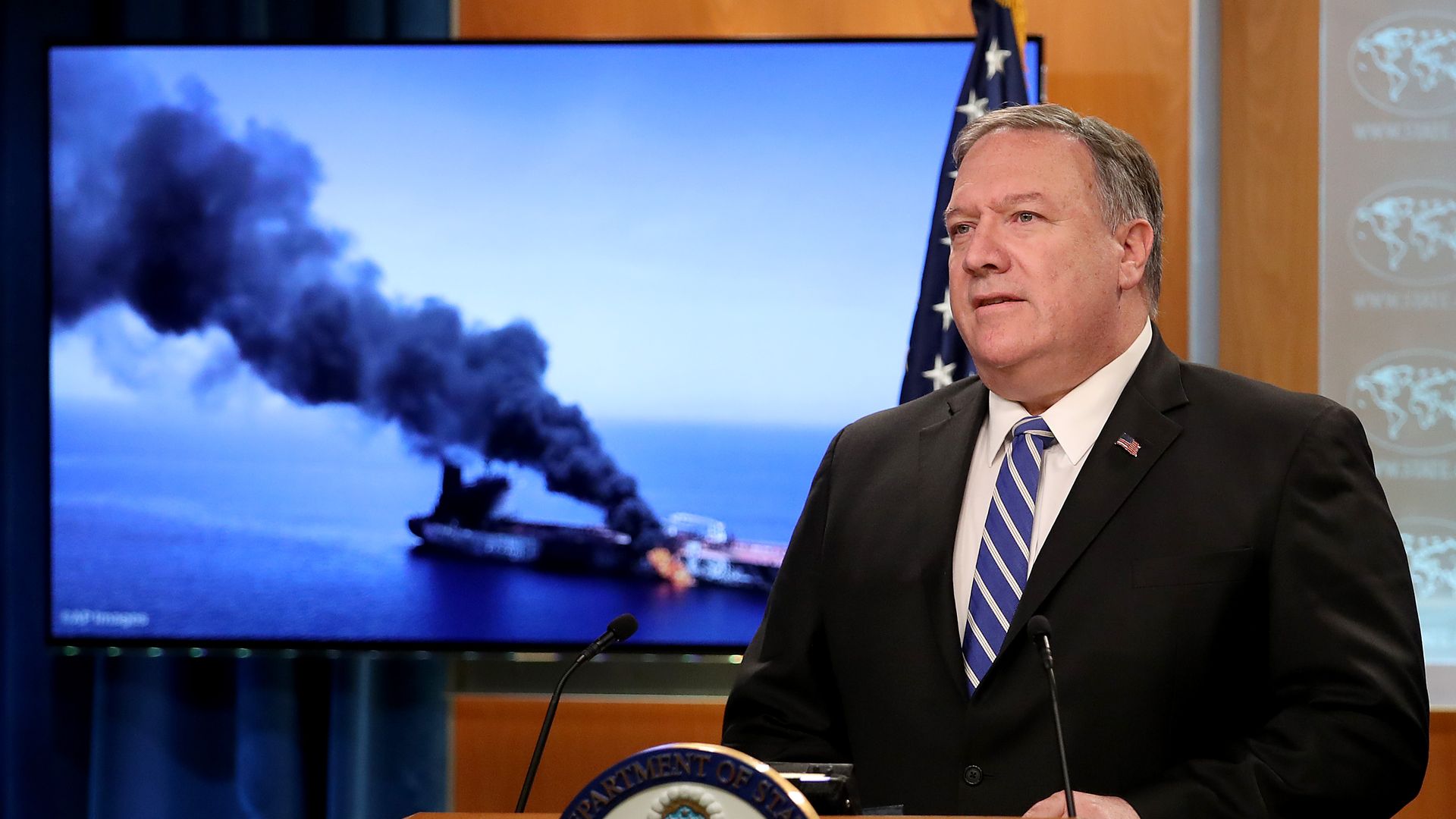 Saudi Arabia has joined the U.S., Israel and the United Kingdom in blaming Iran for attacks on two oil tankers in the Gulf of Oman last week, the Washington Post reports.
Why it matters: Tensions between the U.S. and Iran have ratcheted up once again after the threat of war seemed to have subsided in recent weeks, with Secretary of State Mike Pompeo telling Fox News Sunday: "We've taken a handful of actions to increase the opportunity to convince Iran that these actions aren't in their best interest. And it appears to be Iran that wants to escalate this conflict."
Yes, but: Japan, which owns one of the tankers that was attacked, has cast doubt on U.S. intelligence that Pompeo said provides "unmistakable" evidence of Iran's culpability. The Japanese owner of the tanker said the crew believes they were hit by a "flying object," contradicting U.S. claims that it was a limpet mine that set off the explosion, the Post reports.
German Foreign Minister Heiko Maas has also questioned the intelligence the U.S. has released, telling reporters: "The video is not enough. We can understand what is being shown, sure, but to make a final assessment, this is not enough for me."
What they're saying:
Pompeo: "We're going to guarantee the freedom of navigation through the straits. This is an international challenge. This is important to the entire globe. The United States is going to make sure that we take all actions necessary, diplomatic and otherwise, to achieve that outcome.
Saudi Crown Prince Mohammed bin Salman told the Asharq al-Awsat newspaper that Saudi Arabia "does not want a war in the region, but we will not hesitate to deal with any threat to our people, our sovereignty and our vital interests."
House Intelligence Chairman Adam Schiff told CBS' Face the Nation: "There's no question that Iran's behind the attacks. I think the evidence is very strong and compelling. ... But nonetheless, the problem is we are struggling, even in the midst of this strong evidence, to persuade our allies to join us in any kind of response. It shows just how isolated the United States has become."
Sen. Tom Cotton (R-Ark.), a member of the Senate Armed Services Committee, also told CBS: "These unprovoked attacks on commercial shipping warrant a retaliatory military strike against the Islamic Republic of Iran."
Go deeper