Trump's re-election crisis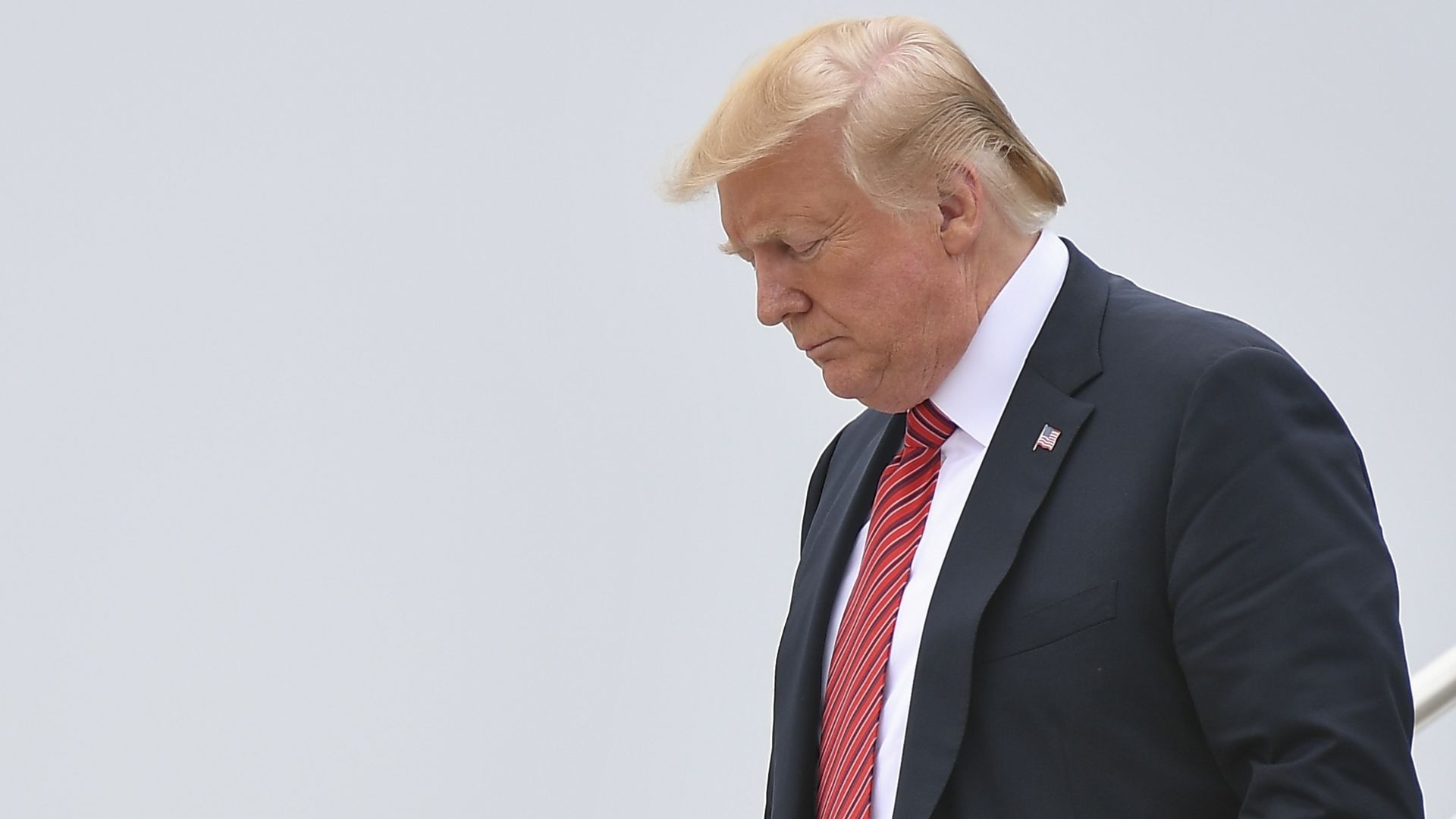 Everywhere he looks, President Trump can see flashing warnings that his re-election is in serious peril, a week ahead of his official campaign launch next Tuesday in Orlando.
The state of play: His internal polls show it, national polls show it and even a poll in reliably conservative Texas shows it — all as Trump should be crushing it. Unemployment is at a near-historic low. The economy is growing. Peace and prosperity abound. But his numbers are sagging.
The warning signs:
The N.Y. Times reported: "After being briefed on a devastating 17-state poll conducted by his campaign pollster, Tony Fabrizio, Mr. Trump told aides to deny that his internal polling showed him trailing Mr. Biden in many of the states he needs to win. ... Trump instructed aides to say publicly that other data showed him doing well."
National Journal's Josh Kraushaar writes that Trump is "in the weakest political shape of any sitting president since George H.W Bush": "Trump hits 50 percent disapproval ... in North Carolina, Arizona, Wisconsin, Ohio, Pennsylvania, Michigan, and Iowa — all states he carried in 2016."
Pay little attention to national polls in a race where states are what matters. But as a sign of voter mood, six Democrats (Biden, Sanders, Harris, Warren, Buttigieg and Booker) each beat Trump in the first 2o2o Quinnipiac University National Poll, released yesterday.
The other side ... A Trump ally familiar with the campaign's strategy said: "Trump has always under-polled. Until it's actually a binary contest, though, these polls really don't matter."
"Educating voters on what Green New Deal and Medicare for All actually mean = an absolute disaster for Democrats."
"When Trump gets a shot at defining someone one-on-one, they're no longer going to be what they are now, which is for the most part a 'generic Democrat.'"
"Historical data says that with the economy roaring like it is, the incumbent always wins."
Be smart: Trump is betting polls will swing when it's a choice between him and someone he can lampoon as a dumb socialist. 
But, but, but: Even the self-avowed socialists are beating him — Bernie Sanders is up 12 in Michigan.
The bottom line: The 2018 elections were a wake-up call for Trump. Democrats had record turnout; his Midwest presidency-makers of Wisconsin, Michigan and Pennsylvania reverted to their Democratic form; and conservative states, including Texas, showed the demographic dangers for the GOP. 
Go deeper:
Go deeper