House Judiciary Committee to hold hearings on Mueller report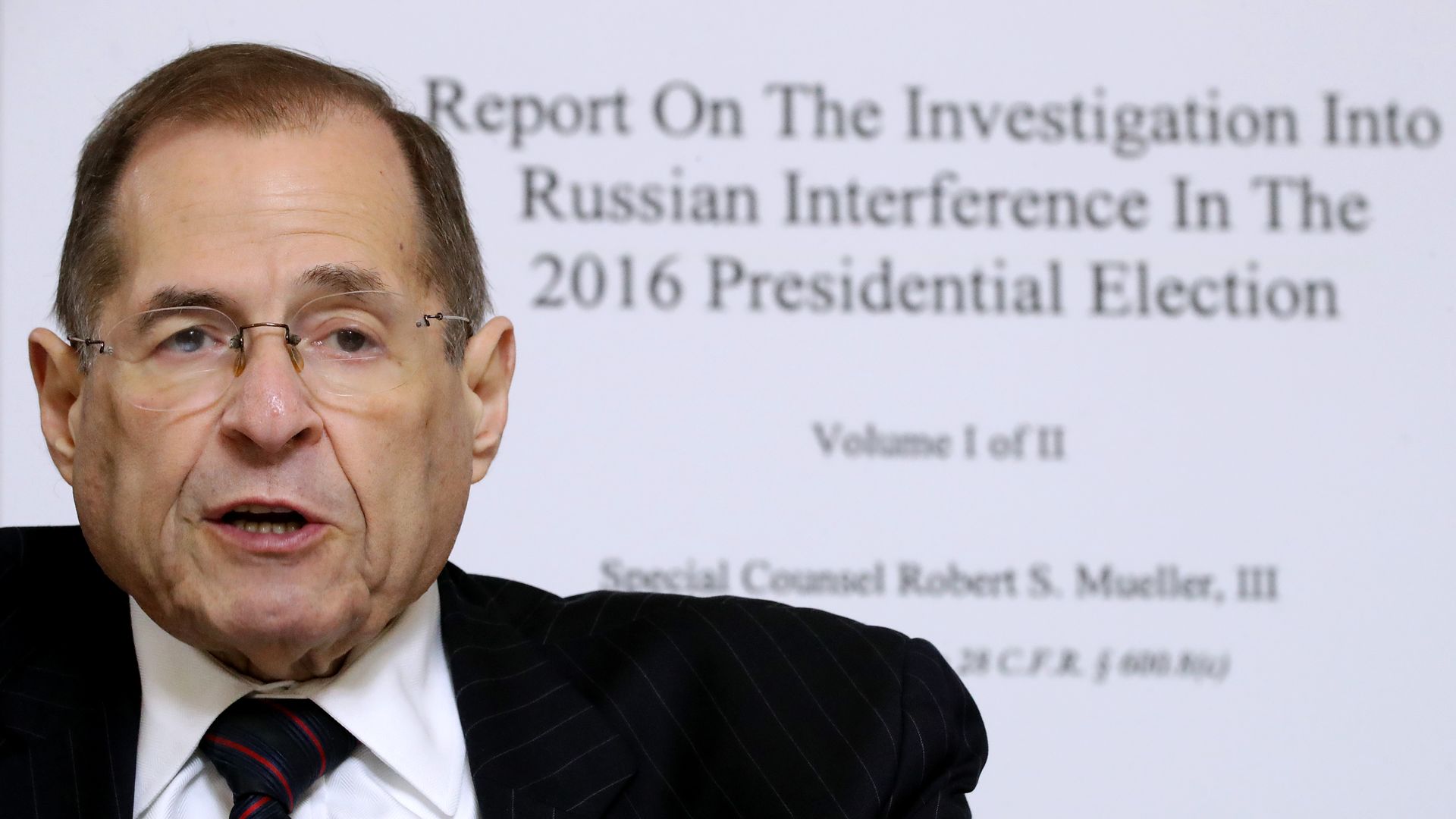 The House Judiciary Committee announced Monday that it would hold a series of hearings on the Mueller report beginning on June 10, with a session focused on "President Trump's most overt acts of obstruction," according to Chairman Jerry Nadler.
Why it matters: Amid growing calls to launch impeachment proceedings against Trump, House Democratic leaders are instead opting to continue holding hearings under the umbrella of standard congressional oversight. House Majority Whip Jim Clyburn (D-S.C.) said on Sunday that he believes impeachment proceedings will begin at some point, but that Democrats must first "do what's necessary to educate the public" on Trump's alleged corruption.
Details: The first hearing will be titled, "Lessons from the Mueller Report: Presidential Obstruction and Other Crimes," and will feature former White House counsel John Dean, whose cooperation in the Watergate scandal famously made him a star witness against President Richard Nixon. The hearing will also feature former U.S. attorneys and other legal experts.
The big picture: Attorney General Bill Barr and former White House counsel Don McGahn have each defied subpoenas from the House Judiciary Committee, with McGahn doing so at the direction of the White House. The committee has authorized a contempt resolution against Barr and is considering the same for McGahn.
Last month, the committee subpoenaed former White House communications director Hope Hicks and McGahn's former chief of staff Annie Donaldson. It's not yet clear whether the two will comply.
Chairman Nadler said in a statement:
"No one is above the law. While the White House continues to cover up and stonewall, and to prevent the American people from knowing the truth, we will continue to move forward with our investigation. These hearings will allow us to examine the findings laid out in Mueller's report so that we can work to protect the rule of law and protect future elections through consideration of legislative and other remedies.
Go deeper: Nancy Pelosi defies growing calls for impeachment after Mueller statement
Go deeper