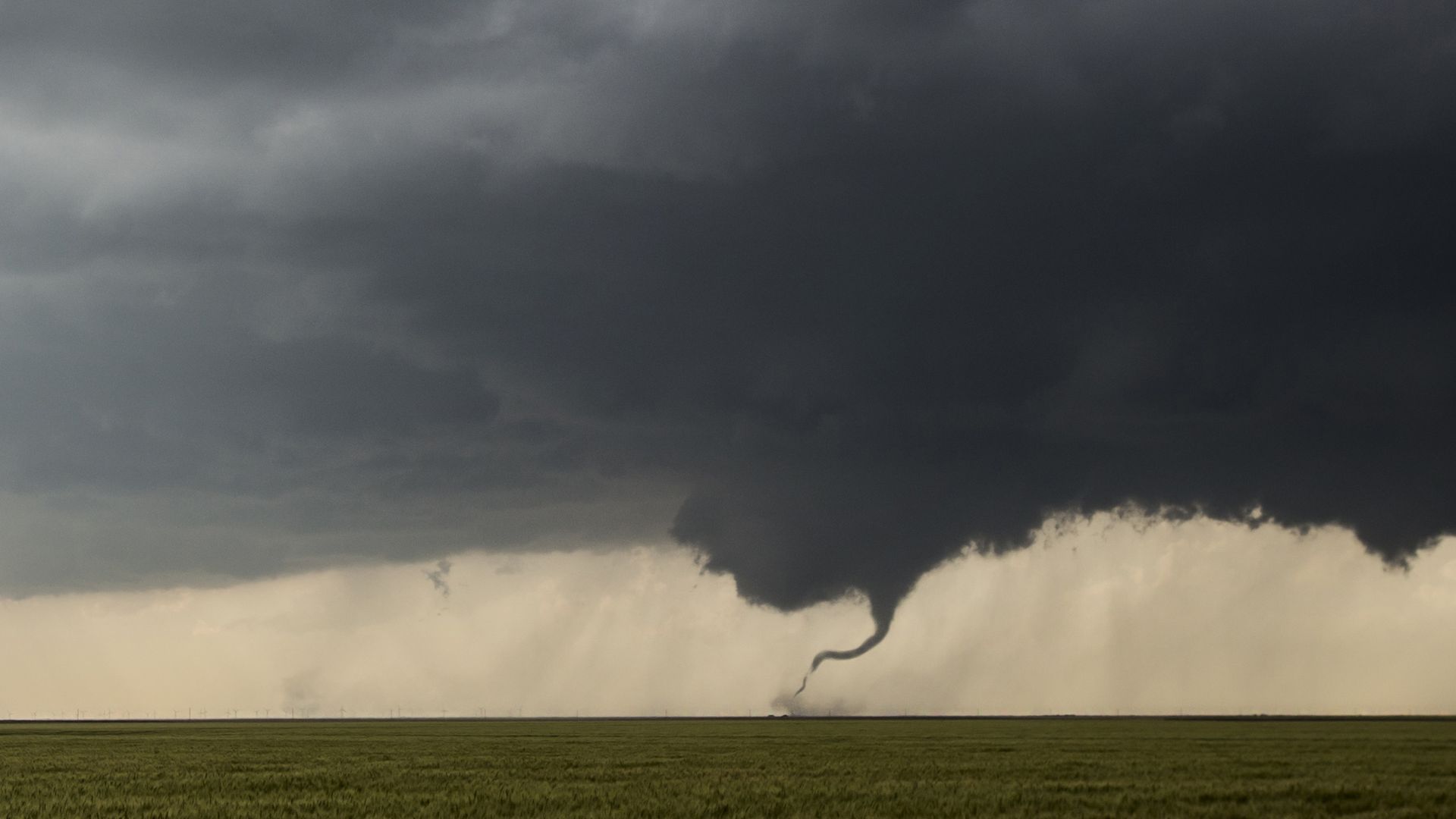 With an average of 1,253 tornadoes per year, the United States experiences more tornadoes than any other country in the world by a fairly large margin, according to the National Oceanic and Atmospheric Administration (NOAA).
By the numbers: Texas saw the highest average annual number of tornadoes between 1991-2010 with 155, per a NOAA analysis.
While a tornado can happen almost anywhere in the world, the middle latitudes between 30° and 50° North or South are the most favorable.
According to NOAA's list, which shows the average yearly number of tornadoes from 1991 through 2010, almost every state averaged at least 1 tornado per year, but midwestern states overwhelmingly saw higher averages.
155: Texas
96: Kansas
66: Florida
62: Oklahoma
57: Nebraska
54: Illinois
53: Colorado
51: Iowa
45: Minnesota, Missouri
44: Alabama
43: Mississippi
39: Arkansas
37: Louisiana
36: South Dakota
32: North Dakota
31: North Carolina
30: Georgia
27: South Carolina
26: Tennessee
24: Wisconsin
22: Indiana
21: Kentucky
19: Ohio
18: Virginia
16: Michigan, Pennsylvania
12: Wyoming
11: California, New Mexico
10: Maryland, Montana, New York
5: Arizona, Idaho
3: Oregon, Utah, Washington
2: Connecticut, Maine, Nevada, New Jersey, West Virginia
1: Delaware, Hawaii, Massachusetts, New Hampshire, Vermont
0: Alaska, Rhode Island
The big picture: The two areas of the U.S. that suffer from a disproportionately high number of tornadoes is Florida and an area in Southeast dubbed "Dixie Alley," as well as the area in the Central U.S. known as "Tornado Alley." While there's no agreed upon boundaries for Tornado Alley, most count parts of states like Texas, Oklahoma, Nebraska, Kansas, Colorado and South Dakota within it.
Go deeper:
Go deeper