Exclusive: Emails show border union chief clashed with Trump nominee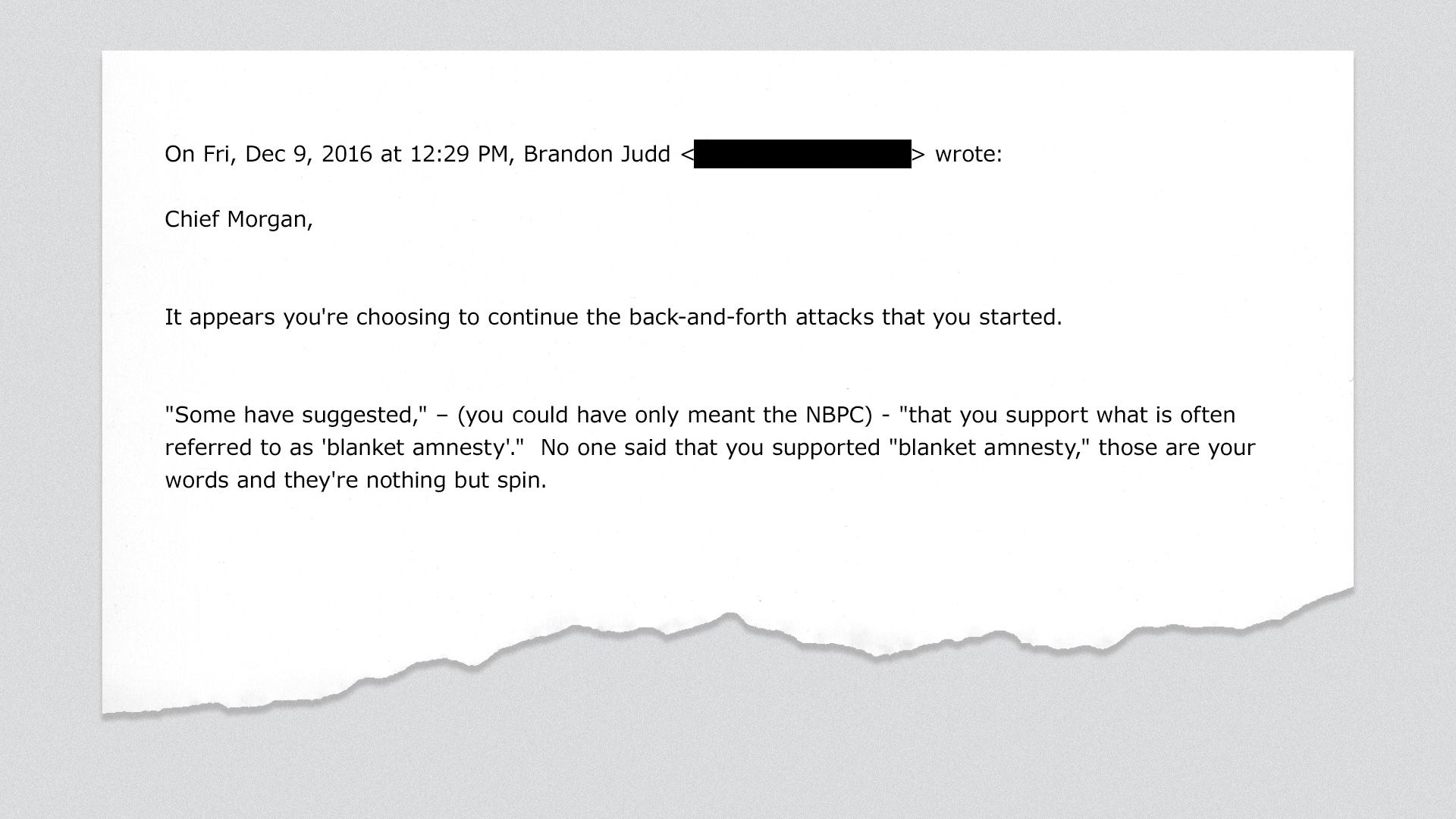 New personal emails obtained by Axios reveal the behind-the-scenes tension between Brandon Judd, the powerful leader of the National Border Patrol Council (NBPC), and Mark Morgan, President Trump's nominee for director of Immigration and Customs Enforcement.
Why it matters: These emails, in addition to other emails leaked to Axios in which Morgan called the Trump administration "heartless" for firing him as the head of U.S. Border Patrol in January 2017, show the level of toxicity that surrounded Morgan at USBP.
They also underscore the peril of being on Judd's bad side. As Axios reported last week, a source familiar said Morgan was fired from USBP because Judd — a man few Americans have heard of — privately told Trump to get rid of him.
Judd disputed this to Axios and said he "never asked then-President-elect Trump to fire chief Morgan." Judd added that then-acting commissioner of Customs and Border Protection, Kevin McAleenan, called him prior to firing Morgan and told him "that the decision was his and his alone." You can read Judd's full statement here.
Details: In an email to all Border Patrol staff on Dec. 9, 2016, Morgan provided "context and clarification" to a statement he made during his testimony before the Senate Homeland Security Committee the previous month.
"I do not, as some have suggested, support what is often referred to as 'blanket amnesty,'" Morgan wrote. "What I actually support is reform."
About an hour later, Judd replied to Morgan in a blistering email from his personal account:
"No one said you supported 'blanket amnesty,' those are your words and they're nothing but spin," Judd wrote.
"Simply put, you've politicized your position more than any of your predecessors."
Pointing to an interview in which the Washington Post reported that Morgan was "a civil servant and not a political appointee," and would be in the job regardless of whether Trump was elected president, Judd wrote: "I believe you are a rehired annuitant and you can be removed. At a minimum and regardless of your career status, you can be reassigned."
"Your current actions are going to be seen for what they are — you trying to save your job. If you truly cared about the Border Patrol you would resign immediately, instead, it appears you're willing to drag the Patrol through the mud."
The bottom line: "The amount of influence this guy [Judd] has relative to the reality of the size of his union [the NBPC represents 16,500 border patrol agents] is insane," a senior administration official told Axios. "He has frequent conversations with the president, is in constant conversation with Stephen Miller."
Judd told Axios he finds this quote "laughable" and that it appears Axios' source "has an axe to grind and nothing more."
Judd added that he and Morgan have since "reconciled our differences and talked through the issues that we identified as being the catalyst to our disagreements."
The White House, Morgan, DHS and ICE declined to comment.
Go deeper: Emails show Morgan called Trump administration "heartless"
Go deeper