The race to dominate the $1.5 trillion business of moving stuff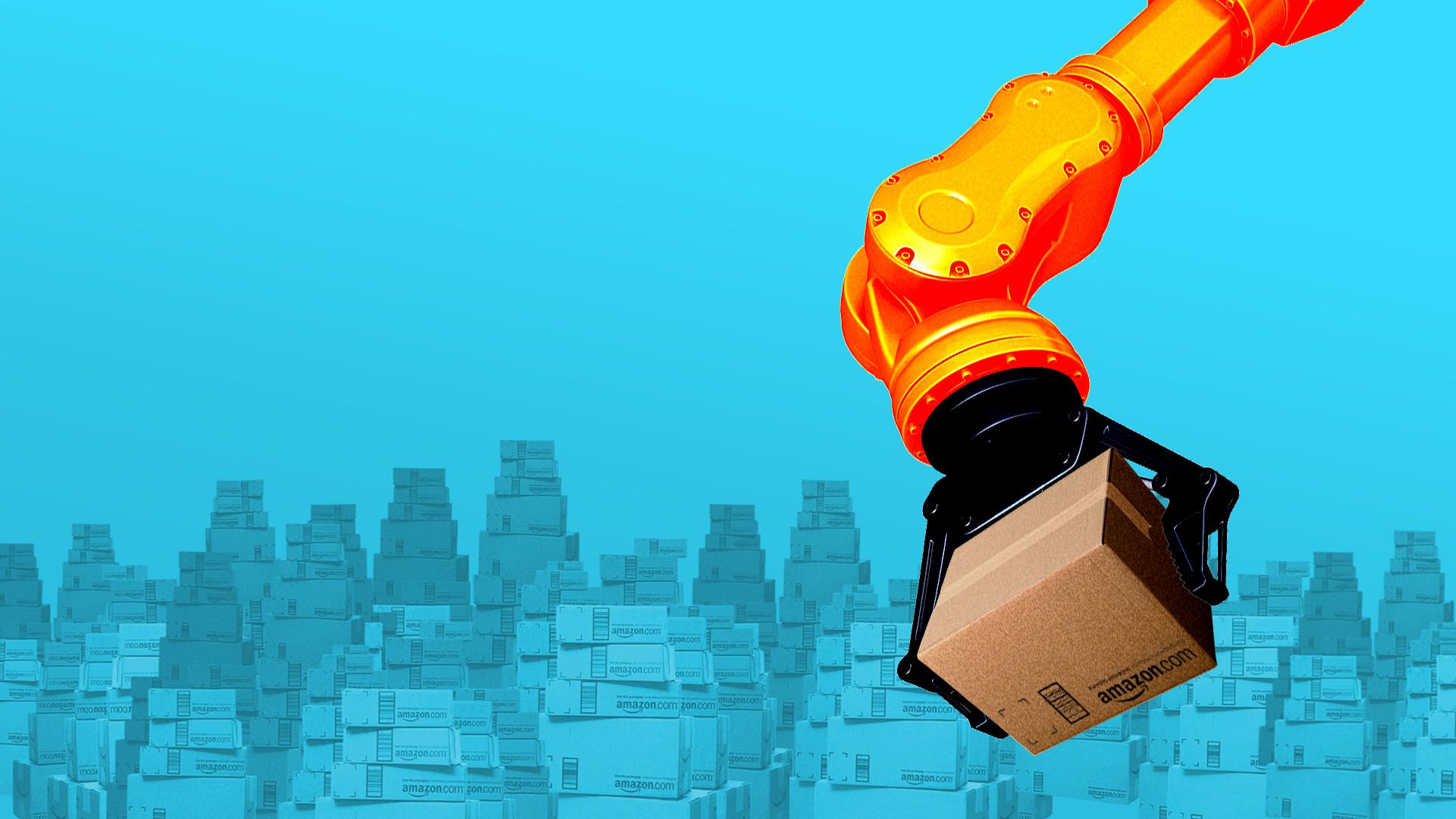 With robots that can pack orders, an ecosystem of delivery helpers and a fleet of trucks, Amazon is building a shipping juggernaut.
Why it matters: It's not as glossy as space travel or as flashy as AI, but the $1.5 trillion per year business of moving stuff around is one of the most lucrative and complex industries in the U.S. And Amazon is attempting to conquer it.
As we've reported, Amazon has signaled its intent to own shipping:
But unlike e-commerce, where Amazon takes more than half of every online dollar spent in the U.S., logistics is filled with worthy competitors that have dominated the industry for a century and won't be easy prey.
In shipping, FedEx and UPS control the majority of the market, with 22% and 40% shares, respectively.
They have mighty forces to move a combined 20 million packages on a typical day, including a fleet of 160,000 cars and trucks all together, along with 900 planes.
And there are dozens of smaller players: In warehousing, for instance, DHL and XPO Logistics have sophisticated robotized operations, per a McKinsey Global Institute report.
Although Amazon has "been a big disrupter in other industries, I don't think that they are going to be a major disrupter in the transportation industry," says Beth Davis-Sramek, a professor at Auburn University.
Look for out-and-out war: If Amazon strengthens its network and stops relying on the big shippers, UPS and FedEx could lose one of their biggest customers, hurting their bottom line. And smaller firms could pick Amazon over them, too. These companies are not going to roll over on their tummies.
UPS tells Axios: "Amazon is a good customer, but e-commerce offers many opportunities beyond Amazon. ... We're building innovative solutions and partnering with e-commerce leaders to serve small, medium and large businesses around the world."
FedEx responded: "While there has been significant media interest in what Amazon is doing to expand their in-source delivery capability, this should not be confused as competition with FedEx."
What's happening: The rise of online retail — and customer demand for speedy delivery — has supercharged the U.S. shipping industry.
Despite the massive volumes, shipping remains costly. For every $100 in sales, e-commerce companies spend about $20 on logistics, McKinsey reckons.
E-commerce's growing share of U.S. retail will put even more strain on shipping.
To keep up with the fast growth, companies large and small are pouring money into automating logistics, betting that firms that use machines to make deliveries cheaper, faster and more accurate will hit the jackpot.
"The idea is to build the physical internet," says Julian Counihan, founder of Schematic Ventures, an investment fund. "Boxes become bytes that move throughout the supply chain network as seamlessly as data."
The big picture: The logistics industry employs around 15 million people and has the third-highest automation potential of any sector, per McKinsey.
This week, Amazon made significant headway with new robots that can box up items, reports Reuters. These machines are beginning to make Amazon more efficient.
Still, human labor is required to complete some of the most crucial tasks: handling individual items, picking products off of shelves and arranging them in boxes.
What to watch: The e-commerce giant has long offered shipping to the merchants selling on its site through Fulfillment by Amazon, but it hasn't been able to offer the service at a cheap enough rate to attract big-volume customers, says Ashutosh Dekhne of McKinsey Global Institute. Driving down costs through automation could change that.
But even if Amazon becomes the cheapest and fastest shipper in the country, big retailers may still choose to work pure logistics companies like DHL and XPO, Counihan says.
"Amazon is in a unique position in that no other third-party logistics provider also competes with their customers," he says. If retailers that don't already sell on Amazon let the tech giant handle their shipping, they risk handing over valuable data on which products are selling to which markets — information that Amazon can use to sharpen its own retail business.
Go deeper