Spanish-language media is having a local news boom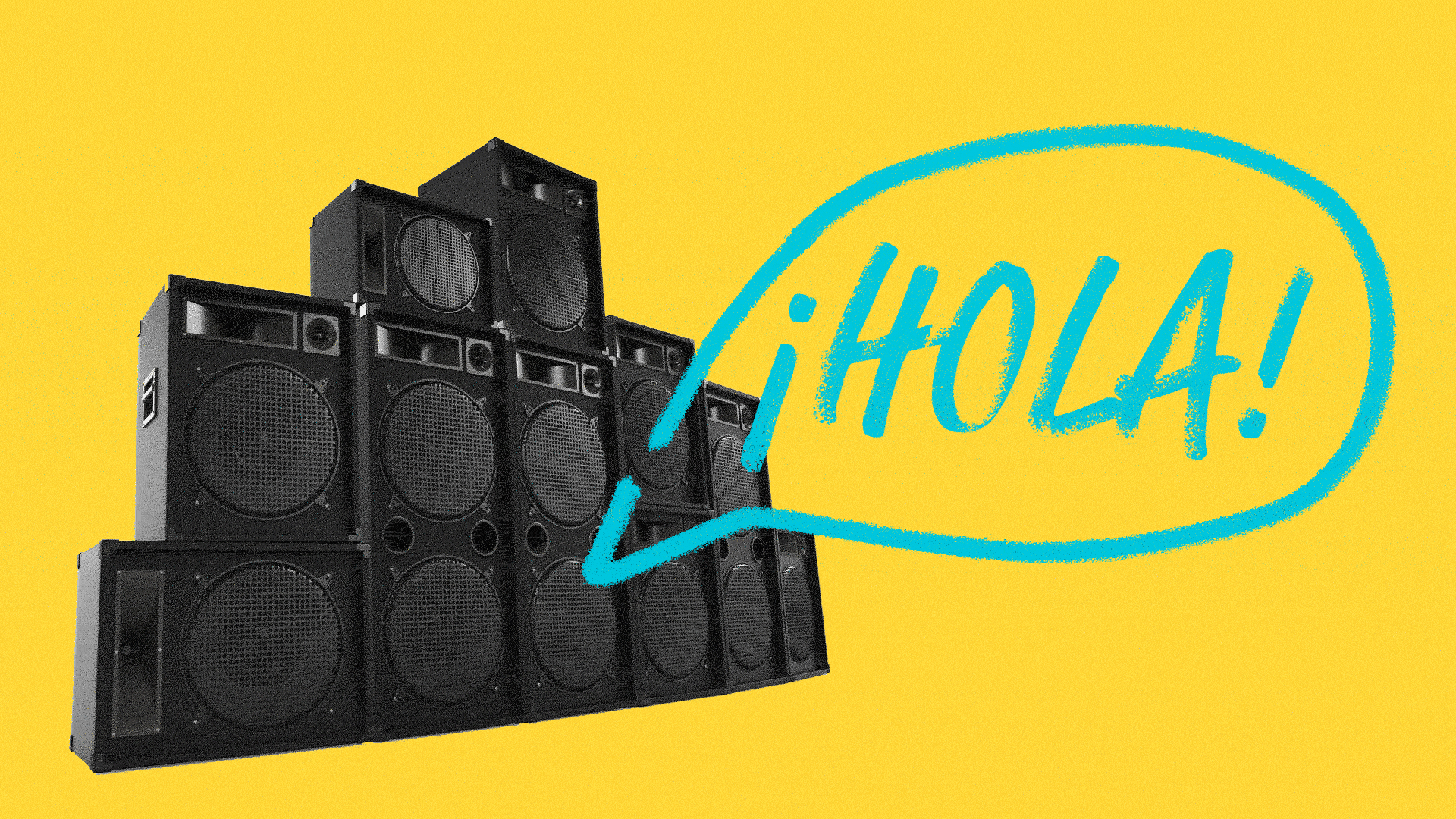 Spanish-language media is branching out locally, with more national outlets investing in local Hispanic coverage and more digital-first, Spanish-language news outlets emerging in small cities and towns across America.
Why it matters: The Hispanic population in the U.S. is increasing swiftly, leading to record-high numbers of Spanish-speaking households, according to U.S. Census data.
Driving the news: Univision, the largest Spanish-language broadcaster in the U.S., and Altice USA's network of local news channels announced a partnership Tuesday in which Univision will begin creating Spanish-language digital broadcasts for Altice's local News 12 networks in the New York metropolitan area.
Michael Schreiber, president of News 12, says Altice USA felt that this would be a good fit, given the fact that its audience over-indexes in Spanish-speaking homes.
"Even in an area that you would not consider Hispanic — Westchester County — that happens to where a quarter of our viewers are coming in from Hispanic homes," says Schreiber.
Between the lines: The efforts come as Univision pushes to get more of its national broadcasts in front of local audiences.
Local news segments are coming for its mostly sports and entertainment-focused broadcast network UniMas in Miami, with the hope of one day expanding the efforts to more markets.
In the last year, Univision has launched 6 new local morning and evening newscasts and opened the only Spanish-language news bureau in Albany, the company's SVP of News Chris Peña tells Axios.
Univision rival Telemundo has also been pushing to bring more news content to local affiliates, expanding locally-produced news programming at the 5:00 p.m., 5:30 p.m., and midday hours across multiple markets.
The big picture: Investments in Hispanic media locally have been growing for years, but many of those efforts have been neglected, in part because there's little data about them.
"There's a bias in mainstream media analysis of the local landscape. It almost never includes minority media as part of that conversation," says Graciela Mochkofsky, director of bilingual Spanish-language journalism at the Craig Newmark Graduate School of Journalism at CUNY.
For the first time, researchers at the Craig Newmark Graduate School of Journalism at CUNY have begun mapping out what the local Hispanic media landscape actually looks like.
While the research is ongoing — and set to debut formally in June — some of the key takeaways suggest that local Spanish-language news upstarts are popping up all around the country, with some that are owned by major newspaper and television companies, but many others that are independently owned and operated.
"The dynamic occurring is you have entrepreneurial Hispanic journalists that are starting to take advantage of tech to be able to cover their own communities," says Hugo Balta, publisher and executive editor of Connecticut's CTLatinoNews.com and president of the National Association of Hispanic Journalists. "Legacy media companies can sometimes be too large to cover hyper-local communities."
Between the lines: Print seems to have a large hold on Spanish-language media in the U.S. Some newspapers are pushing to enter local communities with Spanish-language inserts or additional coverage.
Mundo Hispánico, Georgia's largest Spanish-language newspaper, has been focusing on serving more communities under a new leadership of Hispanic investors.
The company started out as a Hispanic newspaper in 1979 in Atlanta, and went online in 2015. After its digital growth, it expanded to new websites catering to different local communities all over the country.
"When we started reaching more Latinos across the country, we realized we were covering stories others weren't finding, making us a trusted source for many Latinos all over," says María Bastidas, digital content director at Mundo Hispánico. "If a family is separated, all Latinos across the country care about that content."
Be smart: Many of these news efforts are becoming increasingly accessible to both English and Spanish-native speakers. Almost 60% of those who speak Spanish at home also speak English "very well" according to 2017 Census data, Axios' Stef Kight notes.
What's next: The business model for Hispanic local media is also undergoing a radical transformation. As more national outlets begin to invest in Hispanic content, there are more opportunities for businesses to market to Hispanic audiences online.
When asked about the broader commercial implications for Altice USA's efforts, Schreiber said it could be possible one day that the company, which sells targeted TV advertising, to one day sell commercials in Spanish.
"Local Hispanic businesses are eager to sponsor our digital efforts," says Bastidas. "Every day we hear more from clients asking what we can offer locally to Hispanic audiences in digital. "
Go deeper