Scoop: Inside a top Trump adviser's fundraising mirage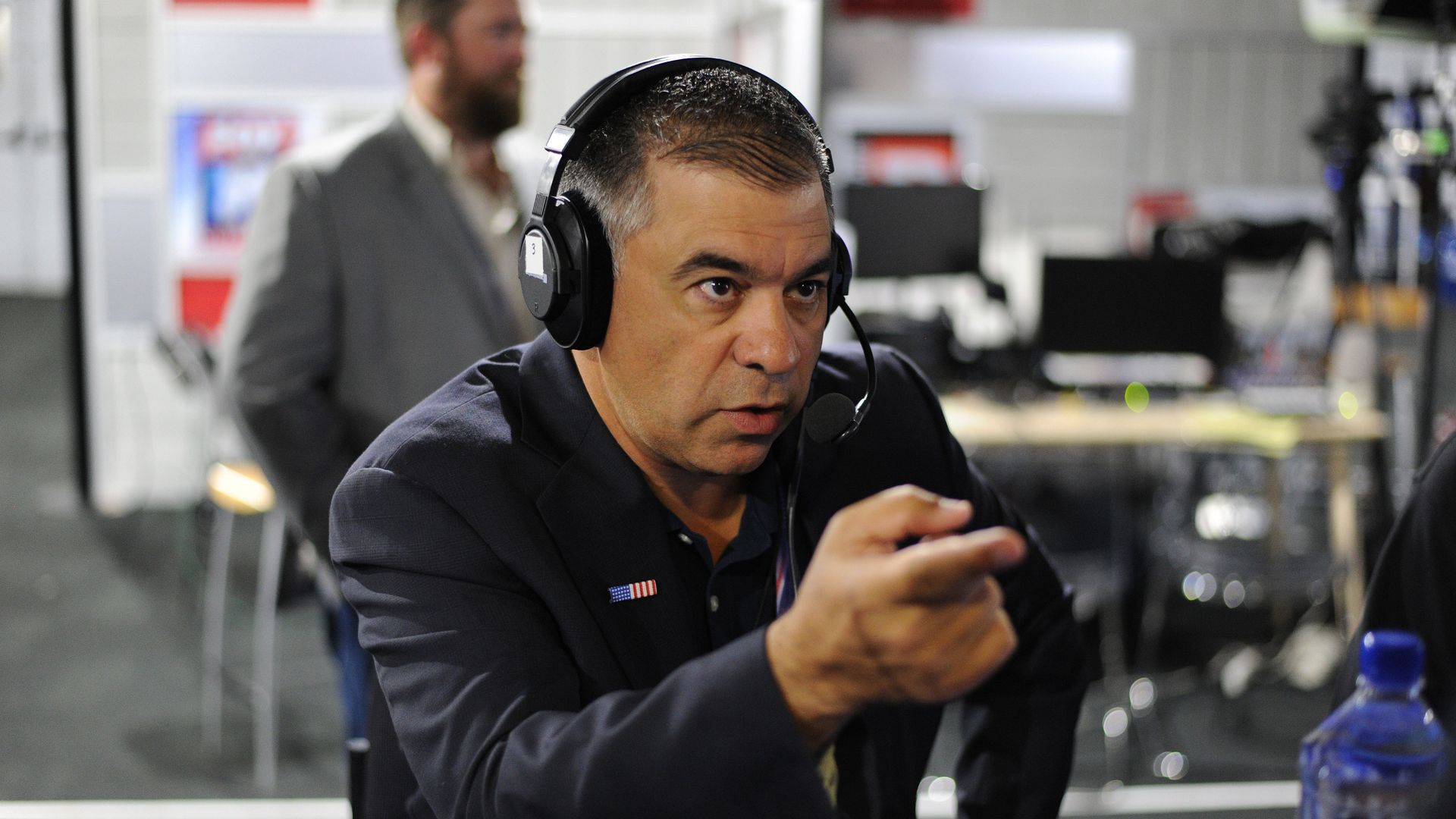 A political organization run by David Bossie, President Trump's former deputy campaign manager, has raised millions of dollars by saying it's supporting Trump-aligned conservative candidates — but has spent only a tiny fraction of that money supporting candidates.
Instead, federal records suggest the Presidential Coalition has spent nearly all its money — raised mostly from small-dollar donations — on more fundraising, as well as administrative costs, which include Bossie's salary, according to a new report produced by the Campaign Legal Center (CLC) in collaboration with Axios.
The group's mailers and ads, obtained by Axios and reviewed by CLC, a campaign finance watchdog, repeatedly stress Bossie's relationship to Trump. Contributions to the organization increased after Trump's presidential victory and then skyrocketed in 2018.
A senior Trump administration official told Axios: "The problem the president is going to have with this is 1) he does not like when people are perceived to be profiting off of him, and 2) these are not max out donors. This is money that many likely think is going towards the president's re-election effort when it is not. So effectively every dollar groups like Bossie's and similar groups raise is a dollar the campaign does not."
Despite no longer working for the Trump campaign, Bossie is still close to the president. Bossie flew with him on Air Force One in March to a rally in Michigan.
The Trump campaign declined to comment.
Why it matters: "There is a cottage industry of groups targeting vulnerable communities with self-serving borderline scams," CLC writes in its analysis. "What sets the Presidential Coalition apart is that it is explicitly — and successfully — capitalizing on Bossie's connection with the president of the United States."
In response, Bossie called our story "fake news brought to you by a collaboration of the biased liberal media and unabashed left-wing activists."
In a long statement, he charged that CLC cannot fairly assess his organization because the group has a "conflict of interest" because it "is a highly vocal and fierce critic of the landmark Citizens United v. FEC case." (Bossie runs Citizens United.) You can read Bossie's full statement here.
Bossie also said the analysis "totally ignores the legitimate staff, infrastructure and other political activity costs associated with the organization's work," adding that "it is expensive to raise substantial amounts in small donor contributions using direct mail, digital, and telemarketing."
Details: On its website, The Presidential Coalition says it has been "dedicated to identifying and supporting conservative candidates running for office at the state and local levels of government" since its founding in 2005.
The group's fundraising appeals also urge supporters to "grow the Republican 'farm team'" and "train and prepare conservative candidates to run and win in local elections."
But based on the 527 organization's IRS data, just $425,442 (or 3%) of the $15.4 million it spent during 2017 and 2018 went to direct political activity, which CLC defines as "direct donations to candidates or political committees, and a small number of state-level candidate ads."
"There is no question that the money spent on programming is well below anything someone in the industry would consider a legitimate amount," said Walter Lukens, CEO of the Lukens Company, a direct response marketing agency.
At least $445,972 was spent on apparent book purchases. Copies of the Presidential Coalition's direct mailers — which Axios obtained and shared with CLC — show the organization offered people who donated above a certain amount (usually $45) a copy of one of Bossie's books, "Trump's Enemies."
Bossie's response on the books: "In 2018, TPC spent a small amount on Trump's Enemies. The bulk of the book premiums, however, where [sic] for copies of Trump's America, which was authored by former House Speaker Newt Gingrich. TPC members are very excited to receive these books and DVDs."
The rest of the money appears to have been spent on more fundraising for the Presidential Coalition, largely via direct mail and telemarketing, expenses to support those activities (such as postage and donor list cultivation), payments to other groups run by Bossie, and administrative expenses.
Compare that to the Republican Governors Association, another 527 organization supporting state-level Republican candidates, which spent about 80% of its funds on campaign contributions and political advertising over the same period.
Meanwhile, more than $650,000 of the Presidential Coalition's 2017–2018 spending went to two affiliated organizations also run by Bossie, Citizens United and Citizens United Foundation — 1.5 times as much as the group spent on direct political activity.
Those payments included personal salaries for Bossie: In 2017, Bossie earned a $105,541 salary from the Presidential Coalition.
The remaining expenditures went to overhead and administrative costs.
The bottom line: There's a vast difference between what the Presidential Coalition is telling its donors and how it actually spends their money. And as the CLC writes, "Not only do these dubious practices mislead and potentially even prey upon vulnerable populations, but they also drain resources away from more effective political groups" — including Trump's campaign.
Go deeper: Elderly Bossie donors say they thought they were helping Trump
Go deeper