Again the question: Should Facebook be broken up?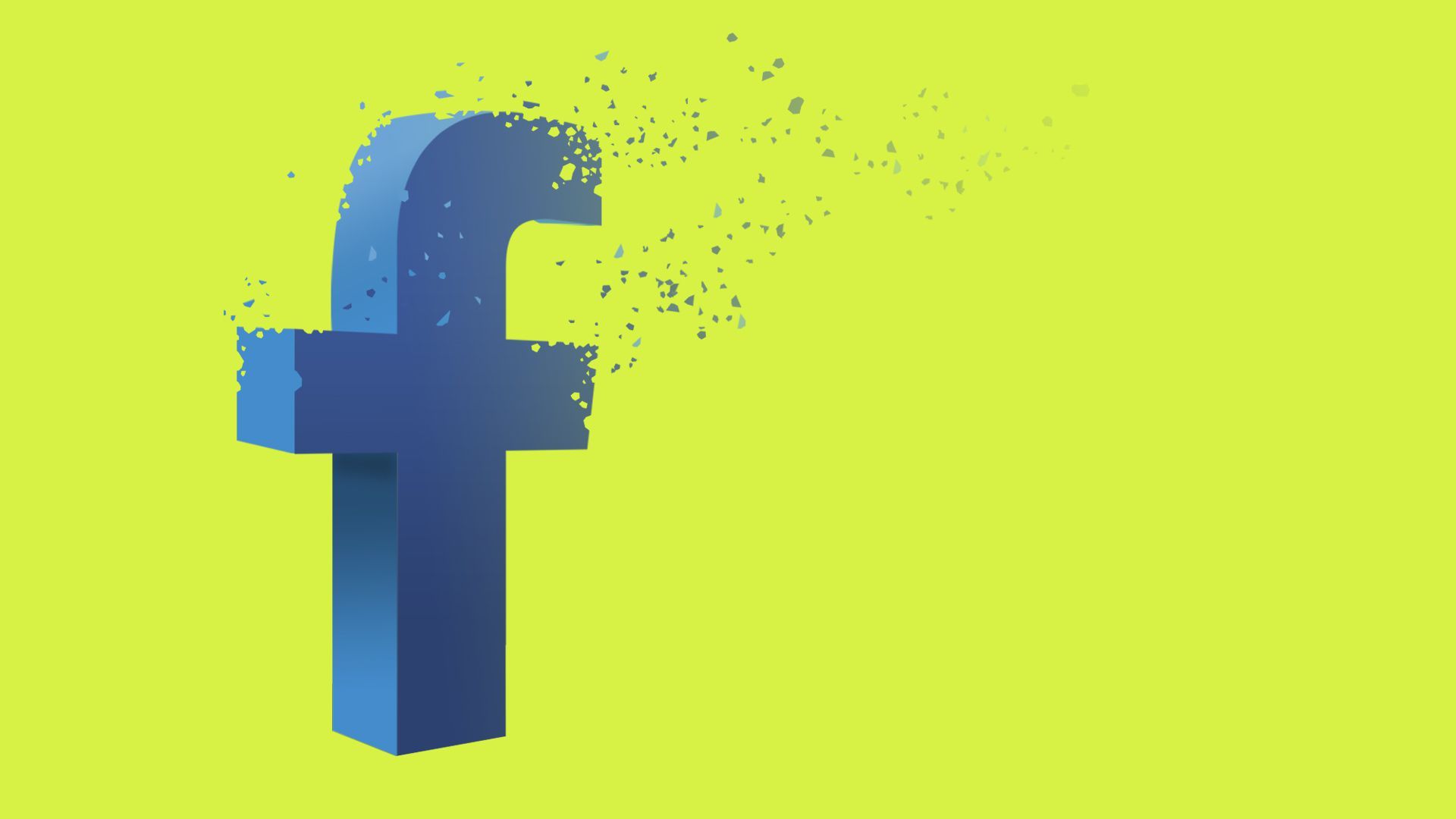 At a time bigness is being broadly equated with badness, no one is perhaps more so equated than Facebook, the dominant global force in online friendship and the source of a relentless drumbeat of new probes into how it governs itself.
Driving the news: There may be good news of sorts for the company — that, amid a flood of reports of data breaches, Facebook critics seem no more hostile than last summer and fall. Some continue to call for it to be broken up, while others say that they are still not certain what should be done.
What's happening: As Axios has reported, Facebook on Thursday was hit with a trio of new probes from regulators in Ireland, Canada and New York, all looking into how it handles data, its main source of revenue. In addition, Facebook said this week that it expects to be fined $3 billion-$5 billion by the Federal Trade Commission, and the NYT reports that the agency is considering restraints on the platform's business practices.
None of this has appeared to faze investors: Facebook shares were down by about 1% yesterday but up 7% for the week. They have surged a whopping 41% for the year.
Against the backdrop of these conflicting signals, I queried a few experts last August on the pluses and minuses of simply making the platform disappear.
Back then, Ian Bremmer, president of the Eurasia Group, found much both geopolitically and financially to dislike about the idea. Among the downsides of Facebook abruptly vanishing would be "value destruction for shareholders, job losses, negative impact on economy. Ceding social media battle globally to China-driven monopolies," such as Tencent.
Queried again this week, Bremmer said his mind had not changed — "the social media problems inside western democracies have become even more toxic, while the competition with Chinese state-led and funded companies is becoming a bigger challenge."
Yet, in fact Bremmer had moved a bit: "It's getting much harder to argue that Facebook is providing a social good," he told me.
Still, he reckoned that, all in all, there was no way at the moment to say whether Facebook should break up. "Question is how much do you value money as opposed to personal sanity."
Then and now, some are less squeamish about Facebook's disappearance. Nicholas Wright, a British neurologist who studies artificial intelligence and politics, back then talked up a world without Facebook — as long as it was done without a government hand. Any forced disappearance "would be a terrible blow to the U.S. capitalist system," he said.
Chatting again this week, Wright said nothing about terrible blows. "Facebook is an overweening communication utility that abuses its market power, whose replacement with a more competitive ecosystem of separate social media providers would benefit the U.S. economy and society," he said.
Yet, there is a way to redeem the platform, he thinks. "Facebook's problems are eminently reformable with political will. But without reform, it's bad for U.S. society and U.S. power abroad."
So far, Facebook was faring neither better nor worse. Among the next I queried was Tim Wu, a professor at Columbia and author of The Curse of Bigness. I had spoken with Wu in October, when he forcefully called for a legal review of some 70 company acquisitions by Facebook, especially of Instagram and WhatsApp, and urged the company's breakup.
The cascade of new disclosures just make Wu say the same thing: "It is crazy to have one firm owning these three major social media empires, and thereby eliminating any hope of real competition between them."
The bottom line: Facebook CEO Mark Zuckerberg himself, seeing that some critics smell blood, is himself working to stave off talk of breakup, and to set the terms of what a regulated Facebook would look like. Unpredictable politics on both sides of the Atlantic complicate that job. But, to the degree these critics reflect the whole, Facebook's problems do not appear to be getting worse.
In a statement, Facebook said:
"We operate in a fiercely competitive market where for every service offered on Facebook and our family of apps, you can find at least three or four competing services with hundreds of millions, if not billions, of users.  Importantly, the core of antitrust law is centered on doing what is best for consumers - lower prices, higher quality, better products and services, and more innovation. That is exactly where we are focused - building the best products and services for consumers and advertisers across our family of apps."
Go deeper