How Trump can stall House Democrats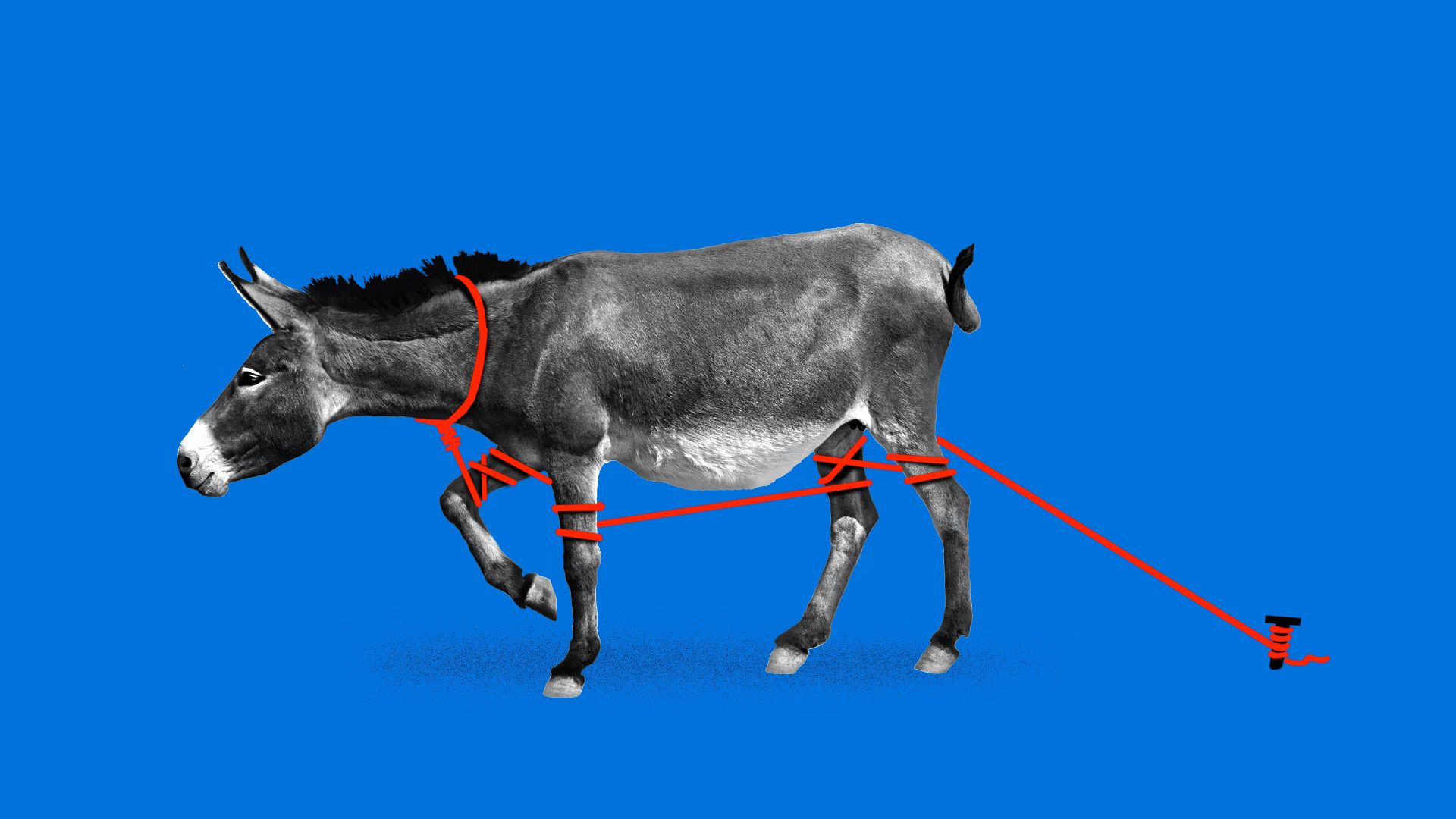 President Trump's White House appears to have figured out the secret of congressional oversight: there's not much Democrats can do if they say no to everything.
The big picture: The millions of voters who elected a Democratic House in November are about to find out how hard it is for one party — with just one chamber of Congress and without the cooperation of the other party — to investigate a president who's determined to run out the clock.
Yes, House Democrats can subpoena whoever and whatever they want — but those subpoenas are hard to enforce.
They can hold administration officials in contempt, but in all of the most recent examples where Congress did that, it fizzled.
Do you remember Eric Holder going to jail during Barack Obama's presidency because Congress held him in contempt for refusing to turn over "Fast and Furious" documents?
Or Harriet Miers and Josh Bolten going to jail during George W. Bush's presidency after Congress held them in contempt for refusing to testify about the resignations of nine U.S. attorneys?
Of course you don't — because none of it happened.
Both cases went to court and dragged on for years. The Miers case ended in a settlement with her testifying behind closed doors and Congress getting some of the documents it wanted — but only after Obama had become president and Bush had left office.
And the Holder case ended in a settlement last year with Trump's Justice Department giving some of Holder's documents to Congress — six years after it held him in contempt.
Usually, the breakdown happens because the Justice Department won't prosecute an administration official if Congress holds them in contempt.
Be smart: Congress hasn't used its strongest contempt power — "inherent contempt," where a witness can be put on trial and imprisoned in the Capitol — in nearly a century.
"You are on solid ground if you give Congress the middle finger," said Philippe Reines, a former Hillary Clinton aide who was threatened with a subpoena — but ultimately didn't get one — during congressional Republicans' Benghazi investigation.
What the Trump administration is doing is fighting everything from the House Judiciary Committee's subpoena of former White House counsel Don McGahn to a request for Trump's tax returns.
The strategy could have a downside even for a White House that lives for these fights.
"It totally undercuts the argument that we've been transparent and because there was no criminal wrongdoing that's why we encouraged everyone to cooperate," said one former senior White House official. "Now we look like we've got something to hide and we're not being open and transparent."
Bottom line: The White House probably won't face any consequences, at least in the short term. The bigger issue, legal and congressional experts tell us, is the damage it could create for future administrations.
If, for example, the courts ultimately rule against the Trump administration for asserting executive privilege to block McGahn's testimony — since McGahn has already testified on the record to Mueller — that's a precedent that could apply to future White Houses.
"I haven't seen an instance yet where the White House position seems to be on particularly solid ground," said Justin Rood, a congressional oversight expert with the Project on Government Oversight and a former Senate Republican staff investigator. "I think they're going to set precedents that will be difficult for future White Houses to live with."
But that could be years from now. "From a timing perspective, [there's] no downside" to the White House stalling the Democrats as long as possible, according to a top Republican white collar defense attorney.
And the bad precedents? "THIS White House cares about that? Hahahahahahaha," the attorney wrote in an email.
The other side: While a source familiar with the House Democrats' investigative plans conceded that they're worried about Trump's stalling tactics, a senior Democratic aide said there are ways to go around the White House.
Go deeper