The 10 episodes of potential Trump obstruction listed in the Mueller report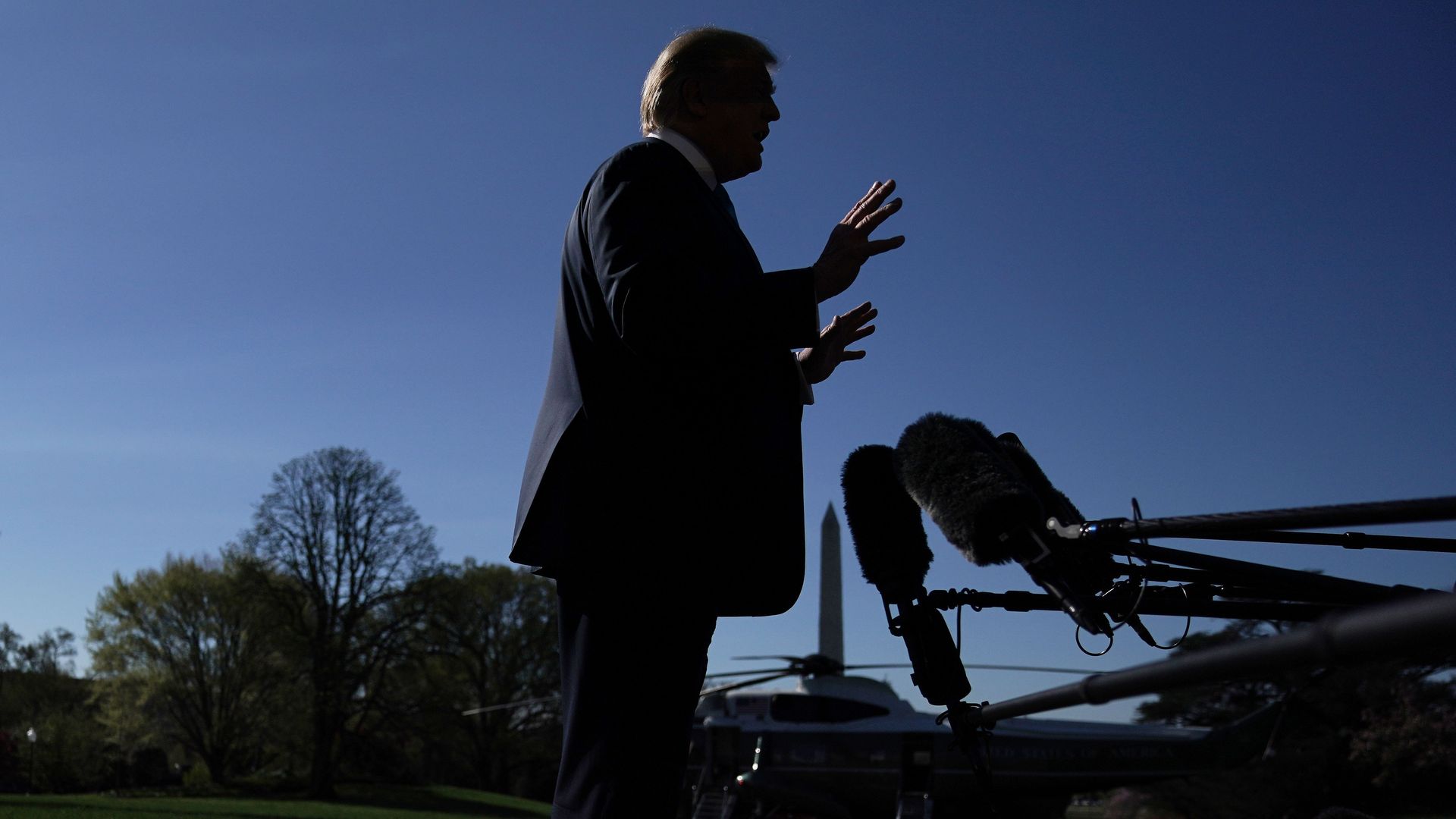 The second part of special counsel Robert Mueller's redacted report focuses on whether President Trump obstructed justice while in office, especially as it pertains to his campaign and administration's navigation of the fallout from potential Russian interference in the 2016 presidential election.
The big picture: As Axios' David Nather writes, Trump ultimately wasn't charged with obstruction because Mueller didn't want to "place burdens on the President's capacity to govern" and believed Trump wouldn't have an opportunity to clear his name, according to the report. But he also couldn't clear Trump completely because "the facts and the applicable legal standards" made it impossible to state that Trump "clearly did not commit obstruction of justice."
These are the 10 episodes of potential obstruction of justice committed by Trump, as relayed in the index of Mueller's report ...
The Campaign's Response to Reports About Russian Support for Trump
Press Reports Allege Links Between the Trump Campaign and Russia
The Trump Campaign Reacts to WikiLeaks' Release of Hacked Emails
The Trump Campaign Reacts to Allegations That Russia was Seeking to Aid Candidate Trump
After the Election, Trump Continues to Deny Any Contacts or Connections with Russia or That Russia Aided his Election
1. The President's Conduct Concerning the Investigation of Michael Flynn
Incoming National Security Adviser Flynn Discusses Sanctions on Russia with Russian Ambassador Sergey Kislyak
President-Elect Trump is Briefed on the Intelligence Community's Assessment of Russian Interference in the Election and Congress Opens Election-Interference Investigations
Flynn Makes False Statements About his Communications with Kislyak to Incoming Administration Officials, the Media, and the FBI
DOJ Officials Notify the White House About Their Concerns About Flynn
McGahn has a Follow-Up Meeting About Flynn with Yates; President Trump has Dinner with FBI Director Comey
The Media Raises Questions About the President's Delay in Terminating Flynn
The President Attempts to Have K.T. McFarland Create a Witness Statement Denying that he Directed Flynn's Discussions with Kislyak
2. The President's Reaction to Public Confirmation of the FBI's Russia Investigation
Attorney General Sessions Recuses From the Russia Investigation
FBI Director Comey Publicly Confirms the Existence of the Russia Investigation in Testimony Before HPSCI
The President Asks Intelligence Community Leaders to Make Public Statements that he had No Connection to Russia
The President Asks Comey to "Lift the Cloud" Created by the Russia Investigation
3. Events Leading Up To and Surrounding the Termination of FBI Director Comey
Comey Testifies Before the Senate Judiciary Committee and Declines to Answer Questions About Whether the President is Under Investigation
The President Makes the Decision to Terminate Comey
4. The President's Efforts to Remove the Special Counsel
The Appointment of the Special Counsel and the President's Reaction
The President Asserts that the Special Counsel has Conflicts of Interest
The Press Reports that the President is Being Investigated for Obstruction of Justice and the President Directs the White House Counsel to Have the Special Counsel Removed
5. The President's Efforts to Curtail the Special Counsel's Investigation
The President Asks Corey Lewandowski to Deliver a Message to Sessions to Curtail the Special Counsel Investigation
The President Follows Up with Lewandowski
The President Publicly Criticizes Sessions in a New York Times Interview
The President Orders Priebus to Demand Sessions's Resignation
6. The President's Efforts to Prevent Disclosure of Emails About the June 9, 2016 Meeting Between Russians and Senior Campaign Officials
The President Learns About the Existence of Emails Concerning the June 9, 2016 Trump Tower Meeting
The President Directs Communications Staff Not to Publicly Disclose Information About the June 9 Meeting
The President Directs Trump Jr.'s Response to Press Inquiries About the June 9 Meeting
The Media Reports on the June 9, 2016 Meeting
7. The President's Further Efforts to Have the Attorney General Take Over the Investigation
The President Again Seeks to Have Sessions Reverse his Recusal
Additional Efforts to Have Sessions Unrecuse or Direct Investigations Covered by his Recusal
8. The President Orders McGahn to Deny that the President Tried to Fire the Special Counsel
The Press Reports that the President Tried to Fire the Special Counsel
The President Seeks to Have McGahn Dispute the Press Reports
9. The President's Conduct Towards Flynn, Manafort, [REDACTED DUE TO ONGOING MATTER]
Conduct Directed at Michael Flynn
Conduct Directed at Paul Manafort
Conduct Directed at [REDACTED]
10. The President's Conduct Involving Michael Cohen
Candidate Trump's Awareness of and Involvement in the Trump Tower Moscow Project
Cohen Determines to Adhere to a "Party Line" Distancing Candidate Trump from Russia
Cohen Submits False Statements to Congress Minimizing the Trump Tower Moscow Project in Accordance with the Party Line
The President Sends Messages of Support to Cohen
The President's Conduct After Cohen Began Cooperating with the Government
Go deeper:
Go deeper