7 takeaways from the Mueller report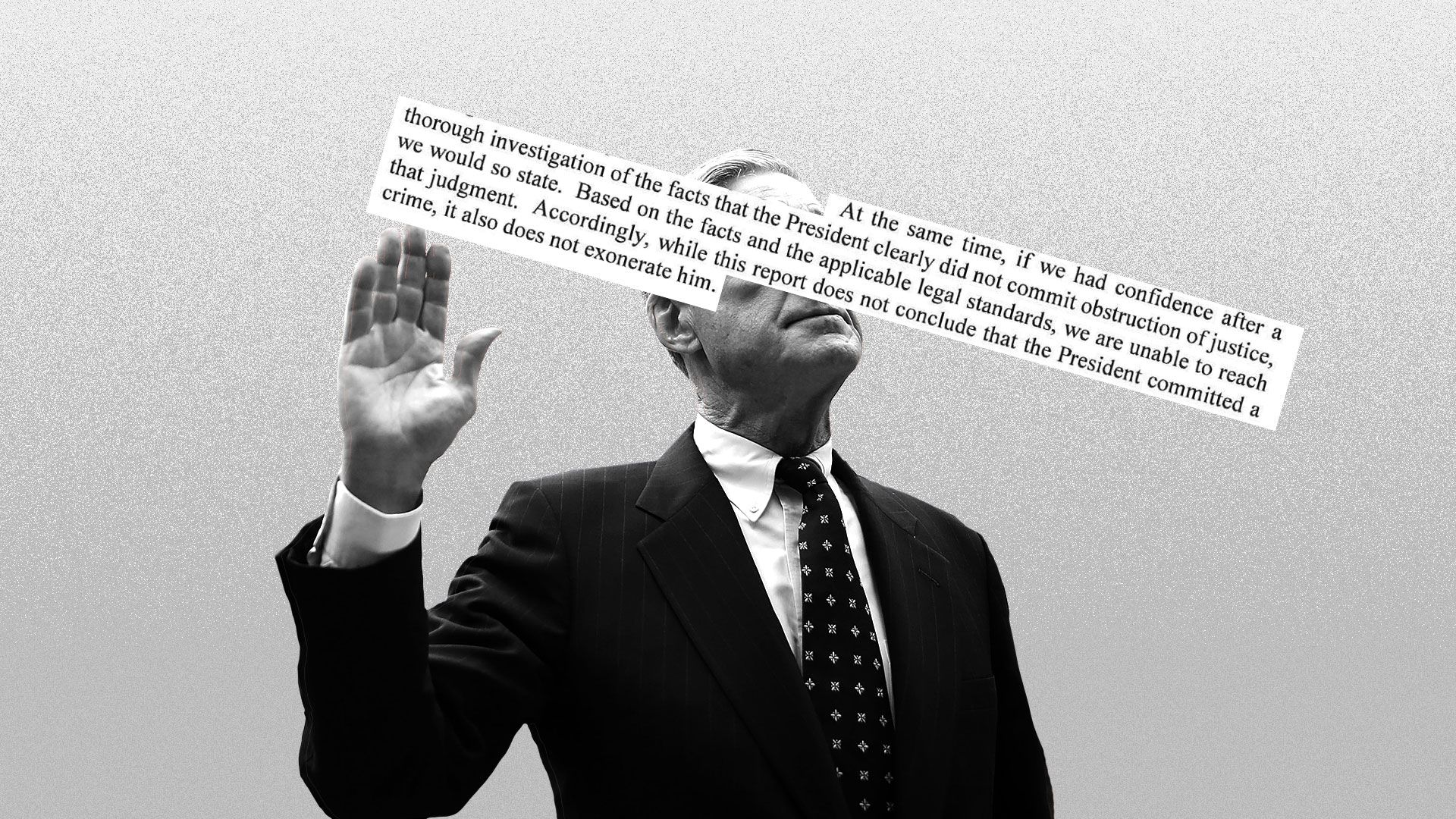 The 448-page redacted Mueller report that was released Thursday is a sprawling document based on hundreds of witness interviews and thousands of subpoenas — and its deeply sourced conclusions have already been subject to spin attempts from President Trump's legal team and administration as well as congressional Democrats.
What you need to know: The report largely refrains from making any grand, sweeping conclusions about Trump's conduct — especially on possible obstruction of justice, where Mueller's investigators made a point of not absolving him completely. It's not a great outcome for the president — but it also doesn't seem to contain any unexpected bombshells that might end his presidency, either.
1. The report doesn't find that Trump obstructed justice, but it also specifically doesn't exonerate him.
Mueller's team compiled 10 different episodes where Trump may have potentially committed obstruction of justice.
The report sets out from the start that the investigation accepted the Justice Department's Office of Legal Counsel's 2000 conclusion that a sitting president could not be charged or indicted with a crime. But it also notes that it "recognized that a federal criminal accusation against a sitting President would place burdens on the President's capacity to govern and potentially preempt constitutional processes for addressing presidential misconduct."
The final words of the document are most telling: "Accordingly, while this report does not conclude that the President committed a crime, it also does not exonerate him."
2. There was always a reason the potential episodes of obstruction of justice were inconclusive.
For example, the report says Trump told then-White House Communications director Hope Hicks and others not to disclose information about the 2016 Trump Tower meeting between top campaign officials and a Russian attorney. But Mueller wrote that "the evidence does not establish" that Trump was specifically trying to prevent Mueller's team or Congress from obtaining the emails setting up the meeting — which is the only way his actions could have been considered obstruction.
3. Many of Trump's potential efforts to obstruct the investigations against him failed after staffers rebuffed him.
Mueller's team found "multiple acts by the President that were capable of exerting undue influence over law enforcement investigations, including the Russian-interference and obstruction investigations."
The report specifically cites one-on-one meetings between Trump and top-level staffers where the president directed them to curtail investigations. For example, he asked then-White House counsel Don McGahn to have Mueller fired and requested that former staffer Corey Lewandowski ask then-Attorney General Jeff Sessions to limit the scope of the Russia investigation.
The investigation ultimately found that Trump's efforts to influence it "were mostly unsuccessful, but that is largely because the persons who surrounded the President declined to carry out orders or accede to his requests."
4. Congress can still act against Trump on obstruction charges.
Mueller might have punted on concluding whether or not Trump committed obstruction of justice, but he leaves the door open for Congress to do so, writing that it "can validly regulate the President's exercise of official duties to prohibit actions motivated by a corrupt intent to obstruct justice."
That section of the report contains a lengthy constitutional analysis arguing that a congressional move against Trump wouldn't undermine his executive power outlined under Article II.
5. Mueller's team wasn't happy with Trump's written responses — and wanted an in-person interview — but ultimately believed their other sourcing was enough.
Upon receiving Trump's written answers in late 2018, Mueller's team notified Trump's lawyers that they were insufficient, saying "that the President stated on more than 30 occasions that he 'does not recall' or 'remember' or have an 'independent recollection' of information called for by the questions."
The investigators considered subpoenaing Trump, but ultimately decided that any benefits from an interview would be outweighed by fighting the lengthy lawsuit that would be sure to follow from the president's lawyers.
The investigation ultimately "determined that the substantial quantity of information we had obtained from other sources allowed us to draw relevant factual conclusions on intent and credibility, which are often inferred from circumstantial evidence and assessed without direct testimony from the subject of the investigation."
6. The investigation did not establish that Trump campaign members colluded with the Russian government, but the president's actions still may have influenced Russian actions.
Mueller's investigation established that although "the Russian government perceived it would benefit from a Trump presidency and worked to secure that outcome, and that the Campaign expected it would benefit electorally from information stolen and released through Russian efforts, [it] did not establish that members of the Trump Campaign conspired or coordinated with the Russian government in its election interference activities."
But the report details how Trump's famous July 2016 statement — "Russia if you're listening, I hope you're able to find the 30,000 [Clinton] emails that are missing. I think you will probably be rewarded mightily by our press" — could have been effective. It states, "Within approximately five hours of Trump's statement, [Russian intelligence] officers targeted for the first time Clinton's personal office."
7. The media got a lot right in real time.
Thanks to reporting from media outlets throughout Trump's presidency, the main thrust of many of the events outlined in the report — in both its obstruction and collusion facets — were already public knowledge.
This timeline from PBS gives a sense of the scope for the reporting — from the NYT's bombshell report on the 2016 Trump Tower meeting to WaPo's more recent report on Trump's concealment of his conversations with Russian President Vladimir Putin — that provided the public's first glimpse at much of the information that forms the backbone of Mueller's report.
Go deeper:
Go deeper