Earth had a top 3 warmest March on record, climate agencies find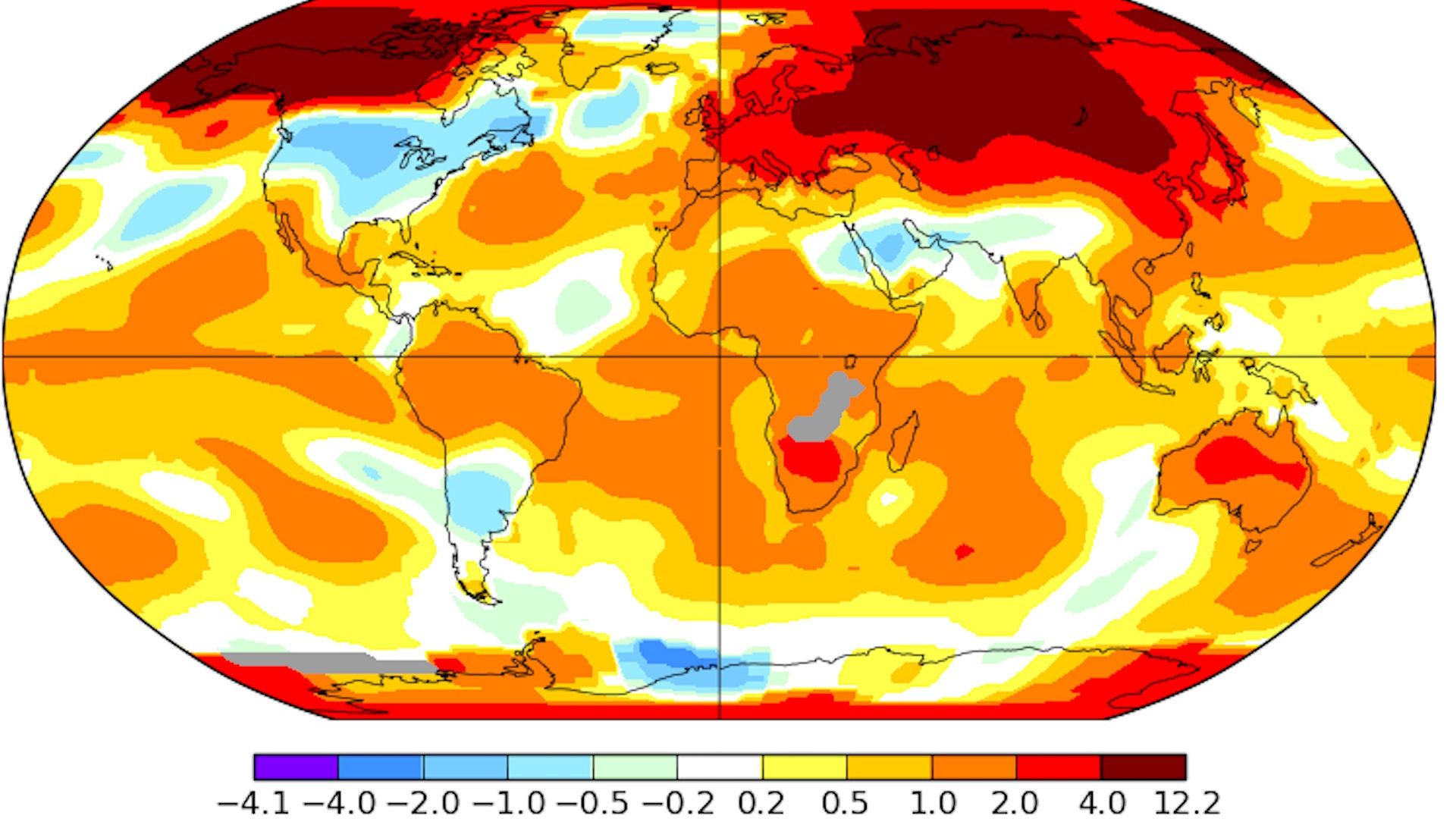 March may have been unusually cold in parts of the U.S., but globally, average temperatures ticked upward to rank as one of the top 3 warmest Marches on record, new data from climate groups in Europe, Japan and the U.S. shows.
Why it matters: The new data shows that global average temperatures during 2019 are on track to make it another top 5 warmest year, should these trends continue. An El Niño event, featuring unusually warm water in the tropical Pacific Ocean along with an increase in shower and thunderstorm activity near the equator, is helping to add additional heat to the atmosphere.
Typically, El Niño years have a higher chance of setting global heat records by combining natural climate variability with long-term trends from global warming.
The big picture: According to preliminary NOAA data, the globe just had its 2nd-warmest March on record, with global average surface temperatures at 1.91°F above the 20th century average. This also marked the 3rd time in 140 years that the globe had an average temperature anomaly that reached 1.8°F or greater, NOAA found (the other two times were March of 2016 and 2017).
NASA ranked the month slightly lower although its temperature readings were similar, concluding the globe just had its 3rd-warmest March on record, with a global average surface temperature anomaly of 1.11°C, or 1.99°F, above the 20th century average (1951–1980).
Using separate methods, Europe's Copernicus Climate Service found that the globe had its 2nd-warmest March on record, just behind March of 2016.
According to their calculations, this March was 0.67°C, or 1.2°F, warmer than the average March from 1981 to 2010.
The Japan Meteorological Agency also found that the global average surface temperature was the 3rd warmest on record since 1891.
Context: Last year was Earth's 4th-warmest year on record, coming in behind 2016 — the planet's warmest recorded year — 2015 and 2017. The world's 5 warmest years have all occurred since 2014.
9 of the 10 warmest years on record since reliable data began in 1880 have occurred since 2005.
Not coincidentally, greenhouse gases from the burning of fossil fuels — as well as deforestation and intensive agriculture — have skyrocketed to levels not seen in more than 800,000 years, and likely long before that.
Global carbon dioxide emissions from the burning of fossil fuels such as coal, oil and natural gas ticked up in 2018, to the highest levels in recorded history, according to the Global Carbon Project and the International Energy Agency.
The bottom line: When it comes to climate change, it's the long-term trends that are important. Such data shows that the global climate is continuing to warm at an accelerating rate, making it more likely that individual years will set all-time records, particularly if they're given a boost by a natural climate feature like El Niño.
Climate change is driving widespread changes, from the melting of Arctic sea ice to disappearing mountain glaciers and increased instances of extreme weather and climate events.
Go deeper:
Go deeper