Trump mocks Ilhan Omar day after man arrested for threatening her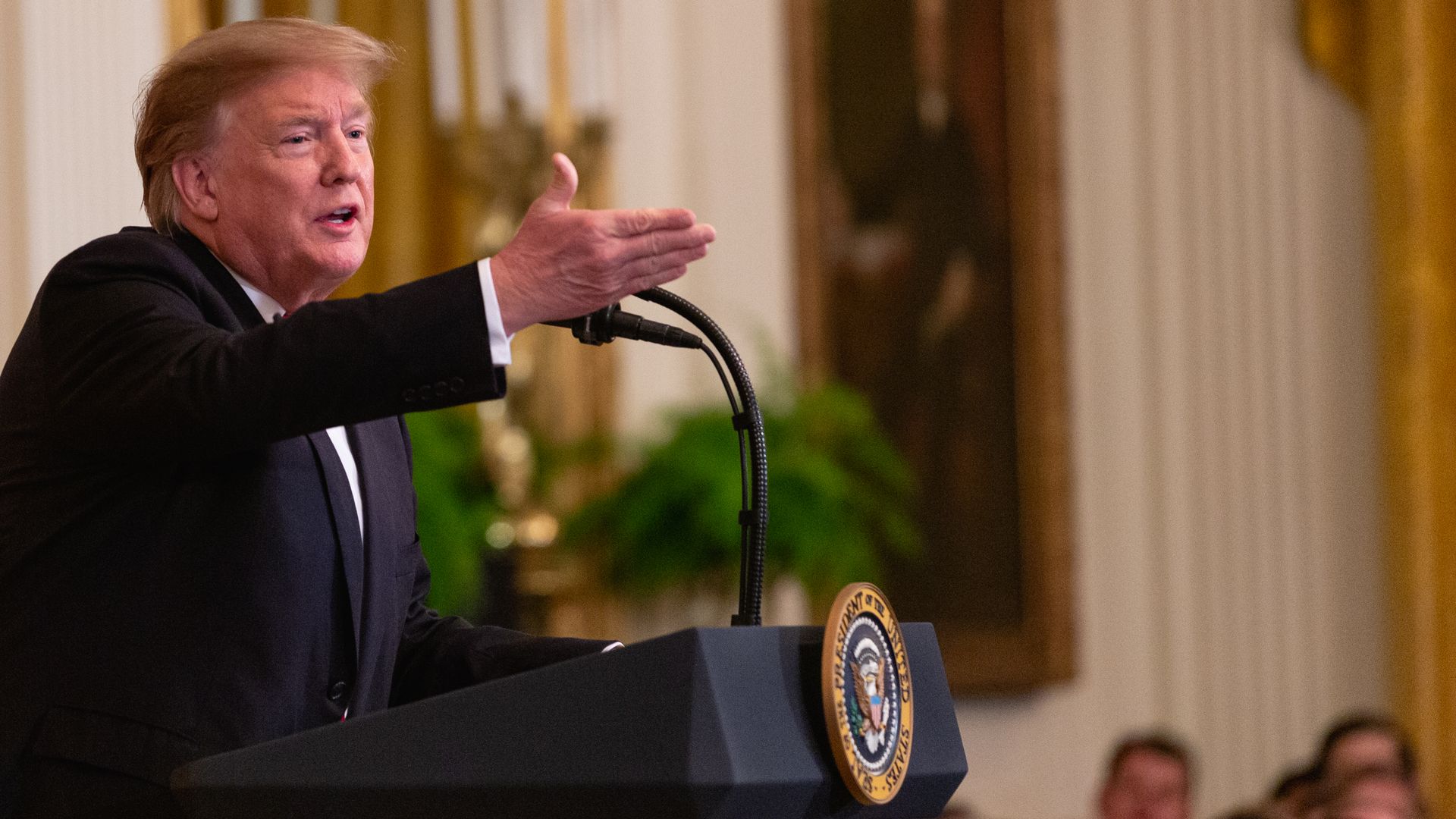 Democrats would "leave Israel out there" if they won in 2020 and they've allowed anti-Semitism to "take root in their party and their country," President Trump told the Republican Jewish Coalition conference Saturday.
Details: During his speech in Las Vegas, Trump called the asylum program "a scam" and mocked its applicants and Rep. Ilhan Omar (D-Minn.). He explained why the U.S. now recognized Israeli sovereignty over Golan Heights and referred to Israeli PM Netanyahu as "your prime minister" while addressing the gathering of Jewish Americans.
What he's saying: Trump said the asylum-seekers were "some of the roughest people you've ever seen — people that look like they should be fighting for the UFC." He said they read a "little page" prepared by lawyers that says: "I am very fearful for my life, I am very worried that I will be accosted if I'm sent back home."
On planned aid cuts to 3 central American countries, Trump defended the decision, saying he had "a feeling" the governments of El Salvador, Guatemala and Honduras could "stop caravans from forming in those three countries."
In a dig at Omar, who has been accused of trafficking in anti-Semitic tropes, Trump thanked the freshman lawmaker before saying: "She doesn't like Israel. I forgot. I'm so sorry."
The other side: In a retweet of a Twitter post noting Trump criticized her a day after a New York man was arrested and charged with threatening to kill her, Omar said late Saturday: "My Lord, forgive my people for they do not know."
The Jewish Democratic Council of America's executive director Halie Soifer said in a statement responding to Trump's speech: "We strongly denounce President Trump's continued assault on decency and truth."
Go deeper: AOC slams Jeanine Pirro after man's arrest for Ilhan Omar kill threats
Go deeper