Medicare for All: Where the Democratic candidates stand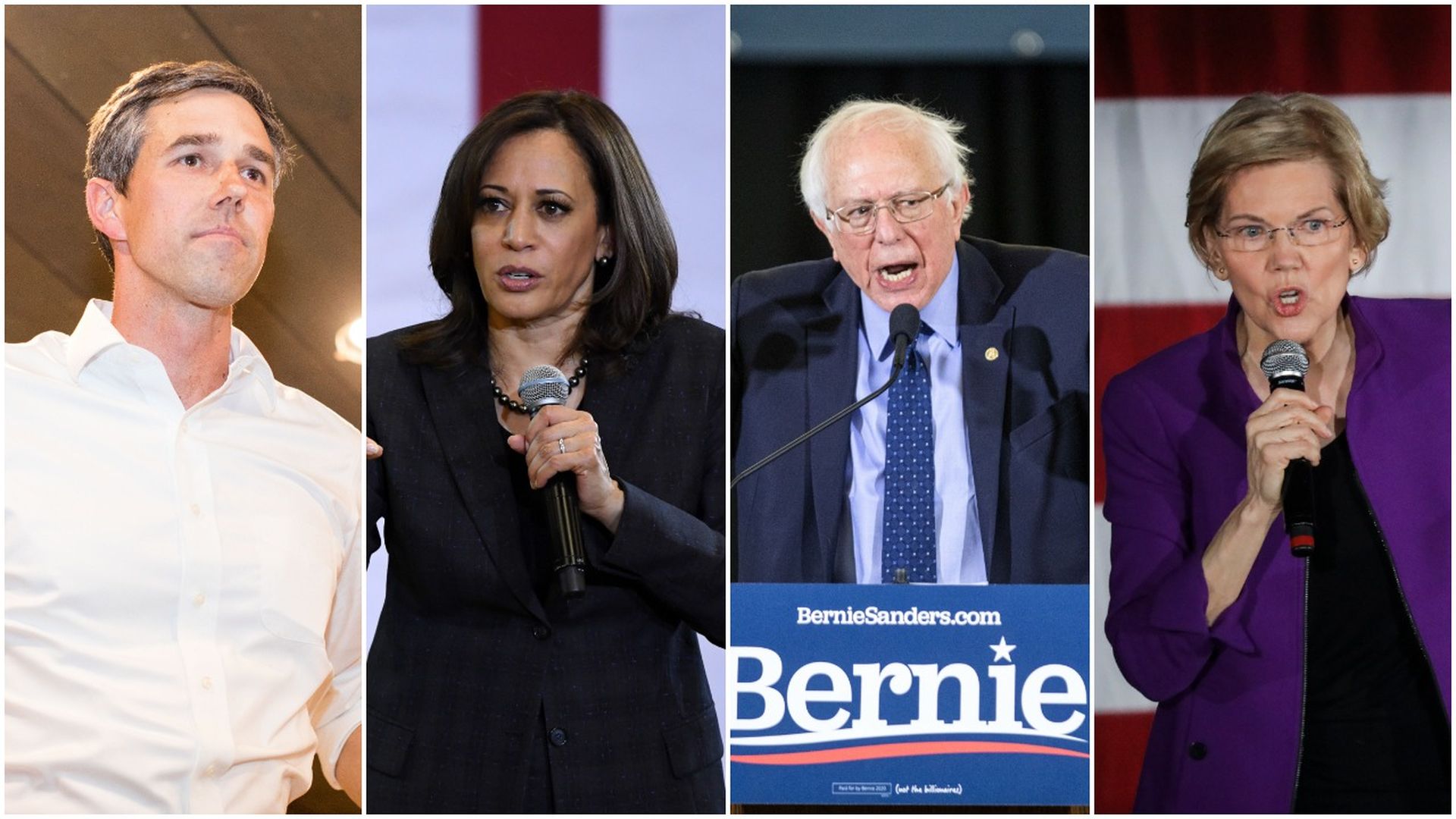 Democratic presidential candidates are laying out plans for expanding health-care coverage, with Medicare for All overpowering the conversation.
The big picture: Most 2020 Democrats say they buy into the concept of universal health care, except they vary on how to achieve it — and on which plan would be more appealing to achieve nationwide support.
The Medicare for All bill from Sen. Bernie Sanders has 16 co-sponsors including several 2020 Democrats. Both Sanders' bill and a bill from Rep. Pramila Jayapal (D-Wash.) lay out paths for eliminating private health insurance. Sen. Brian Schatz (D-Hawaii) reintroduced a bill in February that offers a buy-in option.
Medicare For All
This would move the U.S. in the direction of a single-payer system, where the government would serve as the negotiator between patients and providers in health-care transactions.
Medicare or Medicaid expansion
Rep. Tim Ryan (D-Ohio) is a co-sponsor of the House version of Sanders' Medicare for All Act. However, he also supports modifying the Affordable Care Act and adding a public option allowing Americans to buy into Medicare without eliminating private health insurance.
Mayor Wayne Messam (D-Fl.) says Medicare for All is one of the better plans available, but also supports Medicare for America — which maintains private insurance.
Former Pennsylvania Rep. Joe Sestak: Supports expanding the Affordable Care Act and introducing a public option.
Opposed to Medicare For All
The bottom line: Medicare for All has been a more divided idea among Americans compared to a buy-in, per Kaiser polling from January. Presidential candidates have been slow to endorse Medicare for All in its entirety as Republicans criticize the party for embracing socialist ideals.
Go deeper: 5 takeaways from the third Democratic debate
Go deeper