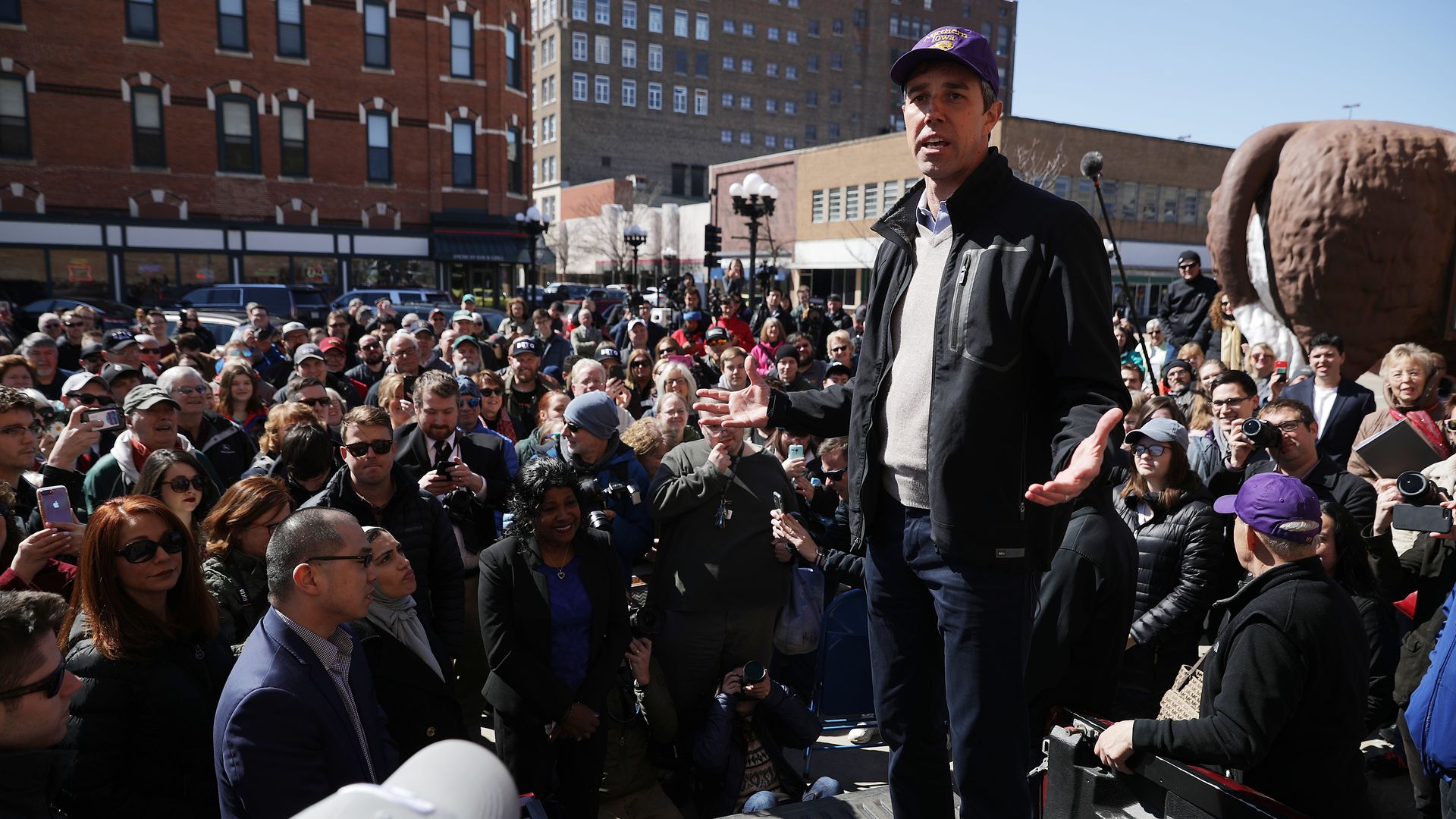 Beto O'Rourke has projected a mostly blank canvas during the first week of his 2020 presidential campaign — often asking voters for solutions rather than outlining policy specifics himself.
Why it matters: Most of the 2020 Dems don't have huge differences in their policy visions. So personality becomes paramount in these early days.
"We're going to define ourselves by our aspirations, our ambitions and the ability to bring this country together," he said in Milwaukee.
Be smart ... O'Rourke has something you can't buy: People are interested in him and excited about him. Now, his challenge is putting meat on the bone.
On March 30 (a week from Saturday), O'Rourke will hold his official campaign kickoff in his hometown of El Paso, Texas. The campaign says he "will lay out his priorities and his vision ... to move this country forward."
After a rocky rollout, O'Rourke has to get the substance and calibration of that speech just right — his one chance to make a first impression on most voters amid a crowded field.
As in the 2016 election, voters in 2020 have a lot of feelings about what's wrong with the country, and want to project those feelings onto someone.
"They want to see a leader with a vision who they can believe in and someone they think can beat Trump," said Jim Messina, campaign manager for President Obama's re-election. "No one has a policy platform after two days."
In 2016, Trump tapped into the American's rage and pain. He made people feel seen who had felt ignored. O'Rourke is making a similar play by focusing on massive challenges of the age, from climate change to white privilege to an overwhelming feeling of political division.
O'Rourke has talked policy more than you might realize from the coverage:
He has proposed banning assault weapons, wants to create a public option for health insurance, favors a pathway to citizenship for many undocumented immigrants, and advocated for debt-free college.
But, as the Washington Post's Jenna Johnson writes: "As a presidential candidate, O'Rourke has heavily focused not on specifics but on two sentiments: positivity and humility."
The bottom line: Beto's opening feat — raising more than any other 2020 Democrat in his campaign's first 24 hours — shows his potential as a vessel for voters' hopes, dreams, and fears.
Go deeper:
Go deeper