Scoop: Trump hates "crazy" driverless cars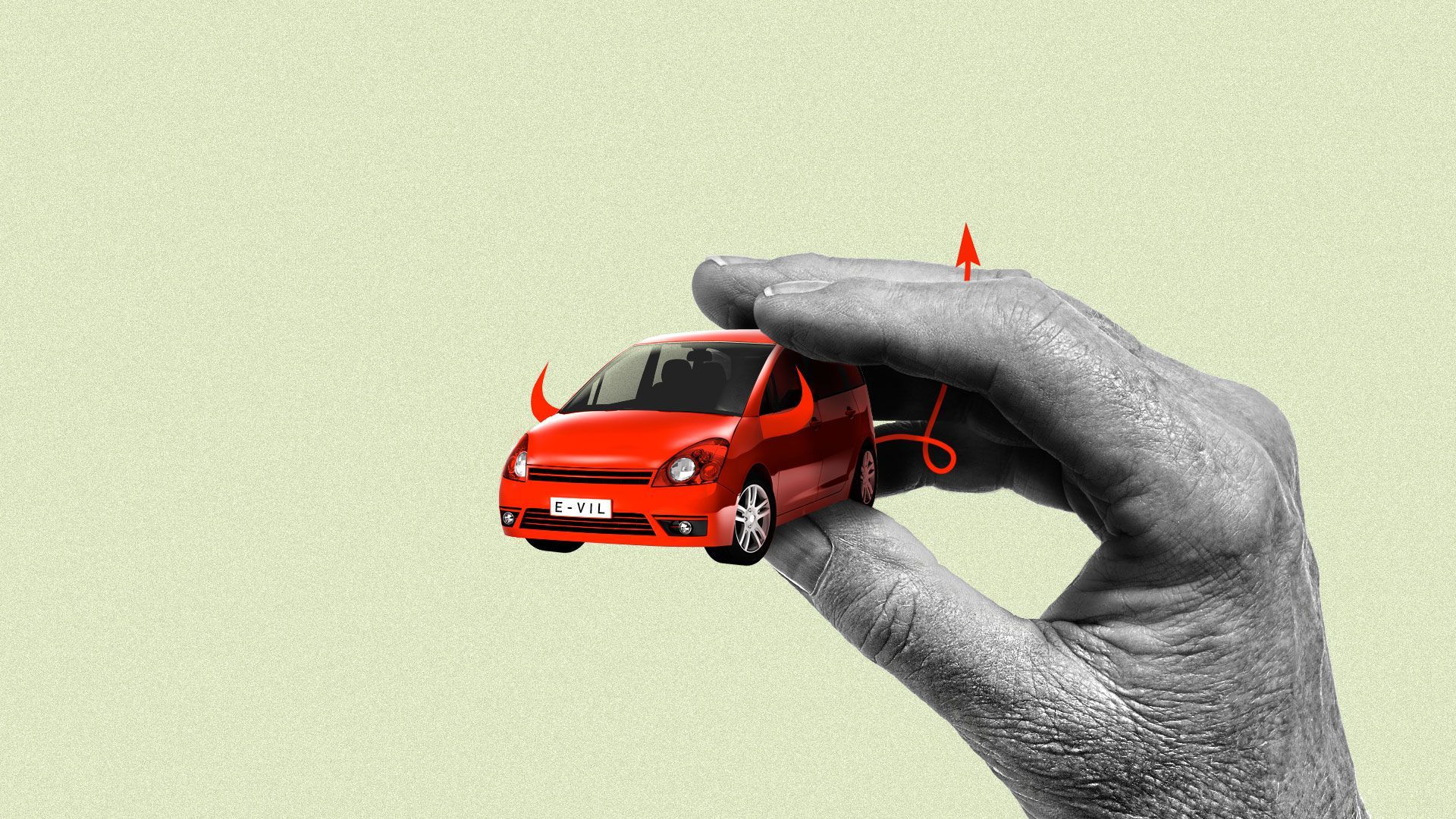 In President Trump's view, self-driving cars are a menace to society. A skeptic of cutting-edge technology — as his tweets about Boeing's "complex" planes emphasized — Trump has privately said he thinks the autonomous vehicle (AV) revolution is "crazy" and that he'd never let a computer drive him around.
Why it matters: Most Americans share Trump's view: 71% of U.S. drivers would be afraid to ride in a self-driving vehicle, per AAA. Yet his own administration is encouraging AV development by removing barriers and issuing voluntary guidance instead of regulations. And we see no evidence Trump has imposed his personal views on the policy process.
Behind the scenes: In conversations on Air Force One and in the White House, Trump has acted out scenes of self-driving cars veering out of control and crashing into walls. He's said he doesn't think autonomous vehicles make sense, according to four sources who've heard him discuss the subject.
"You know when he's telling a story, and he does the hand motions," said a source who has heard Trump talk about hypothetical accidents involving self-driving cars. "He says, 'Can you imagine, you're sitting in the back seat and all of a sudden this car is zig-zagging around the corner and you can't stop the f---ing thing?'"
"He's definitely an automated car skeptic," the source said. Another source said Trump told him self-driving cars "will never work."
In one of the early 2017 meetings with CEOs in the Roosevelt Room of the White House, Elon Musk and Trump shared a lighthearted exchange about Tesla's "Autopilot" technology. Trump told Musk he preferred traditional cars, according to a source who was in the room.
And in the summer of 2017, at his Bedminster golf club, Trump was chatting with club members when one raised the subject of AV technology. The club member was "excited" about a new Tesla he bought, recalled a source who was part of the conversation. "And [Trump] was like, 'Yeah that's cool but I would never get in a self-driving car. ... I don't trust some computer to drive me around.'"
While Trump is in no hurry to see automated vehicles, Chao is actively promoting the technology.
Last Tuesday at the SXSW conference, Chao announced a new regulatory body to speed up the adoption of cutting-edge transportation technologies like hyperloop tunnels and self-driving cars.
Then on Friday, the National Highway Traffic Safety Administration said it would seek the public's opinion on an unprecedented idea: Should decades-old motor vehicle statutes be changed to allow cars with no steering wheels, pedals or gear shifts?
The bottom line: Currently, there are no federal regulations on self-driving cars — just a hodgepodge of state rules.
Efforts to pass AV legislation stalled in the last Congress over concerns about privacy and safety. The issue will likely resurface this year, reports Axios' Joann Muller, who writes Axios' Autonomous Vehicles newsletter.
AV companies say the tech is moving too fast to regulate anyway. By sharing test data, they say they could help define standards and practices themselves.
For now, companies are encouraged to file voluntary safety self-assessments each year; so far, a dozen have done so.
Between the lines: A source who has discussed autonomous vehicles with Trump says he thinks it wouldn't take much for the president to rapidly reverse his administration's hands-off approach to hands-free vehicles. Trump already calls self-driving cars out-of-control death traps, so any news fueling that fear could jolt him into action.
Go deeper