Australia shatters record for its hottest summer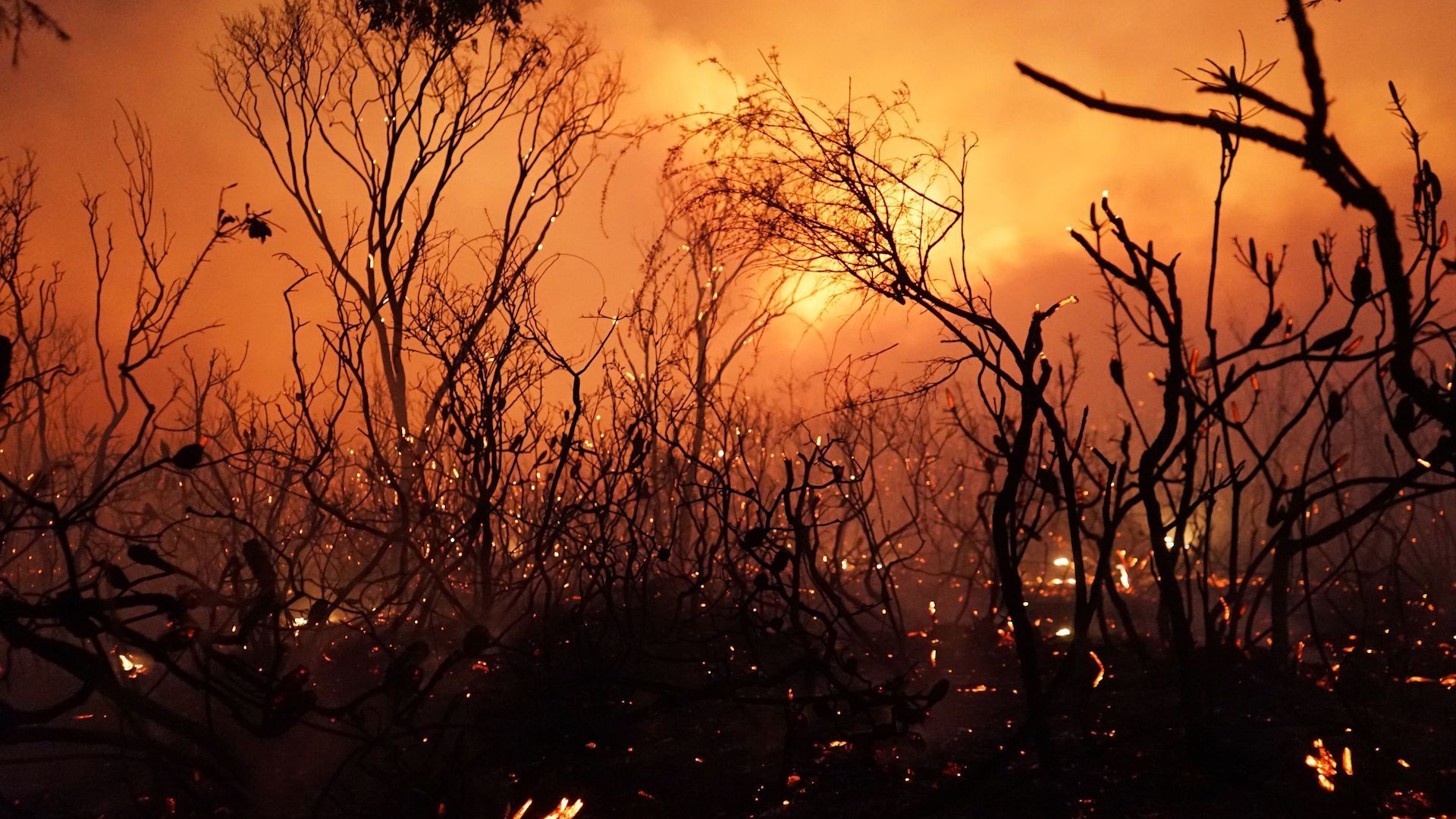 Australia's scorching and widespread heat waves throughout this summer propelled the national average temperature to a new all-time high for the season, according to its weather bureau.
Why it matters: Australia is one of the countries most impacted by climate extremes, suffering from heat waves, bushfires and coral bleaching events tied to long-term, human-driven increases in greenhouse gas concentrations. However, this summer brought unprecedented heat to every part of the country — part of a trend consistent with what scientists predict as global warming continues.
Details: Typically, seasonal records are set by small margins. However, this summer's heat obliterated the past record for the hottest summer. The national mean temperature for the summer of 2018-19 was 2.14°C, or 3.8°F, above the 1961-90 average, according to Australia's Bureau of Meteorology (BOM).
The mean maximum temperature for the summer and the mean minimum temperature also broke all-time records.
The summer was the warmest on record for the states and territories of New South Wales, Victoria, Western Australia, and the Northern Territory.
Heat waves this summer were "unprecedented in size and scope," BOM stated.
The record heat was accompanied by numerous damaging wildfires, particularly in Victoria and New South Wales.
The big picture: The BOM points out that the summer of 2018-19 comes on the heels of "a string of warm months and seasons for Australia." In a seasonal summary, the agency states, "This pattern is consistent with observed climate change."
"Temperature records are likely to continue to be broken in the coming years," BOM added.
Australia's climate has warmed just over 1°C, or 1.8°F since 1910, "leading to an increase in the frequency of extreme heat events."
Oceans around Australia have warmed by nearly the same amount since 1910, "contributing to longer and more frequent marine heat waves."
In addition, the length and severity of the fire season has increased "across large parts of Australia," the report found.
By the numbers: Numerous all-time heat records were broken across Australia this summer. Here are some of the most noteworthy:
35.9°C, or 96.6°F: The overnight low temperature on Jan. 17 in Noona, New South Wales, which was the country's hottest nighttime low on record.
40°C, or 104°F: The temperature reached or exceeded in Canberra for 4 consecutive days, something that had not occurred since records began there in 1939.
49.3°C, or 120.74°F: High temperature in Marble Bar, Australia, which was the highest temperature for anywhere in Australia in 2018.
44.1°C, or 111.3°F: Average monthly temperature in Marble Bar during December, a new national record for the month.
40.19 °C, or 104.3°F: Average daily maximum temperature for Australia on Dec. 27, which was the hottest December day on record for the country.
The bottom line: Numerous climate studies have tied increasingly persistent, frequent and severe heat waves to human-caused global warming.
A study published in 2017, for example, found a fingerprint of climate change in heat milestones worldwide. The study found that climate change has boosted the odds of record-breaking heat across more than 80% of the surface area of the globe for which reliable observations were available, including Australia.
Specific extreme event attribution studies need to be carried out before more conclusive links can be made to this summer's heat in Australia, but it fits national and global trends.
Go deeper: 2018 was Earth's fourth-warmest year, EU scientists find
Go deeper