Success of second Trump-Kim summit will lie in the details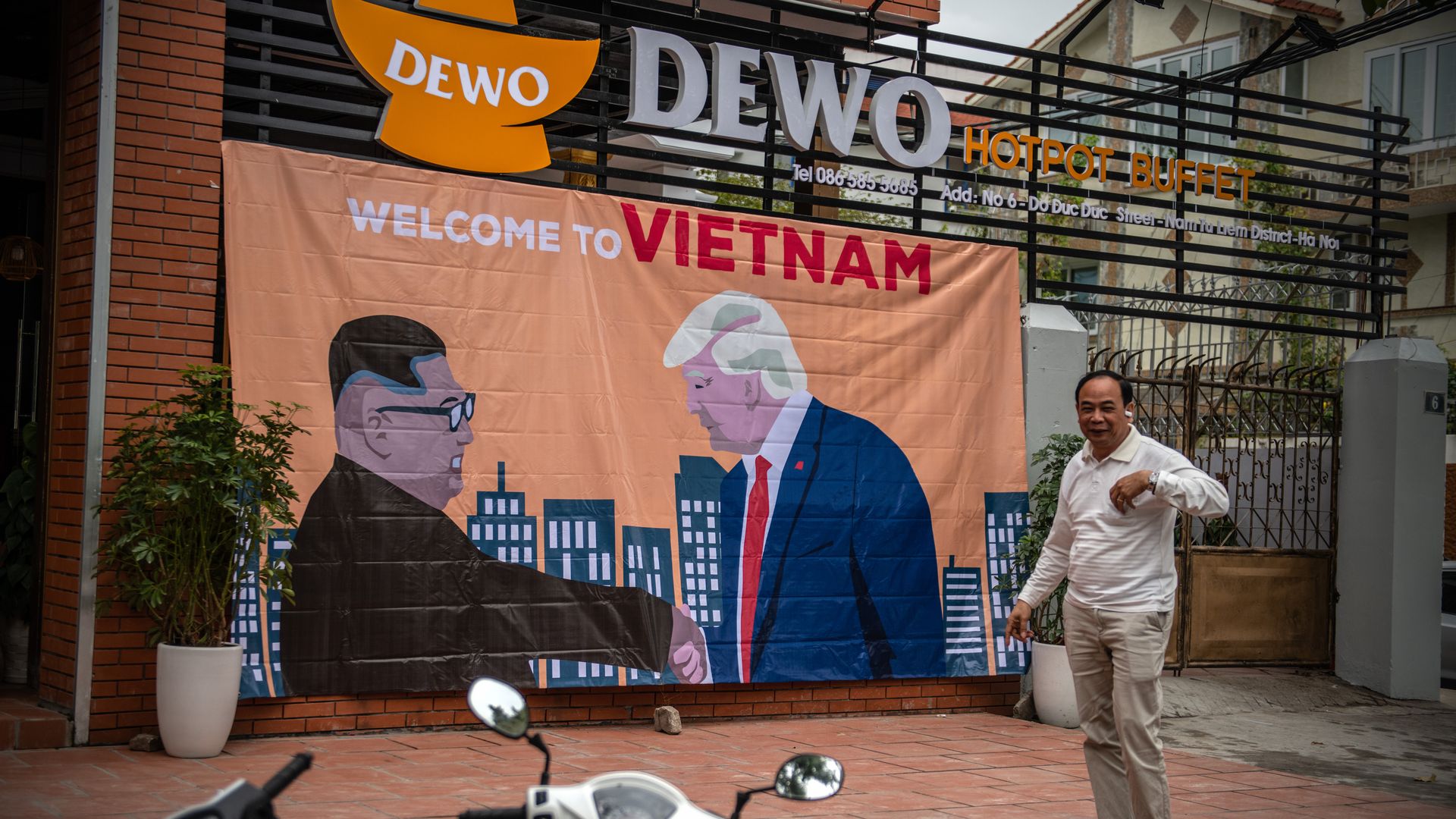 While President Trump and North Korean leader Kim Jong-un's June 2018 meeting ended with a broad statement — committing to "establish new U.S.-DPRK relations" for "a lasting and stable peace regime on the Korean Peninsula" — they will aim to take more concrete steps forward at their second summit in Hanoi this week.
Between the lines: To keep up the diplomatic momentum, Trump and Kim will need to minimize existing ambiguities and divergences on key issues — including the definition of denuclearization — and produce a comprehensive road map that lays out the specifics of their proclaimed shared vision. Without these agreements, the Hanoi summit could be easily denigrated as "just another show."
Where it stands: Trump and Kim each face immense pressure, both international and domestic, to make progress.
Trump needs to earn political trust back in Washington to continue negotiating with North Korea. His strategy so far has been to convince Kim that North Korea's denuclearization would bring the country a "bright future."
At the same time, Trump must address Kim's concerns about whether any agreement reached with his administration will withstand the Democrat-controlled House and survive the post-Trump era.
Between the lines: Successful diplomacy sometimes entails purposeful ambiguities, and the ambiguities of the first Trump-Kim summit might indeed have been strategic. At this critical juncture, however, a failure on Trump's and Kim's part to commit to defined objectives could hurt the bilateral relationship.
The bottom line: Trump and Kim need support more than ever to advance their diplomatic endeavors. While spectators have good reason to be skeptical, and one can only be cautiously hopeful with North Korea, a return to confrontation or "strategic patience" is in no one's interest.
Gi-Wook Shin is the William J. Perry Professor of Contemporary Korea and director of the Walter H. Shorenstein Asia-Pacific Research Center at Stanford University.
Go deeper