Amy Klobuchar enters the 2020 presidential race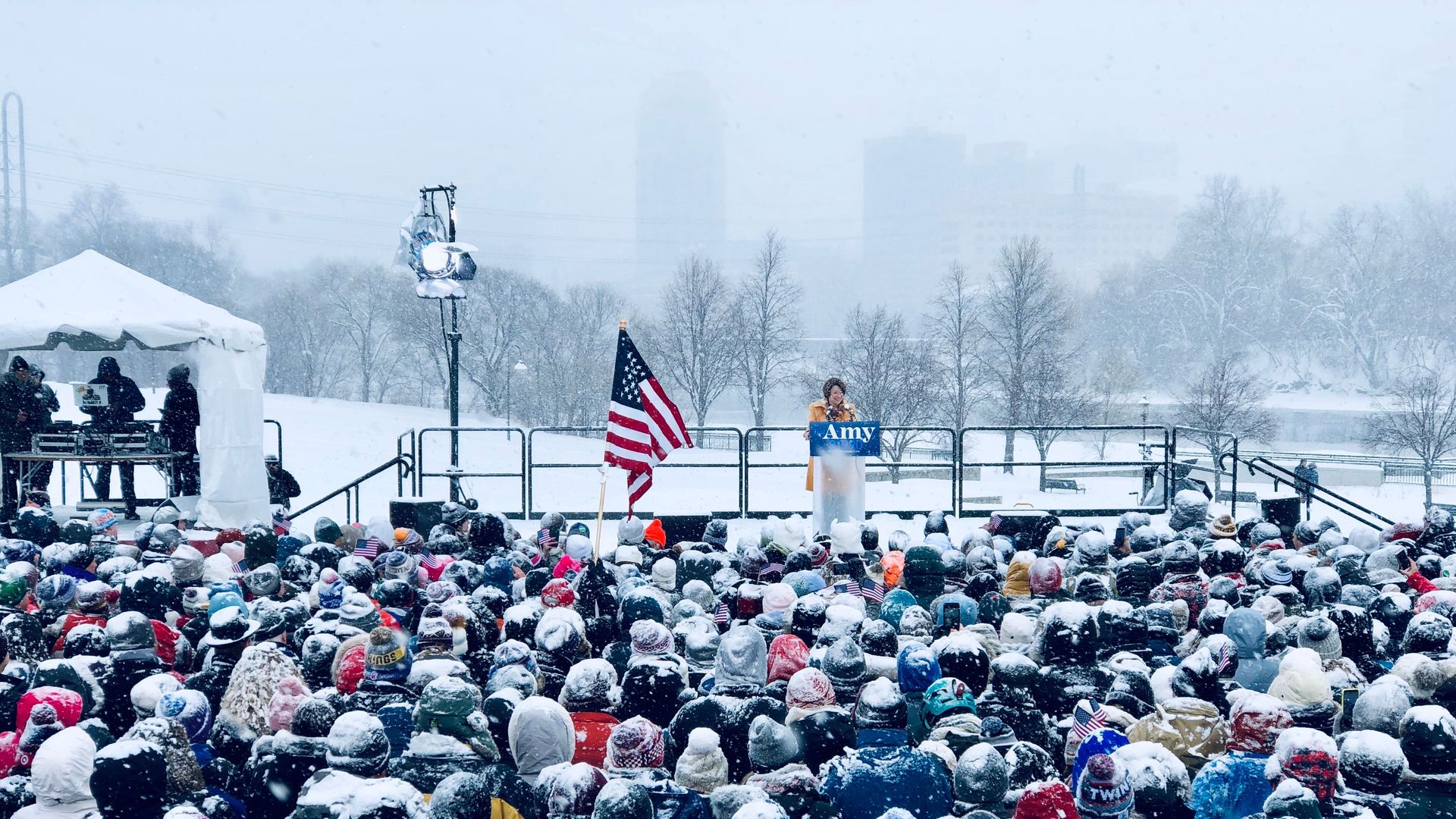 Sen. Amy Klobuchar (D-Minn.) announced at a snowy rally in Minnesota Sunday that she will be running for president in 2020.
The big picture: The popular Midwestern Democrat joins a primary field already occupied by four of her Senate colleagues — Elizabeth Warren, Cory Booker, Kamala Harris and Kirsten Gillibrand — as well as a number of other candidates.
Klobuchar's announcement on Sunday comes after a week of negative press stories that detailed her history of emotionally abusive treatment of her staff.
The senator addressed the reports at a media gaggle after the rally: "I love our staff. Look at this incredible event they put together. And yes, I can be tough. And yes, I can push people. I know that. But in the end, there are so many great stories of our staff that have been with me for years who gone on to do incredible things. And I have, I'd say, high expectations for myself. I have high expectations for the people that work for me. But I have high expectations for this country."
Highlights from her rally:
On campaign finance reform: "It's time to pass a constitutional amendment to overturn Citizens United and get the dark money out of our politics. It is time to stop discriminatory actions by restoring the Voting Rights Act. It is time to pass my bill to automatically register every young person to vote when they turn 18."
On climate change: "The people are on our side when it comes to climate change. Why? Because like you and I, they believe in science. That's why in the first 100 days of my administration, I will reinstate the Clean Power rules and gas mileage standards and put forth sweeping legislation to invest in green jobs and infrastructure. And on day one, we will rejoin the international climate agreement."
On technology: "For too long the Big Tech companies have been telling you, don't worry, we've got your back. While your identities, in fact, are being stolen and your data is being mined. Our laws need to be as sophisticated as the people who are breaking them. We must revamp our nation's cybersecurity and guarantee net neutrality for all. And we need to end the digital divide by pledging to connect every household to the internet by 2022, and that means you, rural America."
On foreign policy: "Even if you want to isolate yourselves from the rest of the world, the rest of the world won't let you. International problems come banging at your door, just as opportunities come knocking. We need to stand strong and consistently with our allies. We need to be clear in our purpose. We must respect our front-line troops, diplomats and intelligence officers who are there every day risking their lives for us. They deserve better than foreign policy by tweet."
On diversity: "And one last obstacle that we must overcome to move forward together. Stop the fearmongering and stop the hate. We may come from different places. We may pray in different ways. We may look different, and love different, but we all live in the same country of shared dreams."
Go deeper: Track which candidates are running in 2020
Go deeper