Polar vortex preys on the Midwest with coldest air in a generation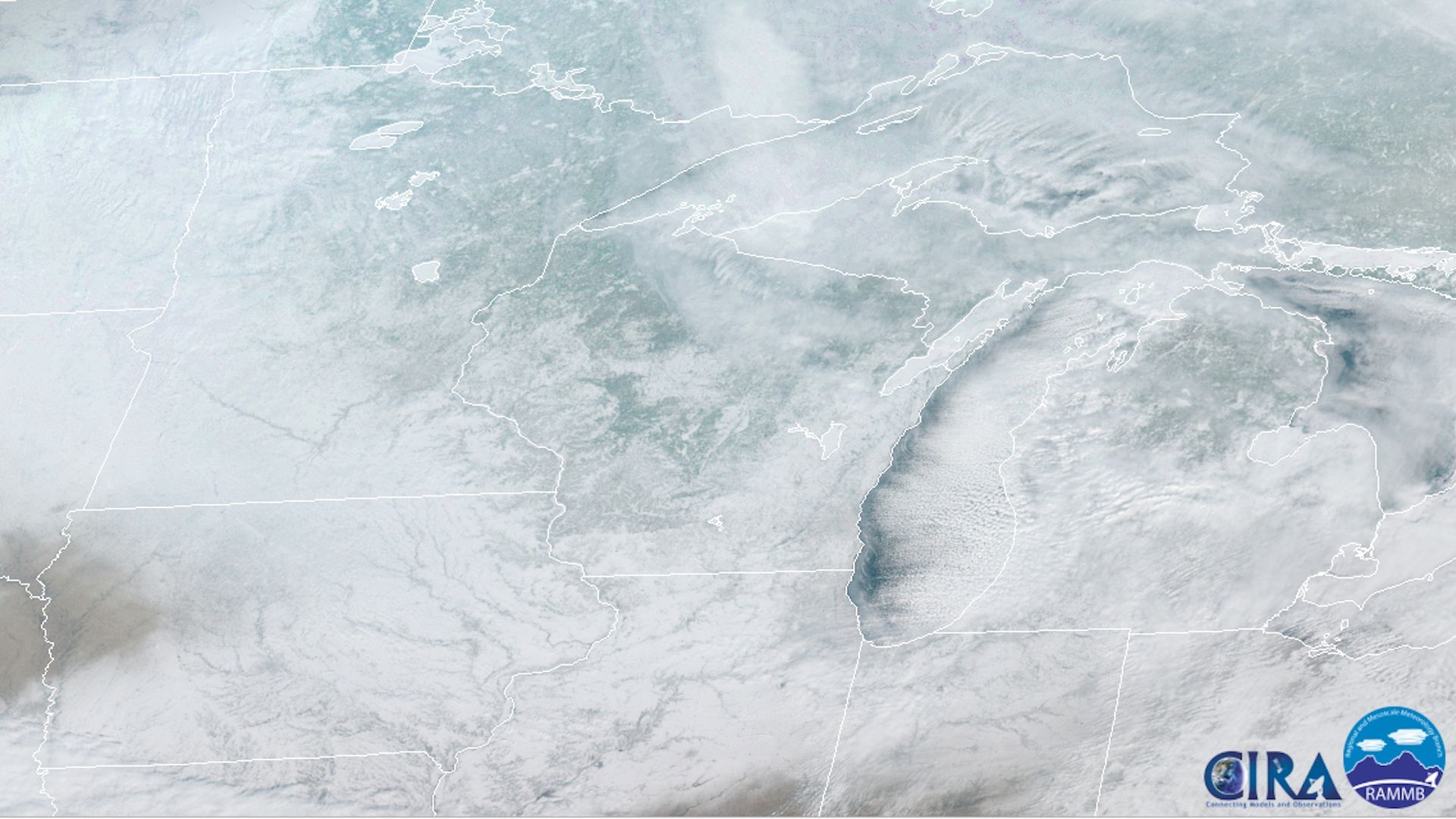 The polar vortex is making a painful visit to the Midwest beginning Tuesday. All-time cold temperature records will be set and wind chills will plummet to dangerous levels, with more than 83 million people expected to see temperatures drop below 0°F by week's end.
The big picture: A piece of the polar vortex has spun south, out of its typical home in the Arctic, for a life-threatening sojourn in the U.S. This is bringing ultra-cold weather to at least 15 states, where wind chill warnings and advisories have been issued as of Tuesday morning. Chicago could set a record for its coldest daily high temperature on record, with the high on Wednesday unlikely to edge past minus 15°F, beating the old record of minus 11°F set on Jan. 18, 1994.
Details: National Weather Service forecast offices across the Midwest and Ohio Valley have been using increasingly dire language to describe the cold weather. The NWS forecast office in Des Moines, for example, included this language in a forecast discussion:
"THIS HAS THE POTENTIAL TO BE LIFE-THREATENING COLD AIR!!! This is the coldest air many of us will have ever experienced. This is not a case of "meh, it's Iowa during winter and this cold happens." These are record-breaking cold air temperatures, with wind chill values not seen in the 21st century in Iowa."
— NWS Des Moines office
There's also this comparison used by the NWS forecast office in the Twin Cities: In Minneapolis on Wednesday and Thursday, wind chills will be colder than conditions at the Amundsen-Scott South Pole Station (where it's summer, but wind chills will still be minus 30°F).
The Twin Cities office is forecasting a record low of about minus 30°F, with a wind chill of between minus 50°F and minus 65°F on Wednesday morning. Temperatures there could remain below zero for nearly 80 straight hours.
On Wednesday morning, wind chills will range between minus 50°F to minus 65°F across parts of Minnesota, Wisconsin, Iowa, Illinois and Michigan, which could cause frostbite on exposed skin to occur in as little as 5 minutes, the Weather Service warned.
Already, International Falls, Minnesota, known as the nation's "icebox," saw its temperature plummet to minus 46°F on Sunday, which tied for the 5th-lowest temperature it has ever recorded.
This will be the coldest air to affect the Midwest and Ohio Valley in a generation, and in some cases, ever. In Minneapolis, this will be the coldest weather since at least 1996.
In Chicago, no one under the age of 25 has experienced such cold weather, as the last such outbreak was Jan. 18–20, 1994. "If there's a day where one needs to demonstrate cold weather safety to the max, it is Wednesday," the NWS in Chicago tweeted Tuesday.
Fresh snow cover deposited just ahead of the cold is aggravating the situation, since the bright snowpack reflects incoming sunlight rather than letting it be absorbed by the surface.
Background: The stratospheric polar vortex — which is a giant swirl of low pressure surrounded by powerful winds blowing counterclockwise at upper levels of the polar atmosphere — was knocked askew in early January, increasing the odds of cold outbreaks in the U.S. and Europe.
When the polar vortex is strong, it tends to keep the coldest air bottled up in the far north.
However, when it weakens or wobbles, it can draw frigid air south. It's as if the Northern Hemisphere's freezer door has been flung wide open.
The climate context: The globe as a whole is still much warmer than normal, and scientists say the cold snap in parts of the U.S. in no way invalidates the overwhelming scientific evidence showing global average temperatures are increasing due to the burning of fossil fuels.
In fact, studies published in the past several years show that polar vortex disruptions may be more likely as the Earth warms and sea ice in the Arctic melts, though this is an active area of research.
Go deeper:
Go deeper