Hard times bring a huge political shift for both parties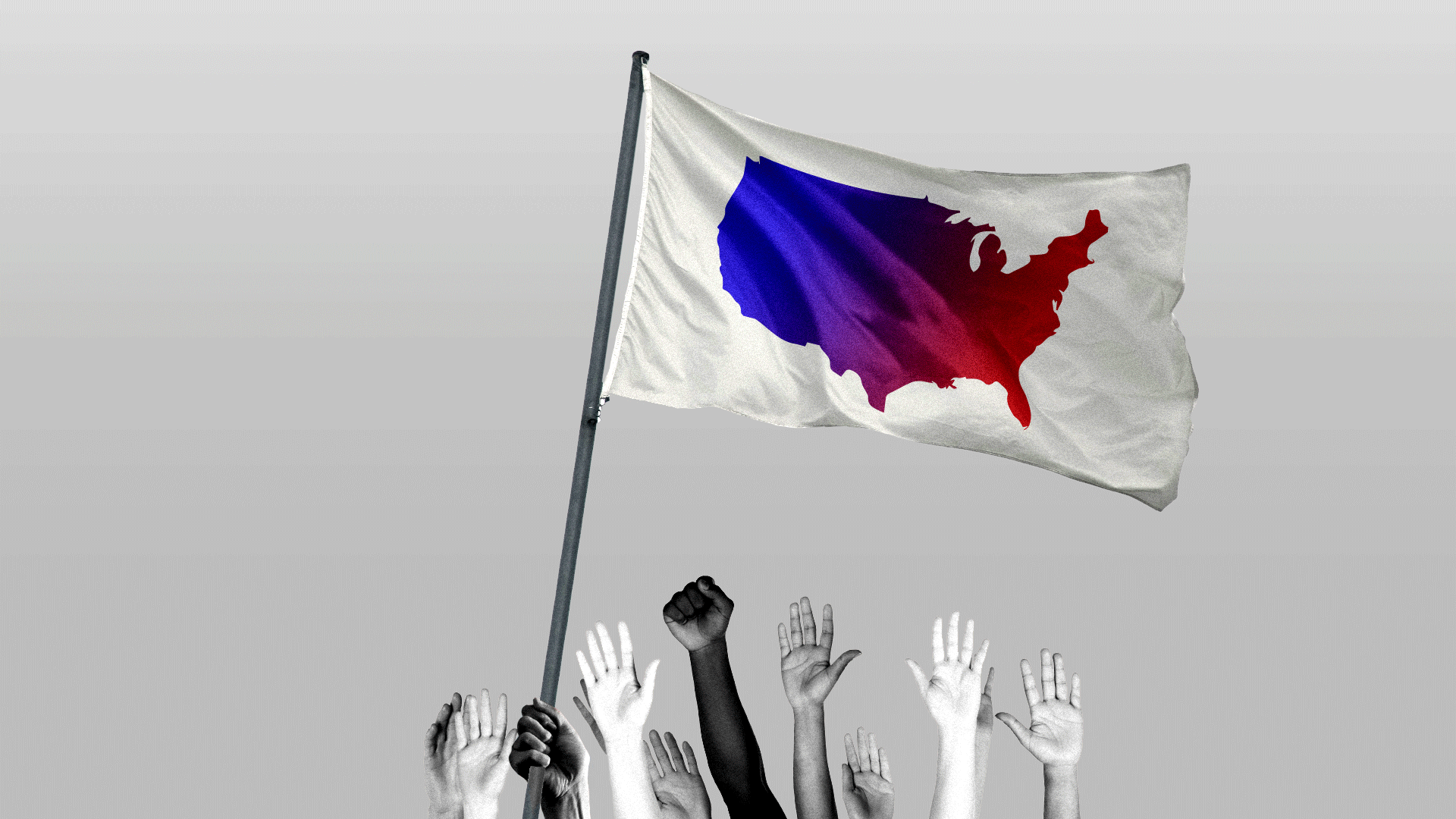 U.S. politics is veering toward a potential transformation in which both major parties are competing to capture a single constituency — millions of Americans, from schoolteachers to steelworkers, who have fallen on hard times.
The big picture: The party that successfully wins over this constituency in 2020, crossing gender, race, ethnicity and age, could hold power for a generation.
What's happening: In 2016, President Trump won on a political hunch — that a swath of the U.S. left behind by the forces of globalization was a winning base. Now his intuition has gained intellectual force, and major Republicans and Democrats are attempting to capitalize on the bipartisan anger that suffuses American politics.
"Millions of people feel left behind by the rapid social, cultural and economic changes under way. It's clear the old ways no longer work and the party that is able to offer a better way forward will lead a new coalition on the scale of the New Deal and the Reagan Revolution," Sen. Marco Rubio tells Axios.
"Both parties are trying to come up with a 21st century economic doctrine that widens the winner's circle and finds ways to course-correct the obvious inequities and unaddressed externalities of our current system," says Bruce Mehlman, a leading policy lobbyist.
If this course sounds familiar, it's because Democrats have sought to own the space since FDR. For most of the intervening decades, they have.
Vermont Sen. Bernie Sanders ran on it in 2016, and Elizabeth Warren is running on a similar platform for the party's 2020 presidential nomination.
And 29-year-old Rep. Alexandria Ocasio-Cortez has lit up the left with a full-throated call for higher taxes on the rich, free college, and Medicare for all.
But, after Brexit and Trump's election, the context has now changed. Republicans see that Trump's base has remained tight but relatively small: whites concentrated in down-on-their luck industries of decades-old boom economies will not command a presidential majority.
But a broader appeal could target low-salaried school teachers, nurses and other professionals, suggests Adam Tooze, an economic historian at Columbia University. "The shift is important, and if constructed the right way it could actually be majoritarian," Tooze tells Axios.
From the right and center, Republicans are already road-testing what a non-Trump workers platform could look like:
In a long piece last month in The Atlantic, Rubio made the case for aggressive government action to rebuild the middle class.  
Oren Cass, Mitt Romney's former domestic policy adviser, has attracted broad mainstream conservative attention with his manifesto, "The Once and Future Worker," which proposes an intellectual foundation for a Republican capture of the left-behind.
From the far right, Fox News firebrand Tucker Carlson again ignited conservative attention with a much-circulated Jan. 3 monologue that auditioned a platform to overturn and fix the system for white male disadvantaged Americans.
Mehlman, the lobbyist, draws comparisons to the Progressive Era, the 19th and the first decades of the 20th century, when a backlash against the Gilded Age produced a vast expansion of high schools, the direct election of senators, and the women's vote.
"What we face in the 21st century mirrors pretty closely what we faced in the beginning of the 20th century," Mehlman tells Axios.
"Populist energy got absorbed by both parties' reform movements. Both major parties evolved to reflect what citizens were demanding."
Go deeper