Pelosi postpones overseas trip after alleged leak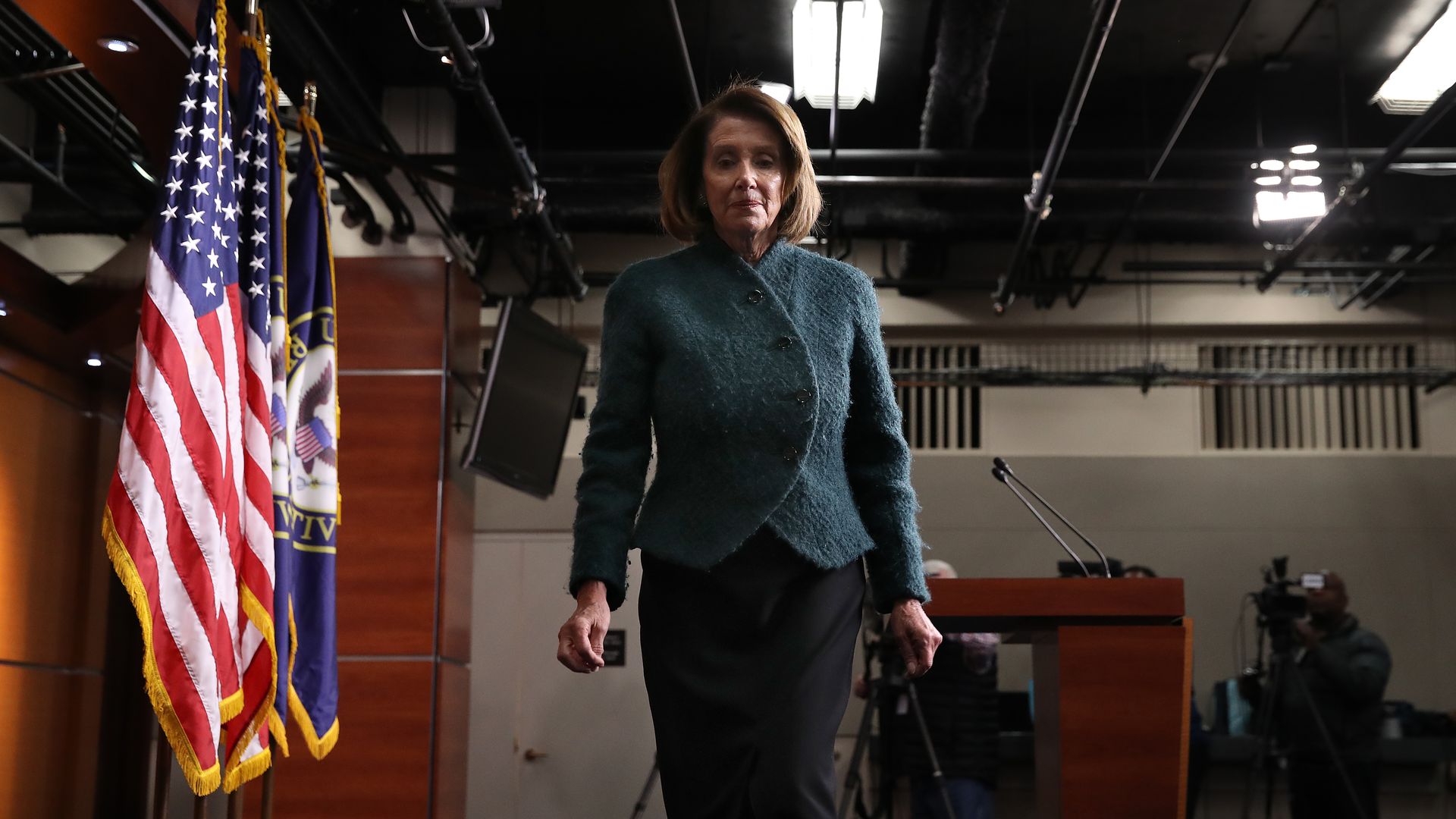 House Speaker Nancy Pelosi's office announced today they are postponing her 7-day trip to Brussels, Egypt and Afghanistan after learning "the Administration had leaked the commercial travel plans," according to a statement.
Why it matters: By leaking even more information about this trip — after Pelosi aides had previously asked news organizations not to publicly report the details due to national security concerns — her office said going ahead with the visit would "further endanger our troops and security personnel, or the other travelers on the flights."
How we got here: Pelosi sent Trump a letter on Wednesday asking him to delay his State of the Union address until the government shutdown is over, citing security concerns. Yesterday, Trump used that same reasoning to inform Pelosi that he will postpone her planned overseas trip.
"Due to the shutdown, I am sorry to inform you that your trip to Brussels, Egypt and Afghanistan has been postponed. We will reschedule this seven-day excursion when the Shutdown is over. ... Obviously, if you would like to make your journey by flying commercial, that would certainly be your prerogative."
The full statement, from Pelosi's deputy chief of staff Drew Hammill:
"The United States Congress is a co-equal branch of government in our system of checks and balances.  The Congress has a constitutional responsibility to conduct oversight in the war zone where our men and women in uniform are risking their lives every day," Hammill said.  "After President Trump revoked the use of military aircraft to travel to Afghanistan, the delegation was prepared to fly commercially to proceed with this vital trip to meet with our commanders and troops on the front lines."
"In the middle of the night, the State Department's Diplomatic Security Service provided an updated threat assessment detailing that the President announcing this sensitive travel had significantly increased the danger to the delegation and to the troops, security, and other officials supporting the trip," continued Hammill.  "This morning, we learned that the Administration had leaked the commercial travel plans as well."
"In light of the grave threats caused by the President's action, the delegation has decided to postpone the trip so as not to further endanger our troops and security personnel, or the other travelers on the flights," said Hammill.  "Whether here or abroad, the Speaker always thanks our troops, diplomats and intelligence community for their heroism and service.  The Speaker commends her colleagues on the delegation, who personally and officially have dedicated their lives to protect and defend the American people."
Go deeper: The Donald and Nancy show
Go deeper