In Mueller investigation, Trump is now "Individual 1"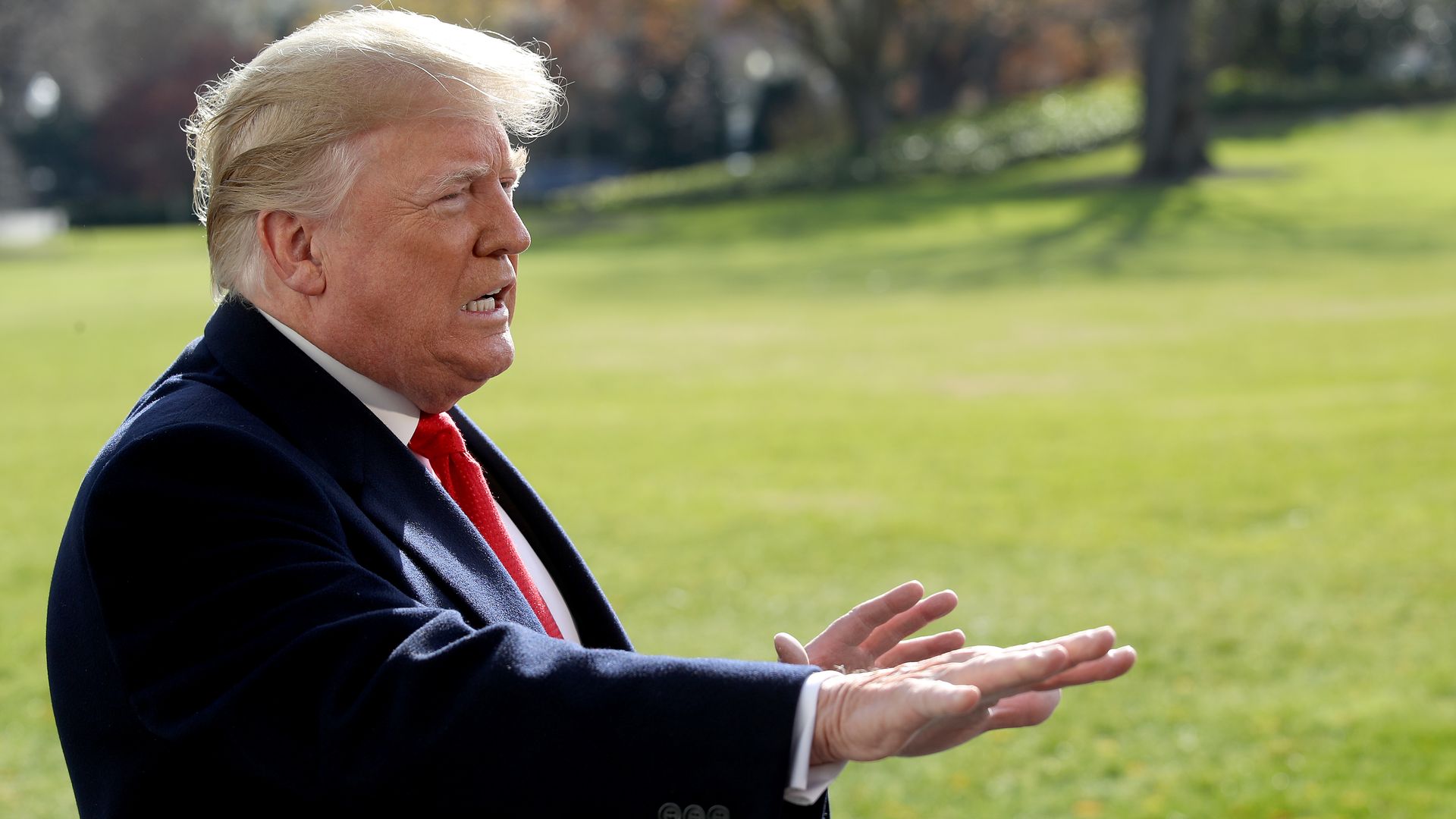 Until this week, public revelations about special counsel Robert Mueller's investigation focused on characters who had been around President Trump.
Driving the news: For the first time, the special counsel's narrative has suddenly come alive with pre-presidential actions and entanglements by Trump himself. "Investigators have now publicly cast Trump as a central figure of their probe into whether Trump's campaign conspired with the Russian government during the 2016 campaign," the WashPost reports.
Why it matters: This week's disclosures show that "Trump was in close contact with his lieutenants as they made outreach to both Russia and WikiLeaks — and that they tried to conceal the extent of their activities."
The WashPost's Devlin Barrett tweeted: "In both of his guilty plea hearings, [former Trump lawyer] Michael Cohen has gone beyond the court filings to make clear his criminal actions were specifically on Trump's behalf."
And ABC News reported that Cohen, with years of visibility into Trump's financial and political dealings, "has spent more than 70 hours in interviews with Mueller's team."
The president of the United States was labeled "Individual 1" in yesterday's court filing by Mueller.
The filing, which spelled out the facts that led to Cohen to plead guilty to lying to Congress, began to tie together the New York and Washington branches of the investigation.
Cohen made it plain that Trump "was more involved in discussions over a potential Russian business deal during the presidential campaign than previously known," as the N.Y. Times put it.
"Trump's participation in discussions about building a grand skyscraper in Moscow," The Times reports, "showed how the interests of his business empire were enmeshed with his political ambitions as he was closing in on the Republican nomination for president."
The backdrop: "Trump for decades dreamed of building a Trump Tower in the heart of Moscow, a plan that flared and fizzled several times over the years." (AP)
Be smart: That suggests a profit motive for Trump's persistent and unexplained affinity for Russia.
Trump said as he left the White House yesterday for Argentina: "I was running my business while I was campaigning. There was a good chance that I wouldn't have won, in which case I would have gotten back into the business. And why should I lose lots of opportunities?"
Trump tweets from Argentina this morning:
"Oh, I get it! I am a very good developer, happily living my life, when I see our Country going in the wrong direction (to put it mildly). Against all odds, I decide to run for President & continue to run my business-very legal & very cool, talked about it on the campaign trail..."
"....Lightly looked at doing a building somewhere in Russia. Put up zero money, zero guarantees and didn't do the project. Witch Hunt!"
P.S. Statement by Rudy Giuliani, a lawyer for Trump:
"BREAKING NEWS ALERT:  Michael Cohen is a liar. It's no surprise that Cohen lied to Congress. He's a proven liar who is doing everything he can to get out of a long-term prison sentence for serious crimes of bank and tax fraud that had nothing to do with the Trump Organization."
"It is important to understand that documents that the Special Counsel's Office is using to show that Cohen lied to Congress were voluntarily disclosed by the Trump Organization because there was nothing to hide."
"It is hardly coincidental that the Special Counsel once again files a charge just as the President is leaving for a meeting with world leaders at the G20 Summit in Argentina. The Special Counsel did the very same thing as the President was leaving for a world summit in Helsinki."
"With regard to the hotel proposal in Moscow, the President has been completely open and transparent."
Go deeper:
Go deeper