The future of malls could look more like towns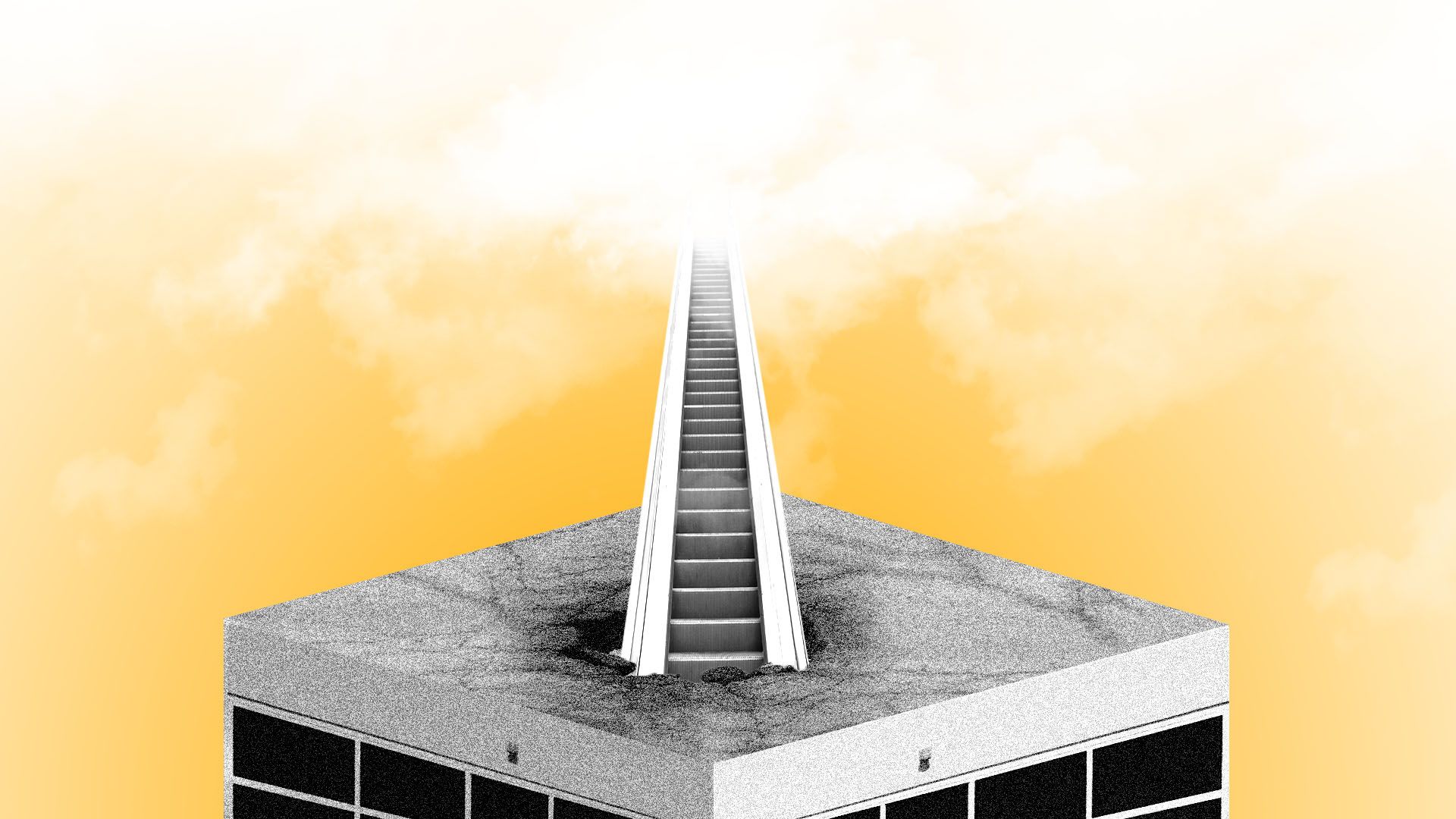 COLUMBUS, Ohio — In a surprising twist on the manufactured downtowns that have spread across suburbia, a developer in this central Ohio city — looking to survive amid a retail apocalypse — is doubling down on the much-derided mall.
Why it matters: Turkish developer Yaromir Steiner plans on expanding a mall into a bona fide town at a time when thousands are downsizing. Columbus has long been known as a test market, as its population is a near-perfect microcosm of the country. If a new model for malls as towns works in Columbus, it'll work across America, experts say.
Steiner tells Axios he envisions a real town where you can rent an apartment, go to work, do your groceries, go out to eat and even go clubbing on Saturday night. It won't be known for a while if Steiner is onto something. But he is spending $500 million on the gamble.
"Twenty years ago, malls were conduits for delivering goods ... now, it's about selling experiences."
— Yaromir Steiner
The big picture: Sixteen years ago, there were 6 bustling malls in Columbus. Today, after the same shakeout that has killed malls across the country, just 3 are left. Developers are reaching for ploys to save millions of square feet of mall real estate.
By the numbers: Columbus' Easton Town Center is building 700 apartment units, an additional 230,000 square feet of retail space, 300,000 square feet of office space and a new hotel. The development will add to Easton's 90-acre plot, which has 240 stores and makes around $900 million a year.
Why Columbus could be a model:
Many traditional retailers and restaurants try their newest, craziest ideas in Columbus because they know successes there can scale. The city has been dubbed the "Silicon Valley of retail."
As we reported Monday, Columbus has shoe stores with nail and hair salons, outdoor apparel stores with freezers to test the warmth of jackets and Wendy's restaurants with robot waiters.
"They're completely rethinking the future of retail," says Amy Liu of Brookings.
The backdrop: The heavily forecast apocalypse of brick-and-mortar retail as a whole has not happened — over 90% of shopping still happens offline, and last year saw more store openings that closings, per the research firm IHL Group. But most malls may indeed fall victim to the meltdown.
"Many malls are struggling because they have not been invested in over the years," Neil Saunders, managing director of GlobalData Retail, tells Axios. "They were built in the 1970s and the 1980s, and they've just not been kept up to date" in terms of the diversity of stores and offerings.
So 20 years ago, when Steiner — along with co-developers Les Wexner, the CEO of L Brands, and the Georgetown Company — thought up Easton Town Center, he landed on the country's first open-air design that was anchored not by department stores, as is standard for malls, but by restaurants and bars.
The entire mall is built around squares and main streets, instead of in a big concrete box.
Easton has mall staples like Nordstrom and J. Crew, but it also has a comedy club and a futuristic pod called "Shop Lab," a concept launched a month ago where online-only brands try out physical retail.
The dining options include food court favorites like Five Guys and Sbarro as well as five-star restaurants run by famous Columbus chefs.
Now, with expansion plans, what began as a swanky shopping destination for millions of Midwesterners will have a Costco and office buildings and apartments — all part of Steiner's bet that the mall can be saved if it's part of a small, contained town that you never have to leave.
"Easton was set up for the e-commerce future 20 years ago. We are online-proof."
— Yaromir Steiner
Go deeper