Trump claims Ivanka's personal email use nothing like Hillary Clinton's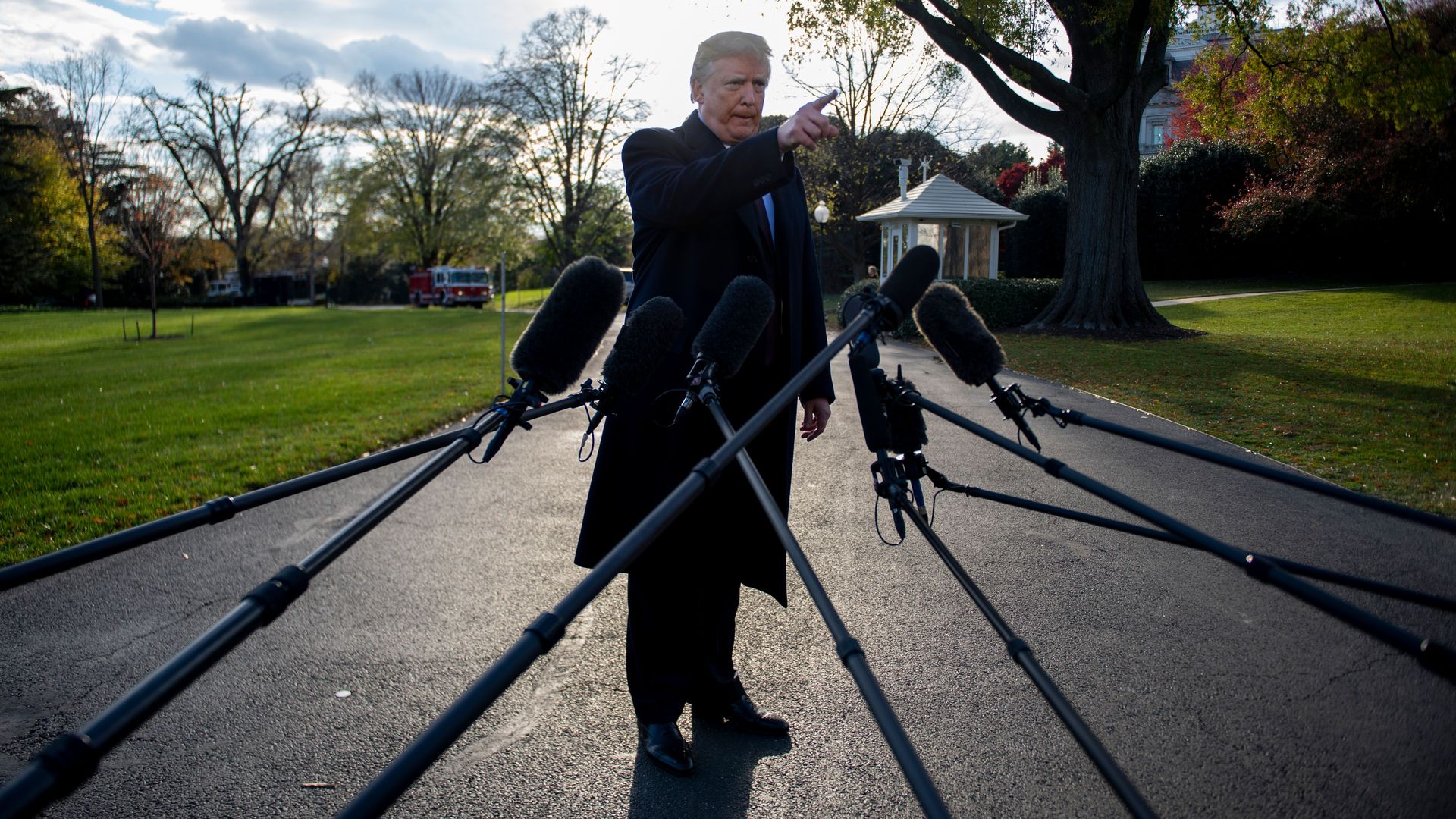 President Trump defended his daughter Ivanka today following a Washington Post report that she used a personal account to send hundreds of emails to White House aides in a potential violation of federal records rules.
"They weren't classified like Hillary Clinton. They weren't deleted like Hillary Clinton, who deleted 33,000. She wasn't doing anything to hide her emails."
— Trump to reporters before departing for Mar-a-Lago
Trump also defended his decision to issue a statement of support for Saudi Arabia despite the murder of journalist Jamal Khoshoggi. "We're not going to give up hundreds of billions of dollars of orders," he said.
Despite boasting of lucrative deals with Saudis in the past, Trump said he had no personal interest in Saudi Arabia: "I don't get money from Saudi Arabia. ... I couldn't care less. They buy hundreds of billions of dollars of things from this country. ... They will get the military equipment and other things from Russia and China."
Trump said that he could "easily" get around the new restraining order imposed on his asylum ban by a federal court.
He said he would be filing a "major complaint," and went on to criticize left-leaning courts who have held up many of his efforts to cut back on immigration.
"People should not be allowed to immediately run to this very friendly circuit and file their case," he said.
More from his remarks ...
Mueller's questions: Trump confirmed that he has finished answering Special Counsel Robert Mueller's questions, and that his written answers are in the hands of his lawyers.
He predicted that Cindy Hyde-Smith would win the Mississippi Senate runoff against Mike Espy, saying that her comment about going to a public hanging was a joke and that she "feels bad" about it.
War zone: Trump was asked if he was afraid to go to a war zone such as Afghanistan, according to the pool report, to which he replied, "No, I'm 

going

 to a war zone."
Person of the Year: When asked who he thought we get Time Magazine's "Man of the Year" title, Trump said, "I've been there before. I can't imagine anybody else other than Trump. Can you imagine anybody other than Trump?"
Go deeper