Reality check: How the U.S. asylum process works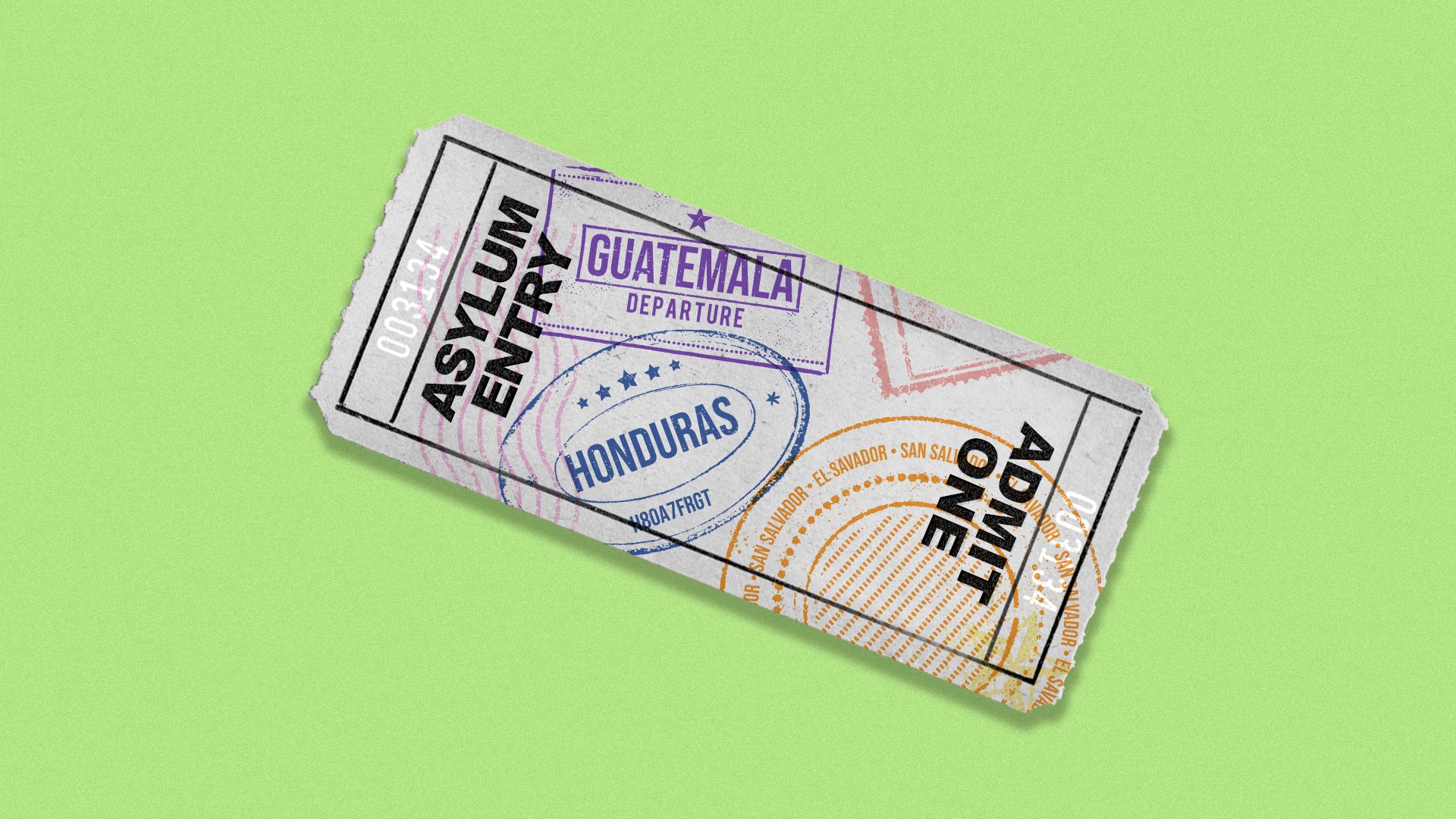 President Trump asked the thousands of Central American migrants traveling in a caravan toward the United States to "please go back" in a Monday morning tweet, adding that they "will not be admitted into the United States unless [they] go through the legal process."
Reality check: Most of these migrants intend to pursue a "legal process" to enter the U.S. via a claim of asylum. Unlike refugees who apply for protection while still in their home country, asylum-seekers must be on American soil and present themselves at a port of entry or to immigration officials in order to claim asylum.
How we got here: The U.S. government began granting asylum to foreign nationals already in the U.S. in 1972, according to U.S. Citizenship and Immigration Services. It was intended to allow those who feared returning to their country to remain in the U.S. in the spirit of the UN Refugee Agency's Refugee Protocol and Convention.
Asylum-seekers must prove persecution or fear of persecution in their home country due to their race, religion, nationality, political opinion or being a member of a particular social group.
Today, asylum-seekers can apply for affirmative asylum by presenting themselves to immigration officials within one year of arriving in the U.S. They must first pass an initial "credible fear" interview, proving they are reasonably afraid of returning to their home country. In the first three quarters of FY 2018, 76% passed the credible fear interview. Asylum-seekers are then kept in detention or released into the U.S. until their asylum cases are resolved — which often takes months if not years, according to the American Immigration Council.
"The extremely low bar for establishing credible fear is ripe for fraud and abuse ... a credible fear referral doesn't equal asylum status, but it does earn a free ticket into the U.S., allowing individuals to disappear into the interior to live and work illegally."
— USCIS spokesman Michael Bars tells Axios
The big picture: The number of asylum-seekers from Central America has skyrocketed over the past several years. These nations have been beset by high murder rates, rampant gang violence and widespread poverty. In 2017, the U.S. received more requests for asylum than any other country in the world, according to data from the U.N. Refugee Agency data.
Yet more than 70% of Honduran, Salvadoran and Guatemalan asylum-seekers were denied defensive asylum in the U.S. between FY 2012 and FY 2017, according to data collected by the Transactional Records Access Clearinghouse at Syracuse University.
And only one-quarter of all affirmative asylum applications were approved in the first three quarters of FY 2018, according to data from USCIS.
At the same time, Attorney General Jeff Sessions has continued to increase scrutiny for asylum-seekers, disqualifying those who claim domestic abuse or gang violence. He also recently referred an immigration case to himself for review, and his decision could keep all asylum-seekers caught crossing the border illegally in mandatory detention — even if they've passed their "credible fear" interview.
The bottom line: It will still be weeks before the caravan reaches a U.S. port of entry, but those migrants need to reach American soil in order to credibly and legally claim asylum in the U.S. And even after their journey, they face unfavorable odds of legally receiving asylum from the Trump administration.
Go deeper