Mail bomb spree: Clintons, Obamas and others targeted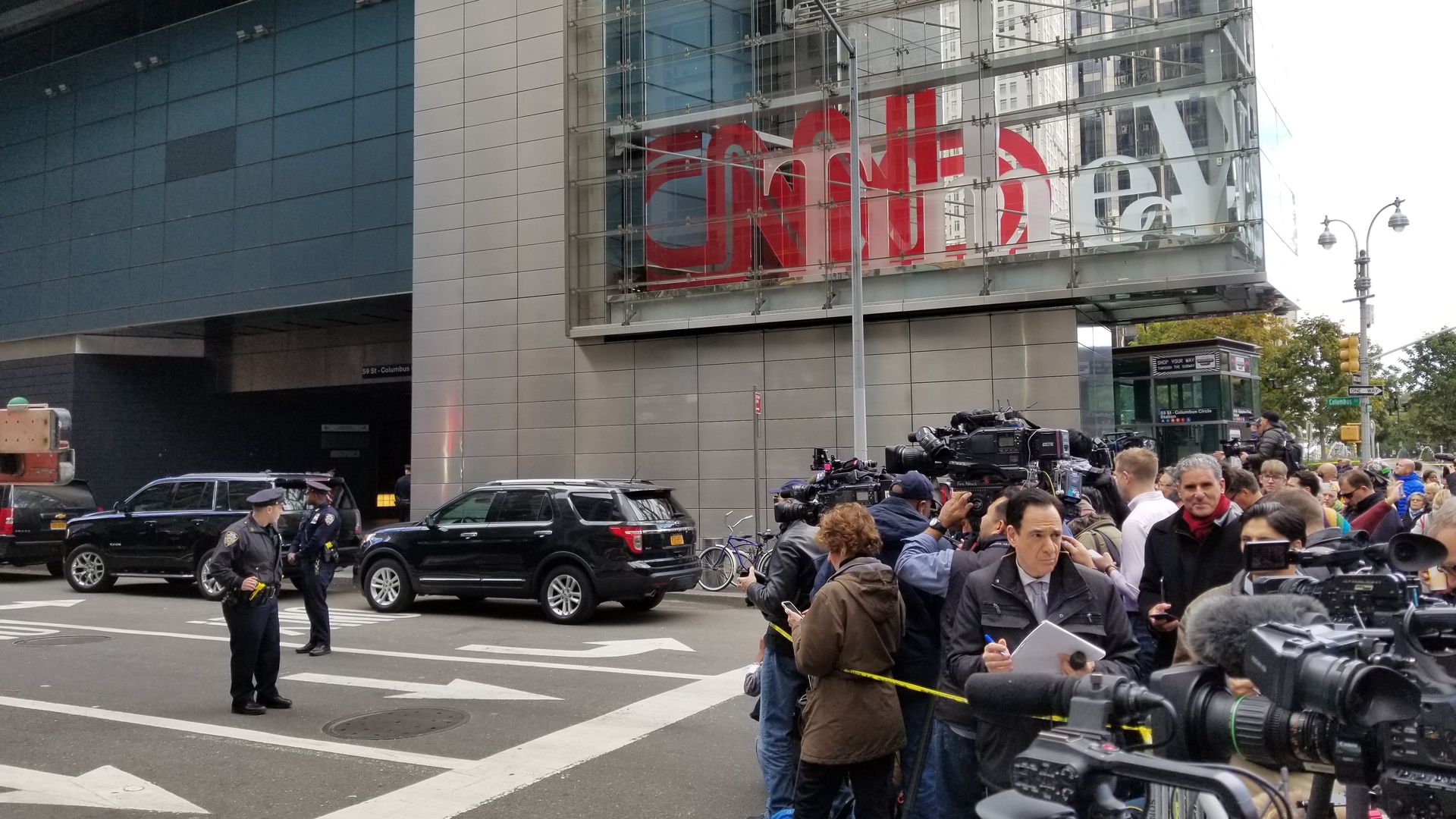 Suspicious packages that reportedly contained functioning explosive devices were sent to the home of President Bill Clinton and Hillary Clinton, the office of President Barack Obama, CNN, philanthropist George Soros, former Attorney General Eric Holder, and Rep. Maxine Waters over the last 48 hours.
The big picture: The events — branded an "act of terror" by New York City Mayor Bill de Blasio — come at a time of ever-increasing polarization in the United States, when political discourse is often hijacked by the most extreme voices on both the left and the right. From the congressional baseball shooting to Charlottesville, political violence has increasingly been on the rise in America.
The targets
Watch video of the moment CNN's New York bureau was forced off-air:
The packages
The apparent explosive devices came "in manila packages that included stamps and signatures on them" and a return address belonging to Schultz, according to NBC News.
What they're saying
Hillary Clinton: "We are fine thanks to the men and women of the Secret Service who intercepted the package addressed to us long before it made it's way to our home. Every day we are grateful for their service and commitment…never more than today. ... But it is a troubling time isn't it? And it's a time of deep divisions and we have to do everything we can to bring our country together."
Former President Bill Clinton: "Thank you to the @SecretService and all law enforcement agencies who responded to this week's incidents. They work tirelessly to keep our country and communities safe. I am forever grateful for their efforts."
Vice President Mike Pence: "We condemn the attempted attacks against fmr Pres Obama, the Clintons, @CNN & others. These cowardly actions are despicable & have no place in this Country. Grateful for swift response of @SecretService, @FBI & local law enforcement. Those responsible will be brought to justice."
President Trump, speaking before an opioids event at the White House: "We have to unify, we have to come together and send one clear, strong, unmistakable message — acts or threats of political violence, of any kind, have no place in the United States of America."
White House Press Secretary Sarah Sanders: "We condemn the attempted violent attacks recently made against President Obama, President Clinton, Secretary Clinton, and other public figures. These terrorizing acts are despicable, and anyone responsible will be held accountable to the fullest extent of the law. The United States Secret Service and other law enforcement agencies are investigating and will take all appropriate actions to protect anyone threatened by these cowards."
CNN Worldwide President Jeff Zucker responded in a statement posted to Twitter: "There is a total and complete lack of understanding at the White House about the seriousness of their continued attacks on the media. The President, and especially the White House Press Secretary, should understand their words matter. Thus far, they have shown no comprehension of that."
Editor's note: This story originally included New York Gov. Andrew Cuomo as a recipient of a suspicious package, per the AP's reporting. An NYPD spokesman has since confirmed that Cuomo did not receive a package containing an explosive device.
Go deeper