America, 2018: Gender gaps, gender wars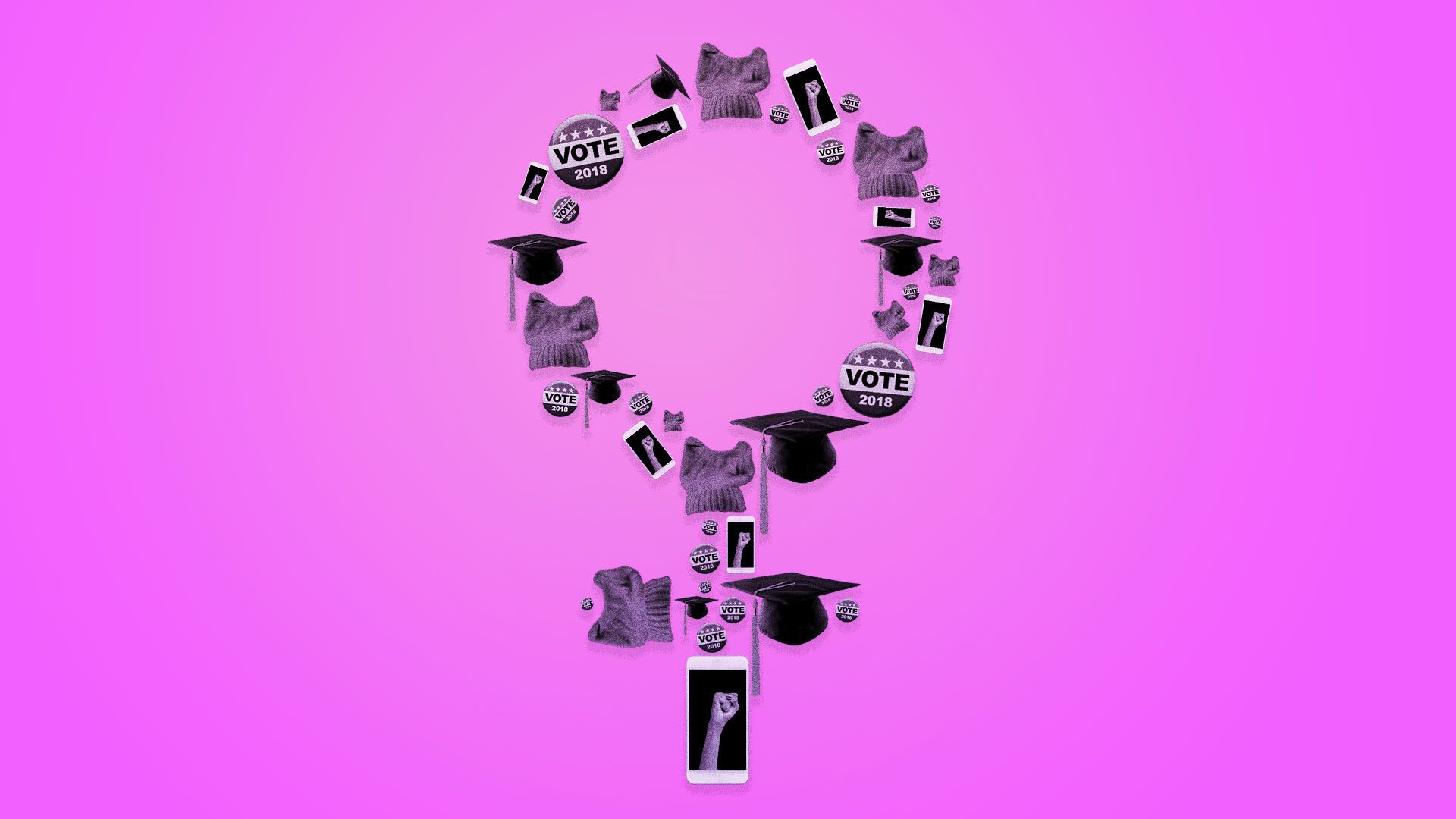 With more women running than ever, the 2018 midterms have the largest voting gender gap on record, with Democrats overwhelmingly winning women's support.
The big picture: There have been powerful moments and signs of progress for women this year, but wide gaps persist in pay, positions of power and politics. Men are notably less concerned about these issues than women, pointing to renewed gender wars in President Trump's 2020 re-election race.
"The partisan asymmetry is more glaring than it's ever been," said Jennifer Lawless, a politics professor at the University of Virginia.
The great divide: Democrats are winning over women voters 58% to 33%, while Republicans have men's support 50% to 42%, according to a new Quinnipiac University poll.
If those numbers hold, the 2018 midterms could have the largest gender gap since 1958, according to CNN.
And that record field of women candidates is mostly made up of Democrats.
387 women are running as Democrats for Congress, compared with 142 running as Republicans, according to data from Rutgers University's Center for American Women and Politics.
But about half of Democratic women House nominees are running as challengers.
Debbie Walsh, the center's director, said: "There's been a tremendous amount of hype about the numbers [of women running]. ... [W]e'll see an increase in the number of women in office. But ... people have been calling this a tsunami. I don't think we're going to see a tsunami of women in office." 
Despite the #MeToo movement, more than half of the men ousted for sexual misconduct have been replaced by other men, the N.Y. Times reports in a powerful graphic.
Following the Brett Kavanaugh fight, minority women, college-educated women and women under 50 said victims will be less empowered to come forward with stories of abuse, according to an NBC/Wall Street Journal poll.
On policy issues, men and women still have very different views:
The vast majority of women support stricter gun control laws as opposed to less than half of men, according to a Quinnipiac poll from last year. 
And most women say that it's more important for people to feel safe and welcome online, while a majority of men say it's more important to be able to speak freely.
Women who work still make only 82% of what their male counterparts make, according to a Pew Research analysis of census data. 
While women have made slow progress, the median income for men has been relatively flat for decades.
And men without college degrees have seen their wages fall over the past several years. 
Be smart: Women's voices are being listened to in a way that they haven't been before. And it's not just women candidates: It's women voters and women activists at all levels.
Correction: The story has been updated to state that minority women, college-educated women and those under 50 said victims will be less empowered to come forward with stories of abuse, not more empowered, in an NBC poll.
Go deeper