The GOP's throw-it-all-at-the-wall midterm plan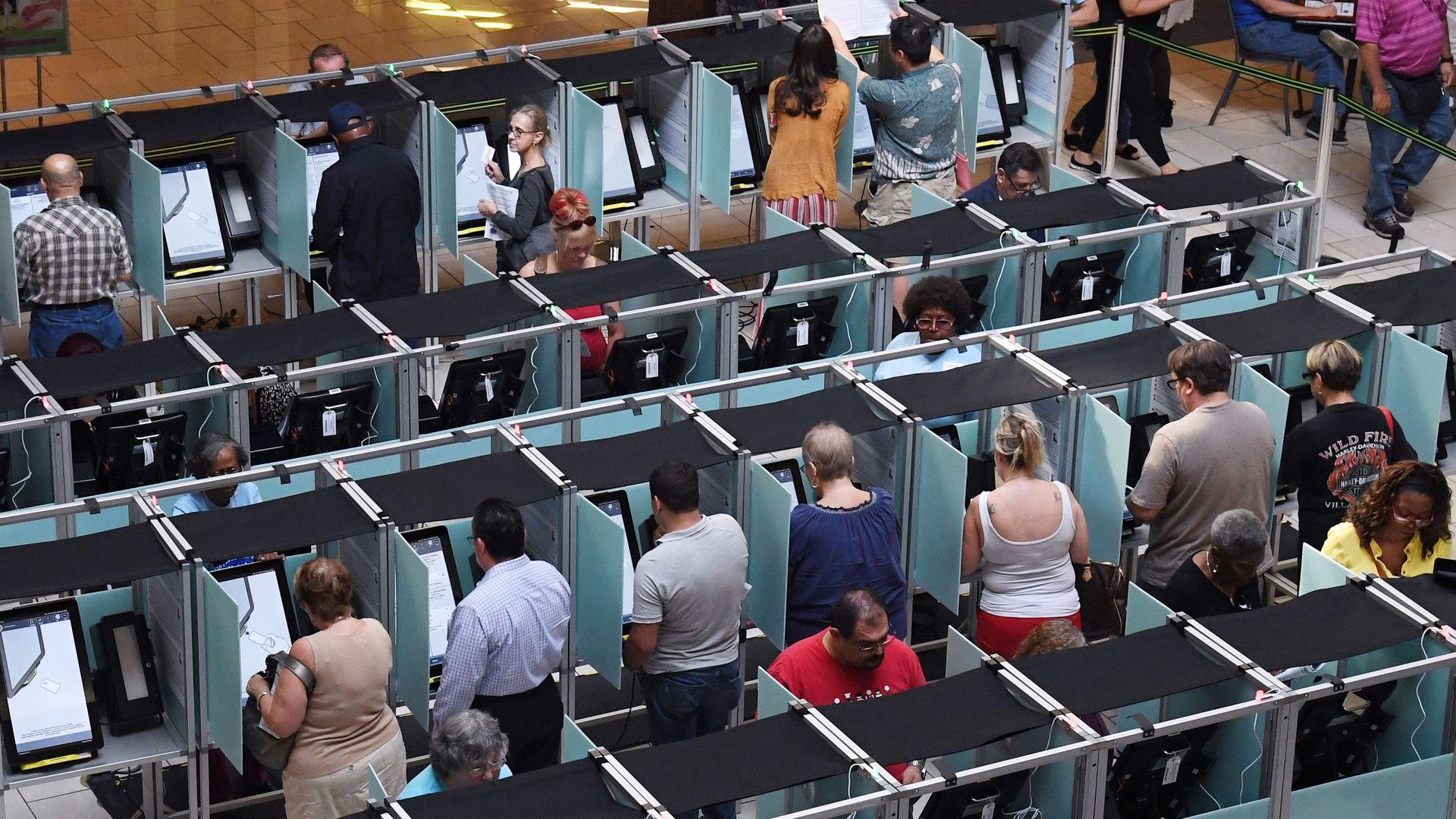 President Trump and top Republicans, concerned about huge House losses this fall, are tossing out new ideas by the day in hopes of saving their majority.
What they're saying: Trump told reporters in Nevada yesterday that he and House Republican leaders are working "around the clock" on "a very major tax cut for middle-income people. And if we do that, it'll be sometime just prior, I would say, to November." But Republicans on the Hill seemed to know nothing about it, and both chambers are out until after midterms.
Trump is keeping up his drumbeat of dire warnings about the "very tough criminal elements within the caravan" of Central American migrants — about 2,000 of whom made it into Mexico yesterday. Trump has suggested without evidence that the caravan was instigated by Democrats, and said the migrants are "not coming into this country": "I would call in military and I would seal off the border."
Trump rallies feature "FINISH THE WALL" signs, and House Majority Leader Kevin McCarthy this month introduced the "Build the Wall, Enforce the Law Act of 2018" to fully fund the wall, "bringing the total amount of funding to $25 billion."
Republicans warn of Democratic-incited violence, real and figurative, with Trump tweeting about "the Democrats new Mob Rule strategy," Senate Majority Leader Mitch McConnell decrying "mob behavior," and Republican groups and candidates invoking the "mob" online and on the trail.
Trump continues to milk passions around the confirmation of Justice Brett Kavanaugh, declaring at a rally Thursday night: "What they did to Brett Kavanaugh and his beautiful family is a national disgrace that will not be soon forgotten. Remember that!"
McConnell stresses the confirmation of conservative judges and justices as a key product of Republican strength.
Trump tweeted last night: "All levels of government and Law Enforcement are watching carefully for VOTER FRAUD, including during EARLY VOTING. Cheat at your own peril. Violators will be subject to maximum penalties, both civil and criminal!"
Be smart: A top Democratic aide told me Trump's sudden talk of a middle-class tax cut is an acknowledgement that the last tax cut is polling poorly. Republican candidates, the aide said, "are either running away from it or silent on it."
⚡️ Breaking: In Arizona, Democratic Senate candidate Kyrsten Sinema is endorsed by the Arizona Republic over Republican Martha McSally — the first time the Phoenix paper has endorsed a Dem for Senate since at least 2000.
Go deeper:
Go deeper