Go deeper: FDA takes action over youth's e-cigarette "epidemic"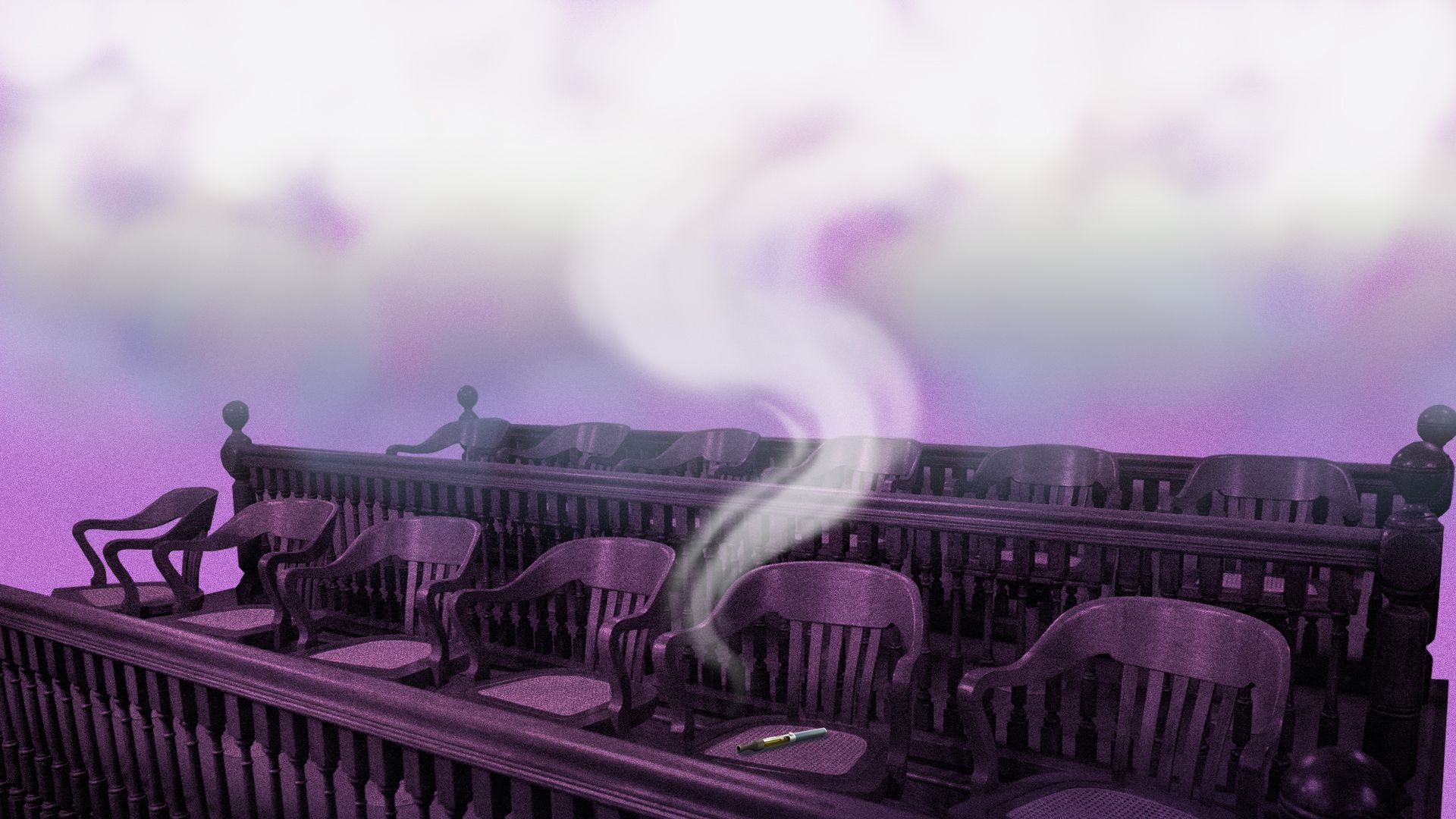 The Food and Drug Administration on Wednesday called for Juul Labs and four other makers of vaping devices to come up with plans that prove their products can be kept away from teenagers. The companies have 60 days, or the FDA may take further action including the possible ban of flavored products.
Why it matters: The agency said the use of electronic cigarettes by teenagers has reached "an epidemic proportion." The threat has been a long time coming as the FDA, health-related studies and lawsuits have been investigating e-cigarettes and how those products may relate to the upsurge in youth nicotine addiction.
"While we remain committed to advancing policies that promote the potential of e-cigarettes to help adult smokers move away from combustible cigarettes, that work can't come at the expense of kids."
— FDA
news statement
The big picture: E-cigarette companies claim their products are designed to give adults an alternative to smoking the more carcinogenic combustible cigarettes. But, according to the Washington Post, the FDA has preliminary data, possibly from the as-yet published National Youth Tobacco Survey, showing a 75% increase in e-cigarette use among high school students in this year compared to last year.
The uptick in teen usage can be attributed to several factors, FDA says, including: flavored cartriges, marketing practices that appear targeted to youth, and illegal sales to minors.
The details: The FDA's order targeted both makers and sellers of e-cigarettes.
Warning letters were sent to 1,100 retailers and another 131 received fines
Most violations were aimed at Vuse, Blu, Juul Labs, MarkTen XL and Logic, which together hold about 97% of the U.S. market.
What they're saying: Antismoking advocacy groups lauded the decision as a step in the right direction.
"Today's announcement will represent a fundamental turning point, if but only if, FDA formally requires all manufactures to comply with these requirements and FDA reverses its policy and requires that all of these products undergo premarket review now, not four years from now."
— Matt Meyers, president, Campaign for Tobacco-Free Kids
"We urge FDA to require pre-market review of all new tobacco products and prohibit the sale of all flavored tobacco products, including e-cigarettes, unless those products undergo full pre-market review."
— Chris Hansen, president, American Cancer Society Action Network
"Increasing the awareness of the harmful nature of these products and their addictive power is the only way to prevent another generation of Americans from developing nicotine dependence. The AMA will continue to advocate for more stringent policies to help keep all harmful tobacco products, including e-cigarettes, out of the hands of our nation's youth."
— Barbara L. McAneny, president, American Medical Association
Meanwhile, several industry and lobbyist groups said they were planning to work with the FDA on this problem but warned that adult smokers trying to quit combustible cigarettes may struggle.
"JUUL Labs will work proactively with FDA in response to its request. We are committed to preventing underage use of our product, and we want to be part of the solution in keeping e-cigarettes out of the hands of young people."
— Juul Labs
"By threatening an industry — and technology that millions of adult smokers are successfully using to reduce or quit smoking deadly cigarettes — FDA is venturing into dangerous territory. ... VTA welcomes any action — especially those we've suggested FDA implement — to step up marketing penalties and restriction of youth access."
— Vapor Technology Association
Go deeper