Hurricane Florence to cause "catastrophic" damage in Carolinas
Hurricane Florence continues to churn menacingly toward the Carolina coastline — about two days away from coming very close to landfall in North Carolina. The storm will be capable of causing extreme damage, and will deliver a deadly one-two punch of coastal impacts from storm surge flooding and high winds, along with an inland deluge that will turn farms and communities into a virtual extension of the Atlantic.
The big picture: The odds that Florence will hit the brakes as it nears the coast have increased, and while this could lower the storm's peak winds at landfall, it will only mean a different set of deadly impacts. The storm surge flooding from a massive storm with an unusually large wind field and slow forward speed, along with freshwater inland flooding from a staggering amount of rain — up to 3 feet in some areas, are the leading threats to pay attention to.
What to expect
There is high confidence in the forecast through Thursday morning. However, computer models are still showing considerable uncertainty about what will happen right as the storm makes its final approach to the North Carolina coast on Thursday night and thereafter.
The official forecast from the National Hurricane Center now calls for Hurricane Florence to make landfall as a Category 3 storm near Wilmington, North Carolina on Friday, walloping the coast with a record high storm surge. Its approach will be agonizingly slow due to the temporary buildup of a high pressure area to the storm's northwest, and this will allow the storm surge flooding to build over multiple high tide cycles.
Battering waves of up to 30 to 45 feet in height will form off the coast and slam barrier islands, potentially breaking open new channels in between them.
After that, the center of the storm is forecast to drift west-southwest, bringing deadly impacts from Georgia to the Mid-Atlantic. This scenario would also dump torrents of rain near and to the north of where its center tracks, thereby spreading misery far inland.
The NWS forecast office in Wilmington is calling Hurricane Florence: "The storm of a lifetime" for the state (and not in a good way). "I can't emphasize enough the potential for unbelievable damage from wind, storm surge, and inland flooding with this storm," a NWS meteorologist wrote in a technical discussion at 6:40 pm on Tuesday evening.
Hurricane and storm surge warnings have been issued for the Carolinas, with dire headlines warning of life-threatening impacts.
Surge: Depending on the landfall location, Hurricane Florence is likely to bring a devastating storm surge to the Carolinas, possibly exceeding 15 to 20 feet.
Such a surge, depending on whether it hits at high tide, could result in more than nine feet of water above ground in some coastal areas, according to the National Weather Service.
Weather Service forecast offices in North and South Carolina are warning residents to expect "dangerous to catastrophic" storm surge impacts, which will render coastal areas "uninhabitable" for extended periods of time.
The North Carolina coast in particular is extremely vulnerable to towering storm surges, since the continental shelf extends 50 miles off the coast there.
This creates a long expanse of shallow waters that allows an incoming storm to pile up a huge volume of water, pushing it toward the coast as it arrives.
Wind: A relatively small area of the coastline will experience the worst of the storm's winds, but due to its slow forward speed near landfall, a large area will still see a long duration of damaging winds from Florence.
In the landfall area, the Weather Service is warning of "life-threatening" winds that could cause complete destruction of sturdy buildings.
"Locations may be uninhabitable for weeks or months," according to the NWS' Wilmington office.
Depending how far inland the storm pushes before stalling, it could cut power to tens of millions across the Carolinas and Mid-Atlantic.
Inland flooding: The greatest risk from Hurricane Florence is its rainfall potential far from the coast. This is due to the storm's slow forward speed and its size, as well as the warm water temperatures of the Atlantic that it will draw moisture from. The official forecast calls for the center of the storm to remain over North Carolina from Friday through Sunday, drawing huge amounts of Atlantic moisture inland.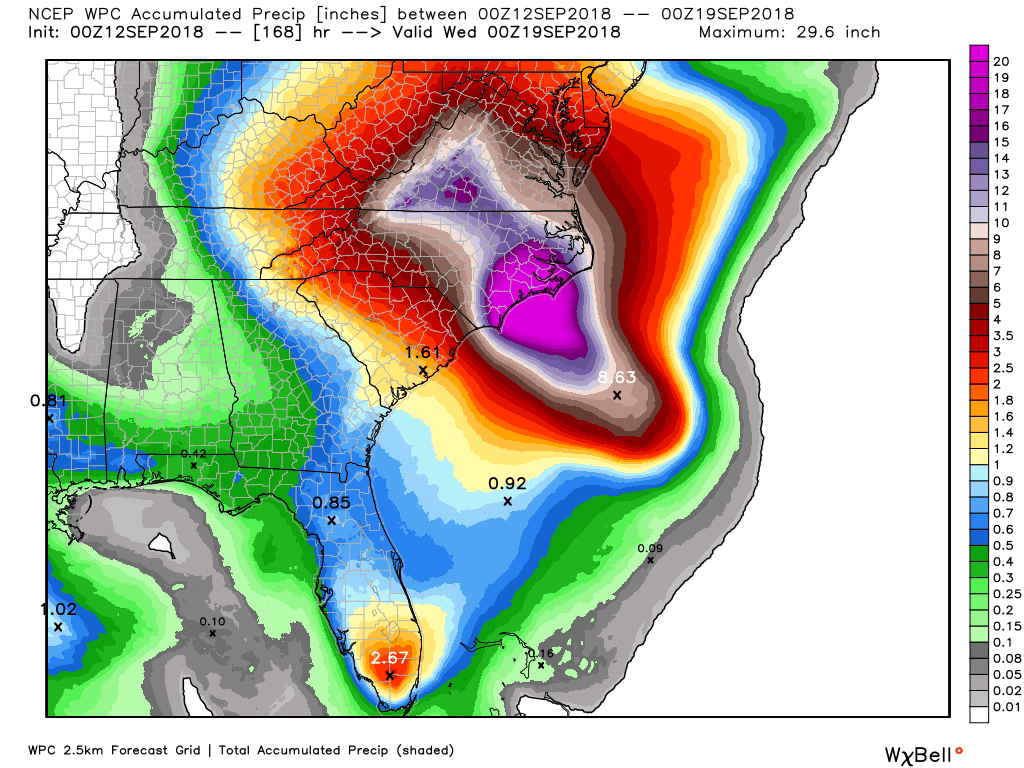 Computer models have been consistent in showing the potential for a widespread area of 15 to 25 inches of rain, with some areas picking up close to 35 inches of rain over the weekend.
Such rainfall amounts could lead to disastrous flooding.
Residents of inland areas in North Carolina, Virginia, West Virginia, Washington, D.C., and Maryland are in the threat area for this hazard.
Florence will be carrying a huge amount of water vapor, lapped up from unusually mild Atlantic waters.
As with Hurricane Harvey last year, stalled hurricanes and tropical storms can turn entire cities into inland oceans. Climate change has raised the odds of such torrential rainstorms as well.
The bottom line: The Carolinas have never experienced a hurricane as powerful as Florence is expected to be at or near landfall. The combination of hazards is likely to paralyze a large region of the country for days — if not weeks — with time to prepare rapidly running out.
Go deeper:
Go deeper