Furious Trump trapped by hundreds of Woodward tapes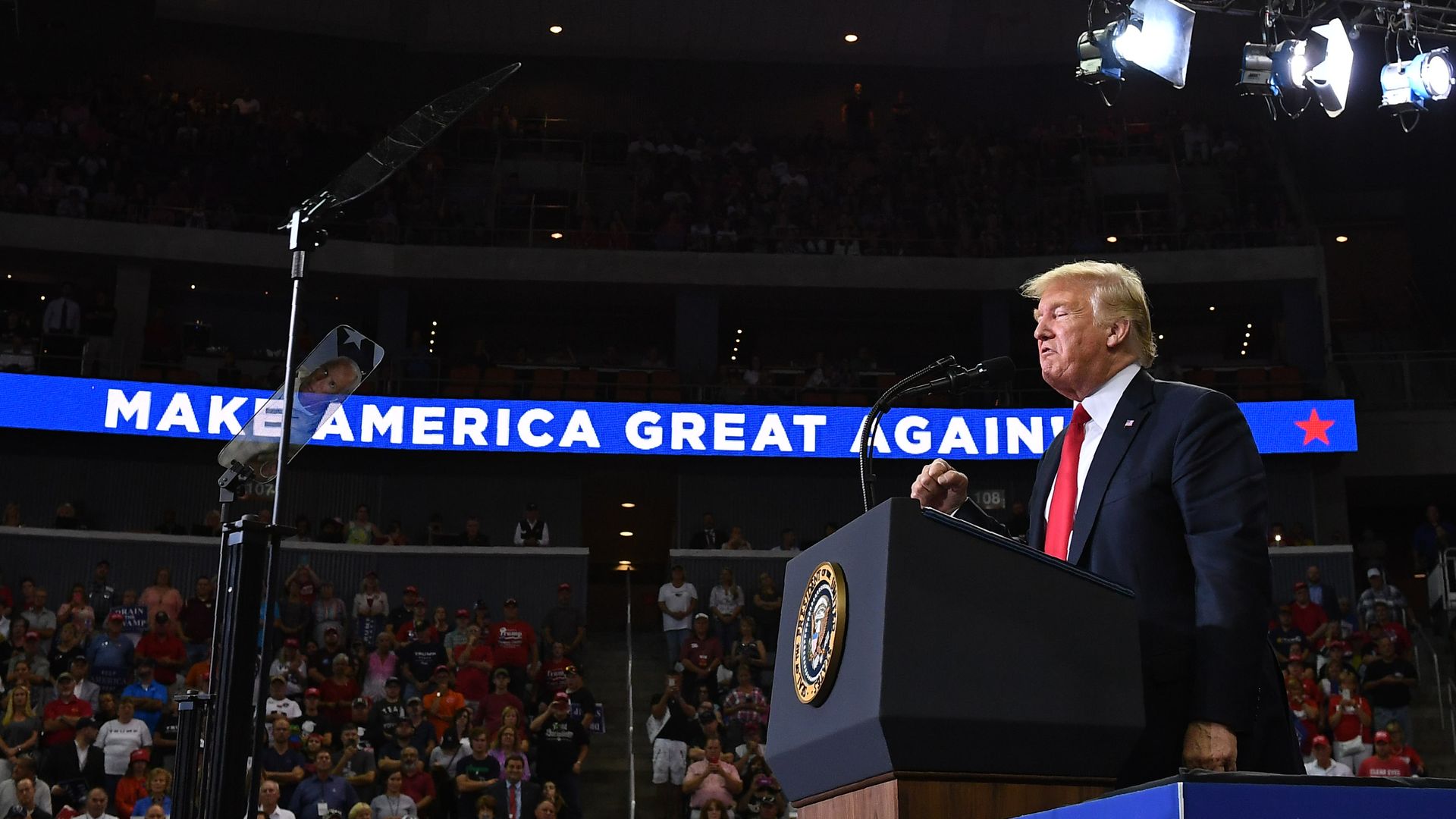 President Trump is livid at the betrayal and stunning allegations in Bob Woodward's forthcoming "Fear," but limited in his ability to fight back because most of the interviews were caught on hundreds of hours of tape, officials tell Axios.
The big picture: The book, out Tuesday from Simon & Schuster, re-creates — verbatim — page after page of private conversations with him. The 420-page portrait is all the more damaging because many of the scenes concern foreign policy and national security — truly heavy stuff.
In one emblematic passage, Woodward writes: "The operations of the Oval Office and White House were less the Art of the Deal and more often the Unraveling of the Deal. The unraveling was often right before your eyes, a Trump rally on continuous loop. There was no way not to look."
After the Washington Post posted excerpts yesterday, administration officials did little to deny specific revelations in the book, and instead spent the day speculating about Woodward's likely sources.
One reason that few passages are being disputed: Woodward based the book on hundreds of hours of tapes of his interviews with current and former West Wing aides and other top administration officials.
Nevertheless, several top officials issued denials:
White House chief of staff John Kelly: "The idea I ever called the President an idiot is not true, in fact it's exactly the opposite."
Defense Secretary James Mattis: "The contemptuous words about the President attributed to me in Woodward's book were never uttered by me or in my presence."
Some choice cuts, reflecting the way administration officials and alumni depicted Trump to Woodward:
Trump to James Clapper, then Director of National Intelligence, who briefed him at Trump Tower during the transition on the intelligence community's findings that Putin had interfered in the election: "l don't believe in human sources ... These are people who have sold their souls and sold out their country ... I don't trust human intelligence and these spies."
Defense Secretary James Mattis, to laughter, a month after Trump took office: "Secretaries of Defense don't always get to choose the president they work for."
Trump to Tom Bossert, the president's adviser for homeland security, cyber security and counterterrorism, who asked Trump if he had a minute: "I want to watch the Masters. ... You and your cyber ... are going to get me in a war — with all your cyber shit."
"Trump was given a Reader's Digest version of the Hezbollah briefing."
Stephen Miller to Reince Priebus after Trump had ordered his first chief of staff to get the resignation of Attorney General Jeff Sessions: "We're in real trouble. Because if you don't get the resignation, he's going to think you're weak. If you get it, you're going to be part of a downward-spiral calamity."
"Trump was editing an upcoming speech with [then-staff secretary Rob] Porter. Scribbling his thoughts in neat, clean penmanship, the president wrote, 'TRADE IS BAD.'"
Former White House economic adviser Gary Cohn told Trump: "You have a Norman Rockwell view of America."
"Several times Cohn just asked the president, 'Why do you have these views [on trade]?' 'I just do,' Trump replied. 'I've had these views for 30 years.' 'That doesn't mean they're right,' Cohn said. 'I had the view for 15 years I could play professional football. It doesn't mean I was right.'"
The book's last paragraph: "[I]n the man and his presidency [former Trump lawyer John] Dowd had seen the tragic flaw. In the political back-and-forth, the evasions, the denials, the tweeting, the obscuring, crying 'Fake News,' the indignation, Trump had one overriding problem that Dowd knew but could not bring himself to say to the president: 'You're a [email protected]#$ing liar.'"
Go deeper:
Get more stories like this by signing up for our daily morning newsletter, Axios AM. 
Go deeper