Inside Big Tech's D.C. survival strategies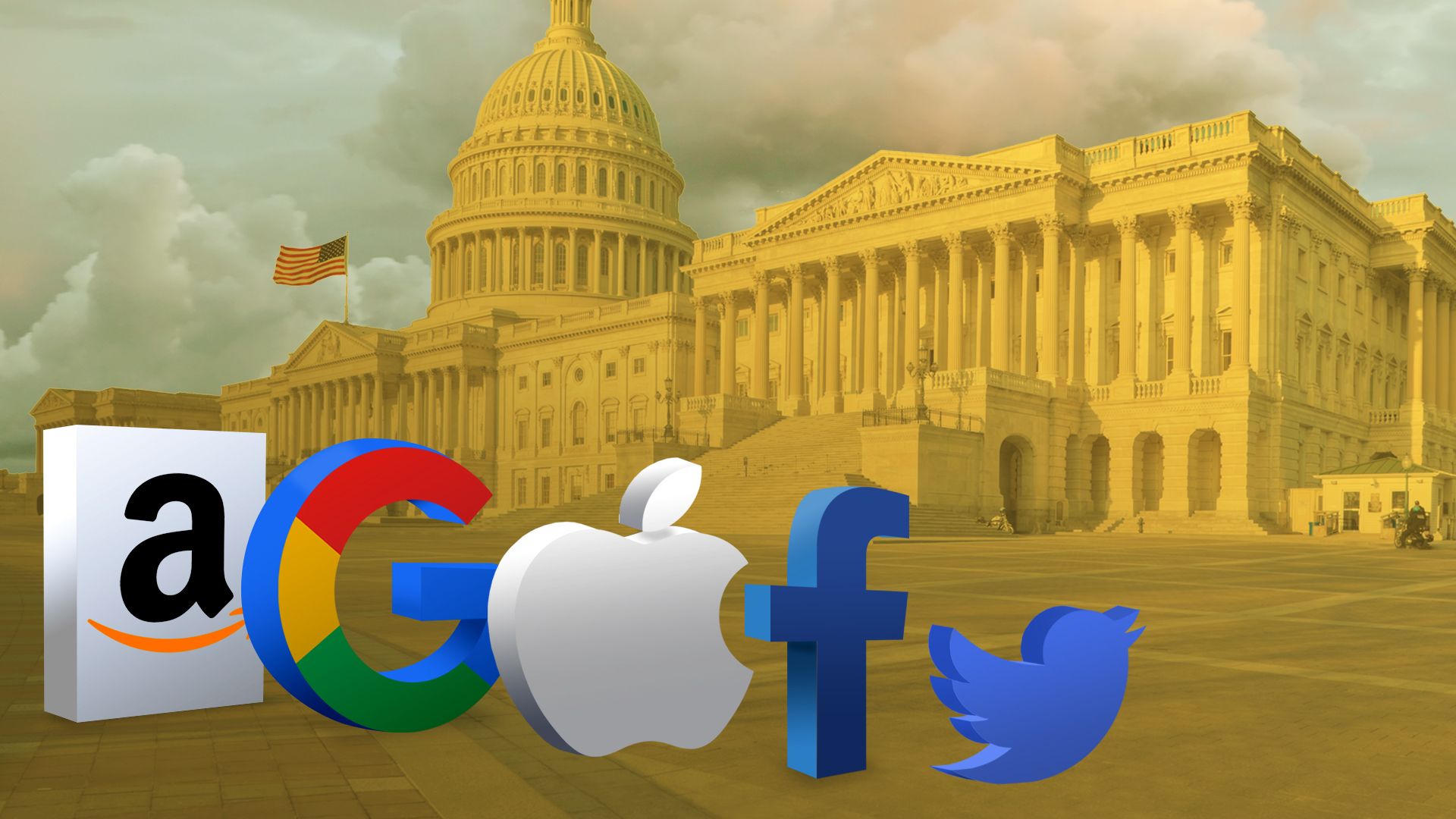 With new attacks by President Trump, high-stakes testimony next week on Capitol Hill, and a midterm election vulnerable to online manipulation, tech's giants are bracing themselves for two months after Labor Day that could decide whether and how much the government regulates them.
The big picture: The companies — led by Facebook and Google but with Twitter, Apple, and Amazon also in the mix — are caught in a partisan vise, between privacy-oriented critics on the left who fear further election interference and newer charges from the right of anti-conservative bias and censorship.
We spoke with people at the big companies to map the cases they expect to make publicly and privately.
Facebook
The message: We're at the table. We're willing to accept some regulation. We don't have all the answers.
Chief Operating Officer Sheryl Sandberg will testify at the Senate Intelligence Committee's hearing next week on disinformation. The company is now seasoned in the art of congressional testimony thanks to previous appearances by several executives, most notably CEO Mark Zuckerberg last spring.
Its strategy in recent months has been to adopt a more open public posture compared to its initial circle-the-wagons response in 2016, including on-the-record press briefings touting its election protection work and the disclosure so far of two coordinated disinformation campaigns.
The company says it will work with the intelligence community to protect the midterms, but that those agencies are responsible for answering questions about who is behind disinformation campaigns.
Google
The message: Our algorithms have no politics.
Google had been less in the spotlight than Facebook or Twitter even though it probably has more data on users and operates YouTube, which has struggled to limit conspiracy theories and other questionable content. That, of course, changed with Trump's recent tweets.
Unlike its rivals, Google has so far resisted sending a C-level executive to next week's congressional hearings.
In response to Trump's repeated charges that its search engine is biased against conservative news and views, the company insists that neither its code nor its engineers are discriminating against any political perspective.
Many conservatives remain dissatisfied, a new survey shows, and feel that social media in general "censors" their point of view.
Twitter
The message: We're listening to users and working with the authorities. We're being more transparent about political ads. And we're cracking down on fake accounts.
Twitter updated its ads policy Thursday to include a certification process for advertisers and more visibility into issue ads.
Like Facebook, it created an archive of political ads that will be logged through a "transparency center" so that people can see who's spending on the platform.
It has also been purging millions of accounts to weed out fakes, bots and dormant users.
Twitter has been more transparent with law enforcement officials and the public about flagging coordinated misinformation attacks.
Apple
The message: We don't sell your info. We don't have a social network. We're pro-privacy.
Unlike Google and Facebook, Apple isn't dependent on advertising revenue, so it's able to stand apart from rivals and say that it's not stockpiling user data and it's not a vector for election tampering.
Another Apple talking point: In the company's chief business, selling phones and computers, it has no monopoly power. So when the talk of antitrust regulation gets hot and heavy in DC, the company argues that it should be left out of the discussion.
Amazon
The message: We don't do elections. We're not a social network. We pay fair wages.
Amazon has been largely insulated from concerns over election meddling and malicious content, but nonetheless has a lot at stake over the next two months.
A privacy debate spurred by Google and Facebook would also implicate Amazon and its massive cache of consumer data.
Sen. Bernie Sanders has been putting pressure on the company over conditions in its warehouses.
A White House-inspired task force is examining the president's evidence-free charge that the U.S. Postal Service is suffering from Amazon's business.
The company has largely laid low, but on Wednesday it publicly blasted Sanders for making "misleading accusations against Amazon."
The bottom line: The companies are all adopting different versions of a "we're different from all the others" strategy, and that could let aggressive legislators divide and conquer them on the road to regulation.
Editor's note: This story has been corrected to note that Amazon made its statement about Sen. Bernie Sanders' criticism on Wednesday, not Thursday.
Go deeper