U.S. set to unilaterally restore Iran sanctions as Europe fights back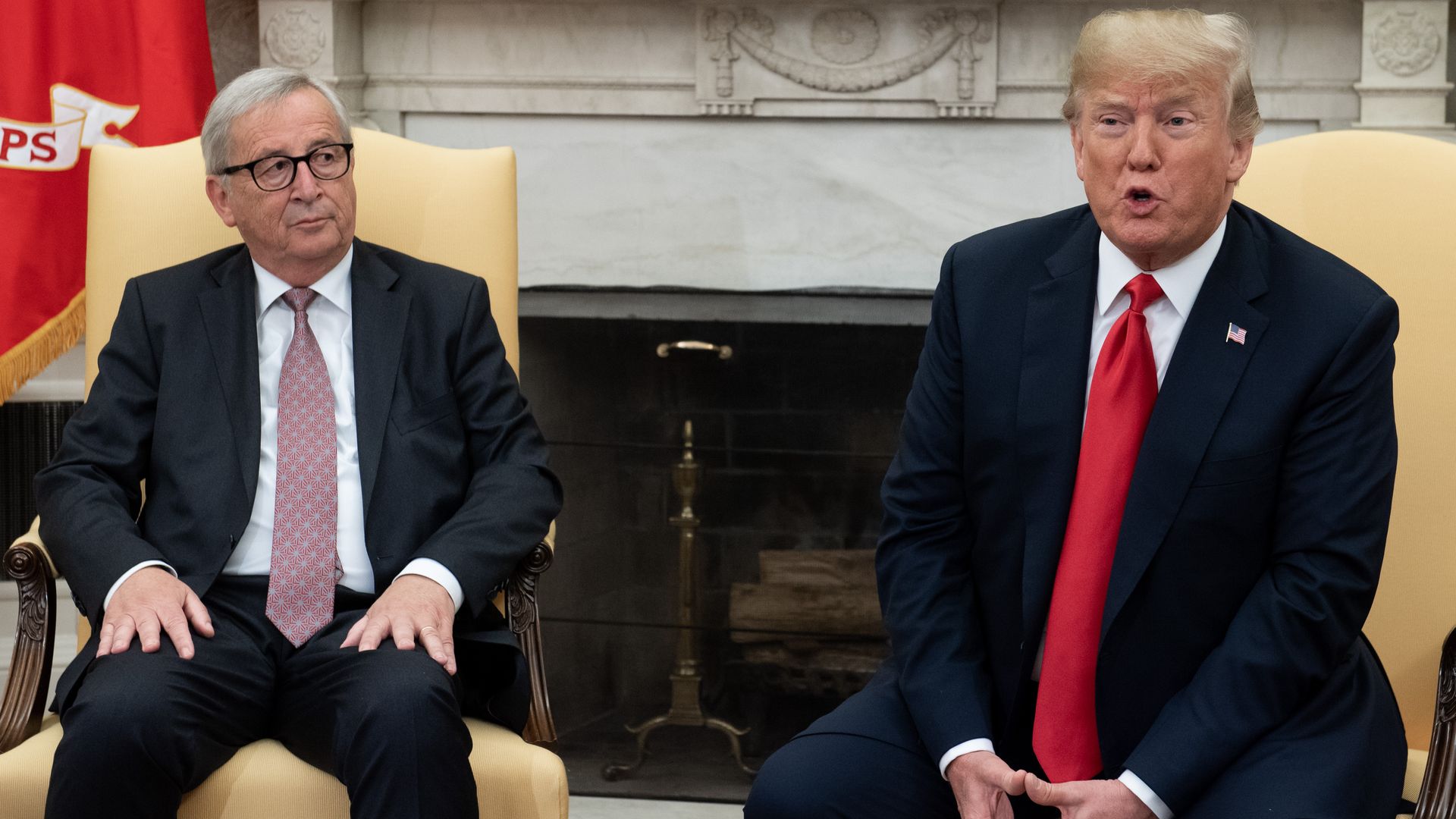 With the first round of U.S. sanctions on Iran set to resume tonight at midnight, the European Union is taking steps to protect its companies that do "legitimate business" with Iran from being harmed.
The big picture: Secretary of State Mike Pompeo has refused to grant broad exemptions to European companies doing business with Iran, citing a need to apply "unprecedented financial pressure on the Iranian regime." But the EU, frustrated by President Trump's unilateral withdrawal from the Iran nuclear deal in May, will exercise a 1996 law to prohibit European companies from complying with sanctions.
"The lifting of nuclear-related sanctions is an essential part of the [Iran] deal — it aims at having a positive impact not only on trade and economic relations with Iran, but most importantly on the lives of the Iranian people. We are determined to protect European economic operators engaged in legitimate business with Iran, in accordance with EU law and with U.N. Security Council resolution 2231. This is why the European Union's updated Blocking Statute enters into force on 7 August to protect EU companies doing legitimate business with Iran from the impact of U.S. extra-territorial sanctions."
— European Commission President Jean-Claude Juncker
The details: Under the "Blocking Statute," which was originally developed (but never implemented) to circumvent a U.S. trade embargo on Cuba, companies that seek to pull out of Iran as a result of the sanctions must first seek authorization from the EU. If they fail to do so, they risk being sued by EU member states.
Companies that apply for exemptions must prove that the U.S. sanctions are hurting their business operations.
The 1996 law has never actually been exercised, and some diplomats and lawyers have doubts about how effective it can be in protecting firms, per the Financial Times.
A senior U.S. administration official told reporters Monday that they were "not particularly concerned" about the statute. The official claimed that "the messages [European] companies and financial institutions are sending" indicate an appreciation for the goal of the sanctions: to expose the Central Bank of Iran's complicity in helping to fund terror.
Go deeper: The companies hit hardest by Iran sanctions.
Go deeper