The Wild West of children's entertainment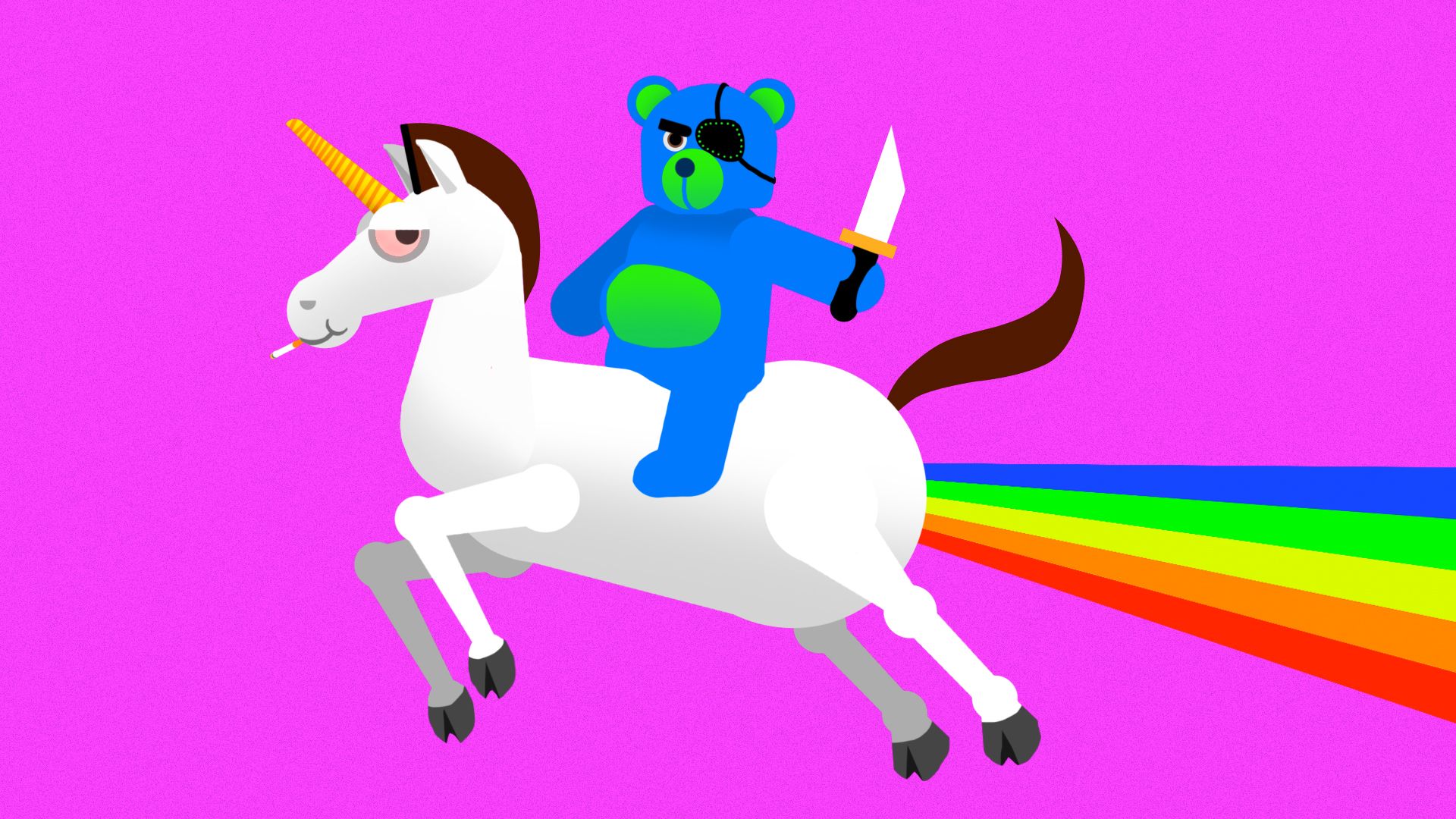 An explosion of new digital options for kids' entertainment has pulled children's attention away from live TV to instant, on-demand programming, bringing with it new challenges for producers, policymakers and parents.
Why it matters: Gone are the days of Saturday morning cartoons, Sesame Street and cable shows being seen the as the main attractions for kids-focused TV. Now content is strewn across apps, social networks and streaming platforms — and a lot of kids don't even know what a commercial is.
The rise of streaming has diverted children's eyeballs away from live television to on-demand platforms, like subscription video services (Netflix, Amazon, Hulu) and social media video streaming services (YouTube, Snapchat Discover, Instagram).
Children ages 2-11 spend an average of roughly 2 hours with a multi-media device per week, per Nielsen.
They also average 1 hour and 22 minutes per week with a DVR device and 30 minutes watching video on a computer.
While the majority of their media diet is still spent in front of a traditional television, that number is declining each year as children migrate to digital platforms used by their parents.
TV networks are trying to modernize in order to keep up with kids' viewing habits. And a recent FCC proposal would relax kids' TV rules to let traditional broadcasters compete with digital channels, like Netflix, Amazon or YouTube, that do not have to follow those rules.
But children's content is mostly unregulated on many streaming platforms. That's appealing for older children who find more regulated TV content boring — but it can also be dangerous.
Ad-supported social media platforms give users an incentive to post salacious content that can be irresistible to kids to rack up likes, views, and shares.
The popular YouTube Kids app has been criticized for allowing bad actors to manipulate algorithms so that manipulative, bizarre and sometimes disturbing videos get recommended to young viewers. (YouTube Kids has since added parental limits on what can be watched.)
Other platforms have come under fire for exposing children to indecent content, or for putting them in dangerous situations where they are duped into releasing private information or exposing themselves.
For example, there have been numerous incidents reported on Snapchat of child predators conning minors into sending them nude photos of themselves, through an encrypted, ephemeral chat system.
Some of the biggest crazes, like online tutorials about how to make slime or "unboxing" videos that show other kids opening and playing with toys, are creating new types of entertainers.
Social media influencers, like YouTube sensations Jake Paul and RyanToysReview have replaced the Disney and Nickelodeon child actor stars of previous generations.
The rise of the "prank video" genre has become a safety concern for kids. Just last week, YouTube suspended the account of a dad after he uploaded a video showing him playing a cruel joke on his kids that some have equated with child abuse. His channel boasts more than 5.7 million subscribers.
As a result, parents, kids' advocates and some lawmakers are looking for better ways to understand how children access and respond to content, while still ensuring they are able to learn and benefit from the internet and connected TV.
Most recently, senators introduced the bipartisan Children and Media Research Advancement Act (CAMRA) Act, which would provide $95 million for the National Institutes of Health to study the impact of technology on kids' health.
The big dilemma: As more technologies are added to smartphones to help parents keep kids safe — like tracking features and parental restrictions — more and more parents are feeling comfortable with exposing their kids to new media technologies at a younger age.
Tech companies including Amazon, Apple, Facebook and Google have improved parental controls.
But protections aren't perfect, and most kids will find workarounds to be able to access the type of content they want.
"When a child hits the age of ~7, they start to self-identify as 'not a child' and begin to reject things aimed at 'kids'. This is why products like YouTube Kids have completely failed to break out of the pre-school audience."
— Dylan Collins, CEO of SuperAwesome, a technology platform used to power kid-safe digital engagement
The bottom line: Kids are adopting new-age streaming video and social media habits faster than most regulators and parents can keep up.
Go deeper: FCC wants to relax kids' TV rules for the Netflix era
Go deeper